Bahamas tried to convince Royal Caribbean to build cruise port on Great Inagua
In:
According to a Wikileaks message released by the site, the Bahamas government attempted to convince Royal Caribbean to build a cruise port on the island of Great Inagua, exploiting that island's 50,000 pink flamingos.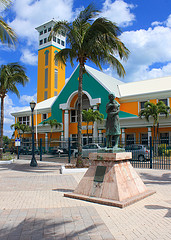 The message from February 23, 2004 indicates former Bahemian Prime Minister Perry Christie met with United States Ambassador Robert Witajewski and discussed the plans.  Christie was hoping Inagua's flamingo population would give the island a competitive advantage in attracting cruise ship passengers.
Witajewski's report to Washington also mentioned, "The Prime Minister also revealed that he was in negotiations to conclude an agreement with Royal Caribbean Cruise Line to build a deep water port at Great Inagua".
The report continued, "Though the island is currently barren, it is home to more than 50,000 pink flamingos, a huge Morton Salt plant and at least one nice beach. He was hoping that the flamingo national park would provide cruise ship passengers with an interesting diversion to the normal Caribbean port of call.
"Christie took on board charge's suggestion that costs of constructing a base on Great Inagua could effectively be reduced if any Royal Caribbean construction were to be made part of the Government of the Bahamas' plans."
That refers to plans also unveiled by Prime Minister Christie to construct a strategic Defence Force base at Inagua, in an attempt to combat drug and illegal immigrant trafficking, plus fisheries poaching.