Why Royal Caribbean opted to not force its passengers to wear lifejackets for safety drills
In:
If you've been cruising for a little bit of time, you probably remember a time when during the safety drills having to wear your lifejackets on your way to your station.  But Royal Caribbean has done away with the life jackets after confirming with the United States Coast Guard that a demonstration of how to use a lifejacket is all that's needed and actually wearing a life jacket is up to the cruise line.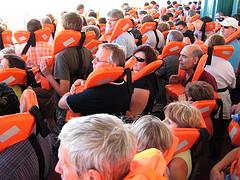 Royal Caribbean's director of Maritime Safety & Compliance Christiaan Van Raalten discusses the change, "We started with the idea that if guests can proceed directly to their assembly stations without having to go back to their cabins to collect their lifejackets, it would greatly reduce congestion and help guests reach their assembly station much quicker.  We also were able to decrease the amount of time it takes to conduct a muster-drill".
Once Royal Caribbean stopped forcing guests to wear the lifejackets to the must-drills, other cruise lines including Celebrity, Carnival, Holland America and Norwegian followed along.