In:
Royal Caribbean's LCD wayfinder system, developed by Four Winds Interactive, has won three awards for technological excellence from the Digital Screenmedia Association and Hospitality Technology magazine.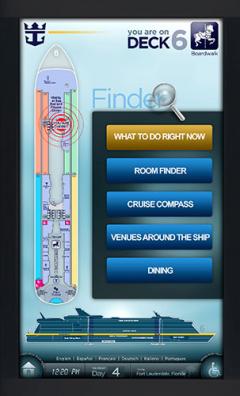 The LCD wayfinders were first installed on Royal Caribbean's Oasis and Allure of the Seas ships but have been rolled out to other ships in the Royal Caribbean fleet since. The wayfinders are interactive screens that enables customers, guests and employees to find their way around the ship using a touch-screen display. FWi designs and implements the software that makes these self-service kiosks work.
Digital Screenmedia Association recognized FWi's work with Royal Caribbean for two of its awards: The 2011 Screenmedia Integration Award and the 2011 Industry Excellence Award for Best Travel/Hospitality Deployment – Digital Signage. The Screenmedia Integration Award is one of the top three annual awards bestowed by DSA.
The Digital Screenmedia Association was impressed by the system, describing it as, "highly intuitive, yet complex passenger-facing communication network onboard Royal Caribbean's newest, most technologically advanced cruise ships, Oasis and Allure of the Seas."
In addition, Hospitality Technology awarded Royal Caribbean's wayfinder system in the magazine's annual Visionary Awards for outstanding vision and achievement in delivering technological excellence. Hospitality Technology described the wayfinder system as a "network of digital signage displays and touchscreens that enable guests to obtain directions, gauge real-time dining options, learn about the day's events and activities, and find answers to common questions."