Royal Caribbean interested in port of Bilbao, Spain
In:
Representatives from Royal Caribbean and four other cruise lines (Norwegian Cruise Lines,Residensea, Silversea and Oceania Regent Seven Seas) visited the port of Bilbao, Spain and other points of interest in the region. They were accompanied by a representative of the Tourist Office of Spain in Miami.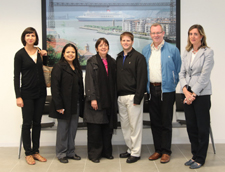 The cruise line representatives have also been accompanied by officials from the Port Authority of Bilbao and Bilbao Tourism Office. They visited, among others, the cruise terminal port, the Bridge, Getxo, Bilbao, Laguardia and the blind. They have also enjoyed the Basque cuisine and have been able to see first hand the commercial area. In 2011, it is planned at the port of Bilbao fifty cruise ships belonging to twenty different companies.