Legend of the Seas to return to Singapore this winter
In:
If you're looking to explore Southeast Asia, Royal Caribbean is set to introduce a series of  itineraries to popular ports-of-call in Malaysia, as well as new ports such as Ho Chi Minh and Bali for the cruise season of November 2011 to March 2012 aboard Legend of the Seas.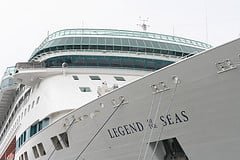 This is the second season Legend of the Seas will be operating out of Singapore and based on last year's options, there's a lot of great choices.  Legend of the Seas will offer many different types of shore excursions at each port.  There are sightseeing excursions, shopping excursions, cultural excursions and more.
Excursions can cost between 5-7 hours and cost between $25 - 52 per adult.