In:
Have you ever thought it would be fun and/or cool to travel through the Panama Canal?  Wendy Keiffer thought the same thing and shared her experience travelling through the canal on Royal Caribbean's Radiance of the Seas back in May.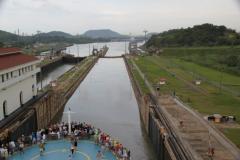 Keifer describes the experience of crossing the Panama canal via a cruise ship "a once-in-a-lifetime experience".  While on Radiance, the cruise took an entire day to traverse the 50-mile canal.
And the Radiance is huge. Built with specifications to allow passage of the canal, the Radiance of the Seas is 105.6 feet wide. The locks are 110 feet wide, and canal officials don't allow ships larger than 105.97 feet. With such a tight squeeze, we actually could reach over the balcony and touch land.
Keifer's experience was quite positive and she seems to recommend it to anyone who has the opportunity.  Keifer does report that the 100-year-old canal is in the process of a massive expansion that will add new cuts and bigger locks.