Will Royal Caribbean's new Project Sunshine ship be more crowded than ever?
In:
We've been conditioned to believe the newest cruise ships are the best cruise ships and when Royal Caribbean announced earlier this year its new class of cruise ships they have ordered, dubbed Project Sunshine, many of us got excited for what we could see someday.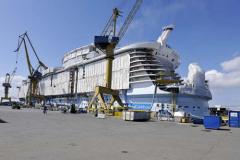 FoxBusiness wrote a piece about how the next generation of cruise ships, such as Royal Caribbean's Project Sunshine, will be different than previous classes of cruise ships because these ships are being developed to be "optimized for the new economic reality".
Ships like Project Sunshine will carry substantially more passengers per square foot so that the ship can have optimal fuel efficiency and get a greater return on investment per passenger.
To put this in perspective, the Project Sunshine ship will be a 158,000-ton ship that will hold 4,100 passengers.  If we compare that to a different Royal Caribbean cruise ship of similar size, such as Freedom of the Seas, Freedom is 160,000 gross tons but only carries 3,634 passengers.
While details on Project Sunshine are still scarce, one thing is for certain: you will see a lot more passengers on the ship than you may have thought.