Royal Caribbean's CEO's compensation rises 59%
In:
Royal Caribbean's Chairman and Chief Executive Richard Fain received a 59% increase in his salary in 2010, which brought his annual paycheck to $8.6 million.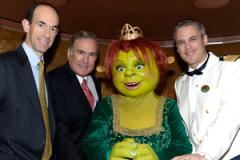 The reason for the increase in pay was mostly due to a cash incentive payment of nearly $4.1 million, about $2.9 million more than the previous year's amount.
Fain's base salary remained the same for the third straight year at $1 million and the cruise line's financial results were better in 2010 than in 2009.
In a proxy filing with the Securities and Exchange Commission, Royal Caribbean stated, "Executives were rewarded for their contributions to this positive performance through payment of performance based annual bonuses above target levels".
The other four executives for Royal Caribbean saw their 2010 bottom lines rise as well from 18.5% to 48.9% thanks to increases in cash incentives.  Royal Caribbean Cruise Line's CEO Adam Goldstein saw the biggest increase, who received $4 million and was second to Fain in total compensation for the year.