Falmouth port officially opens with ribbon cutting ceremony
In:
With the docking of Royal Caribbean's Oasis of the Seas on March 22, the brand new Falmouth port in Jamaica is officially opened after a ribbon cutting ceremony that was attended by Jamaican officials and Royal Caribbean represenatives.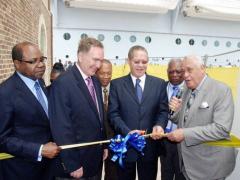 Royal Caribbean chairman Richard Fain was on hand for the ceremony along with Jamaica Minister of Transport and Works, Mike Henry, Prime Minister Bruce Golding, Minister of Tourism, Edmund Bartlett,  Member of Parliament Dr Patrick Harris and chairman and chief executive officer of the Port Authority of Jamaica, Noel Hylton. 
Henry, in his opening remarks, said, "I am happy to be part of this official opening ceremony for the new cruise ship port here in Falmouth. It is certainly good to be no longer hearing about one cruise port being poised to stifle the others, but about the very exciting times that are here and ahead for the local cruise sector.
"... Whether the cruise liners dock in Montego Bay, Falmouth, Ocho Rios or Port Antonio, it is important to remember that we are one country, from Negril to Morant Point, as we collectively search for a better life and more opportunities for each and every one of us".
The Falmouth project was developed by the Port Authority of Jamaica in partnership with Royal Caribbean Cruises.