Falmouth port opens today
In:
The port of Falmouth in Jamaica is set to welcome its first cruise ship today after years of construction and some recent delays.  Royal Caribbean's Voyager of the Seas will dock at 8:00am and be the first ship to dock here since Royal Caribbean and the town of Falmouth planned to build a brand new cruise port in this historic port.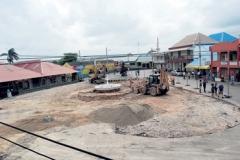 It's been 50 years since the last cruse ship visited Falmouth but today's arrival will bring 3,000 tourists to the town that used to be a center for sugar production in the hemisphere.  
Construction isn't 100% complete yet and wont be until sometime in June 2011, but enough is done so that ships can stop here.
Jes Olsen, manager of the development project at Falmouth is excited for the new first stop, "The project is at a stage where it can accommodate cruise ships, even the world's largest cruise ship, Oasis of the Seas, which is expected to call at the Falmouth port in the month of March".