In:
Design Squared, the marketing firm Royal Caribbean hired to make Crown and Anchor Society promotional materials, was in search of a family to put on an upcoming promotional material for Royal Caribbean's Crown and Anchor Society during Allure of the Sea's inaugural cruise.  They found their match in Scott and Terri Lynn Crutchfield of Sebring, Florida.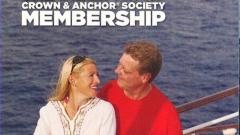 Kathy Watrous, Design Squared's managing partner, approached the couple and asked them to be in a photo shoot. After signing media release forms, they were told they would be contacted if and when their photos were selected for use.
After combing over 15 other couples that Waltrous took photos of, the Crutchfields were selected.
"This was fun and we were kind of caught up in the moment," she said. "We never thought we would hear from them again."
The Crutchfields were notified via email and were sent photos that would be in the brochure for the Crown and Anchor Society.  About one million brochures have been created and will be distributed around the United States and Canada.
"We were happy they chose us," Terri Lynn said. "It is kind of an honor."