Royal Caribbean makes new ship official
In:
Royal Caribbean has signed a letter of intent with German shipyard Meyer Werft to build the cruise line its newest ship, a 4,100-passenger, 158,000-ton ship with an expected delivery of fall 2014.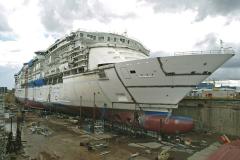 The order is for one ship with the option of a second ship that would be delivered for Spring 2015.
"This next generation will not disappoint," said Richard Fain, chairman and CEO of Royal Caribbean's parent company Royal Caribbean' Cruises, Ltd., in a statement. "It will offer features for everyone," Fain said. "From grand, spectacular spaces to small intimate settings; from active, invigorating activities to the serenity of more personal space; and from a plethora of dining alternatives to a cornucopia of opportunities for families."
The new ship class is being called "Project Sunshine" until a formal name for the new class is decided upon.  
This new ship will be the first of a new class, although its size is very similar to the Freedom Class ships, which are slightly larger (158,000 tons for Project Sunshine vs 160,000 tons for Freedom).