Royal Caribbean chairman confirms new ship on the horizon
In: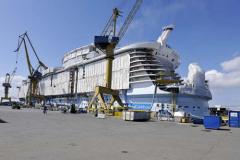 In a conference call with investors, Royal Caribbean Chariman and CEO Richard Fain confirmed rumors that Royal Caribbean may be ready to look to building a new ship.
During the call, Fain thinks now may be the time to look at building a new ship, "We feel time may now be right for such a move."  In addition, a new ship would be a new class of ship, meaning it would not be another Oasis class ship or any other pre-existing Royal Caribbean ship class.
There's no timetable yet for placing an order, and Fain added in the short term, Royal Caribbean is focusing on current hardware revitalization, which means they will enhance current ships.  Fain called the program "Oasis-sizing", where they take features from Oasis and Allure of the Seas and roll them out to older ships.  This program was announced earlier this year and will add new features to older ships such as Radiance of the Seas, Splendour of the Seas, Liberty of the Seas and Freedom of the Seas.
UPDATE: (10:30am) Royal Caribbean Chariman and CEO Richard Fain added during a question and answer session that they will remain tight lipped about the new ship, but confirmed the ship will be a Royal Caribbean brand ship and based on the company's previous history of ordering ships for a new class, will likely start with one ship and then add more ships based on that class afterwards