Allure of the Seas uses 360-degree IP cameras
In:
Allure of the Seas, Royal Caribbean's newest ship, utilizes an extensive network of security networks for both public areas and even some not-so-public regions.  Allure and its sister ship Oasis of the Seas, use more than 300 Oncam IP 360° 5-megapixel cameras. Many of these cameras are positioned in public areas of the ship that have multiple entrances, enabling simultaneous monitoring of all those entrances.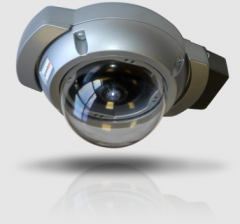 "A well-designed video surveillance system is an important tool for the safety and protection of everyone," said James Ionson, CEO, Oncam Global Inc. "It provides invaluable assistance to security personnel in resolving incidents, such as helping to identify a noise in the engine room, responding to passenger medical emergencies and determining liability issues, for just a few examples. With the right information, they can appropriately react."
The benefit of these cameras is it can do what traditional security cameras could not.  One camera in the ceiling in a hallway with elevators on both sides can be monitored at the same time along with the traffic in the hallway.  One of these Oncam IP 360° cameras replaces four traditional CCTV cameras.
In addition to Oasis and Allure, Royal Caribbean has been retrofitting these new security cameras into the security system of older cruise ships since 2006.