In:
Johanna Jainchill is reporting that Allure of the Seas' construction is ahead of schedule, which is good news for Royal Caribbean that is eagerly waiting for its newest ship to debut.  While visiting the STX Finland shipyards in Finland, Jainchill reports progress on Allure seems to be ahead of its sister ship Oasis of the Seas was at the same point in her construction schedule.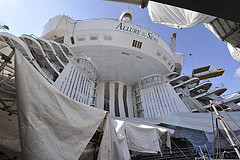 During a tour of the Oasis at this time last year, the theater was all scaffolding. Today, the Allure's theater appeared ready for the cast of Chicago to start rehearsals.The loft suite one year ago was metal and wires. Today, it was ready, with the bed made and bathroom products on the sink. The cupcake shop was merely a shell one year ago. Today, it was only lacking actual cupcakes.
If you're thinking that because Allure of the Seas is ahead of schedule that the ship will debut sooner, think again. Royal Caribbean CEO Adam Goldstein reiterated that Allure of the Seas will stick to the schedule she is currently on and would not take an even earlier delivery of the vessel. Royal Caribbean has already moved up the Allure's inaugural cruise twice, "The program was so locked in with the arrival and training of the crew and the transatlantic [voyage], and we already sent the invitations out for the South Florida [inaugural] events. We will stick with what we have scheduled."