Autumn will be bargain season for European Cruises
In:
It's no secret that Royal Caribbean has been moving many of its ships to Europe in search of higher revenue but Fox Business reports that when companies like Royal Caribbean made their plans for the 2010 cruising season, they did so back in 2008 when they expected a higher demand and stronger Euro than is current here.  While that news isn't great for Royal Caribbean, it is good news for consumers looking for a cruise deal in Europe.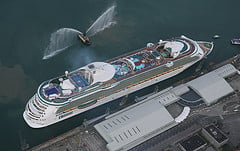 Here are some tips for those looking for a good deal on a European cruise vacation this year
Avoid cruise itineraries designed for Europeans. They prefer sunny resort destinations like the Canary Islands  (the European version of our Caribbean cruises) over port calls at the culturally significant places that draw Americans.

If you are going to fly all the way to Europe, you'll want see more – so longer cruises are better.

Avoid the traditional European vacation season of mid-July through August. You will still find plenty of shopping and tourist services, but with lower prices and shorter lines.

Airfare from the U.S. usually drops in autumn. 

Two cruise lines most Americans probably want to avoid (except for bargain hunters) are Costa and MSC Cruises. Both offer beautiful, modern cruise ships, but they market to non-English speaking passengers. Everything on board is presented in five languages -- Italian, French, Spanish and German and then English last. These ships are often bargain-priced, but the novelty wears off quickly. Most Americans prefer ships designed for our own tastes, especially when it comes to food, entertainment and shore tours.