In:
Destination weddings, or weddings that take place somewhere other than home, have always been an intriguing option for couples looking to tie the knot but according to a recent report by thestar.com, weddings on cruise ships have increased in popularity by 10% in the past few years because of affordability, the convenience of having your wedding and honeymoon in one place, and the exotic locations you can have your wedding held.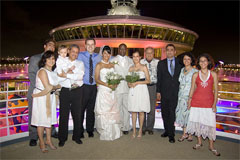 Valery Rene, manager of on-board revenue for Royal Caribbean says that they handle "about 1,000 weddings a year and can meet many other special requests."  Certainly it's hard to argue with the price as the average cruise wedding ceremony and reception with Royal Caribbean costs about $10,000 for a 100-person event, excluding the cruise costs and airfare for sailing guests. Considering the average cost of a wedding in the U.S. is now between $21,000 and $24,000, that is a real bargain.
For those looking to get hitched on their next cruise, the basic wedding package on Royal Caribbean starts at about $2,000 and includes three hours of planning with a consultant, priority check-in, non-denominational official, ceremony, recorded music, bridal bouquet, marriage certificate, photographer (but not photos; they're purchased separately) and more.
"We help the couple decide whether they would like a shipboard or shoreside wedding and then choose which destination and ship that works for them and their budget," says Rene. "We often do weddings that cost more than $20,000 and a recent lavish wedding we did was well into the hundreds of thousands of dollars. There were about 180 sailing guests."
Given all that $10,000 gets you, it's hard to go wrong with that option and it's hard for your wedding guests to argue with "forcing" them to go on a cruise.