Royal Caribbean ditches cruise documents for eDoc
In:
It's become a tradition before your cruise to get that packet of cruise documents in the mail that you will need for embarkation onto the ship.  It's a traditional part of the cruise planning process that's about to change completely.  Back in March 2010, Royal Caribbean announced they were doing away with the paper based cruise documents in favor of an e-ticket, that they've called "eDoc".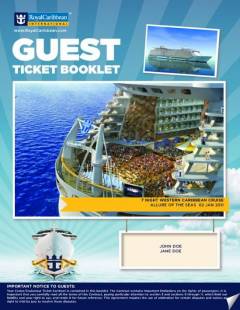 Royal Caribbean Director of Sales and Marketing Services Angela Stephen describes the eDoc as a "customized mini-website, pre-cruise planner, get-excited-about-your-cruise, and brag-to-your-friends-and-family-what-an-incredible-vacation-you-are-about-to-take" type of document.   The eDoc is basically a better means of marketing all that Royal Caribbean offers (read: activities that cost extra) to the cruiser who may not have been aware of it.  Given that the majority of cruises never visit cruise planning sites like this or Cruise Critic, they are unaware of many aspects of cruising until they got on board the ship.  The eDoc seems to be an attempt to educate guests about what is available on the ship before they board the ship so that they can book ahead of time.
Click here to preview what a sample eDoc looks like
For those that miss the old paper documents, you can order them for $35 per person, although Stephen mentions only 5% prefer the printed version (more like only 5% are willing to shell out the money for it, as opposed to expressing an opinion on the matter).  
What do you think of the eDoc idea?  Do you like it? Do you prefer the old way?  Share your thoughts!