Royal Caribbean joins other cruise lines in adding toys to older ships
In:
These days it seems all the focus is on the newest generation of mega cruise ships, such as Oasis of the Seas and Allure of the Seas, that Royal Caribbean and other lines are rolling out of the shipyards.  A
recent article by the Orlando Sentinel
shows that when older ships go in for rehabs, they are getting more than their carpets and upholstery cleaned and updated, cruise lines are investing more money in the big ticket item amenities to keep them as viable competitors to their own bigger and more glamorous ships.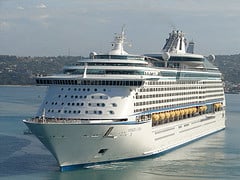 One ship that is used as an example is Voyager of the Seas, a ship that was launched more than 10 years ago in 1999 and was the first ship in Royal Caribbean's fleet to feature a rock wall.  The rock wall was so popular that it was subsequently installed on all the other ships in Royal Caribbean's fleet.
Carl-Gustaf Rotkirch, chairman and CEO of Grand Bahama Shipyard, which has done much of the refurbishing of these older ships notes that these updates are integral in keeping older ships relevant,, "Quite a few novelty features have been included on the new ships, like champagne bars, Johnny Rocket, surf machines . . . and the old ships suddenly start to look very old because they don't have those features."
It's funny how the cruise line can have a perfectly great ship but the newer ships debut and you can feel like in a way that by going on the older ones, it's the cruise line equivalent of driving a green '72 Dodge around town.  These older ships are still wonderful vessels to vacation on, but they can be a little blurred behind the glitz of what's newer and prettier.  This is how the auto industry keeps consumers wanting to buy new cars when their older cars are still perfectly viable.  Cruise lines are adding fun things like giant movie screens and other upgrades to to keep the older ships still relevant and intriguing to consumers.