In:
Following the massive success of Royal Caribbean's first private destination, Perfect Day at CocoCay, the cruise line is planning to launch a second Perfect Day location in the South Pacific.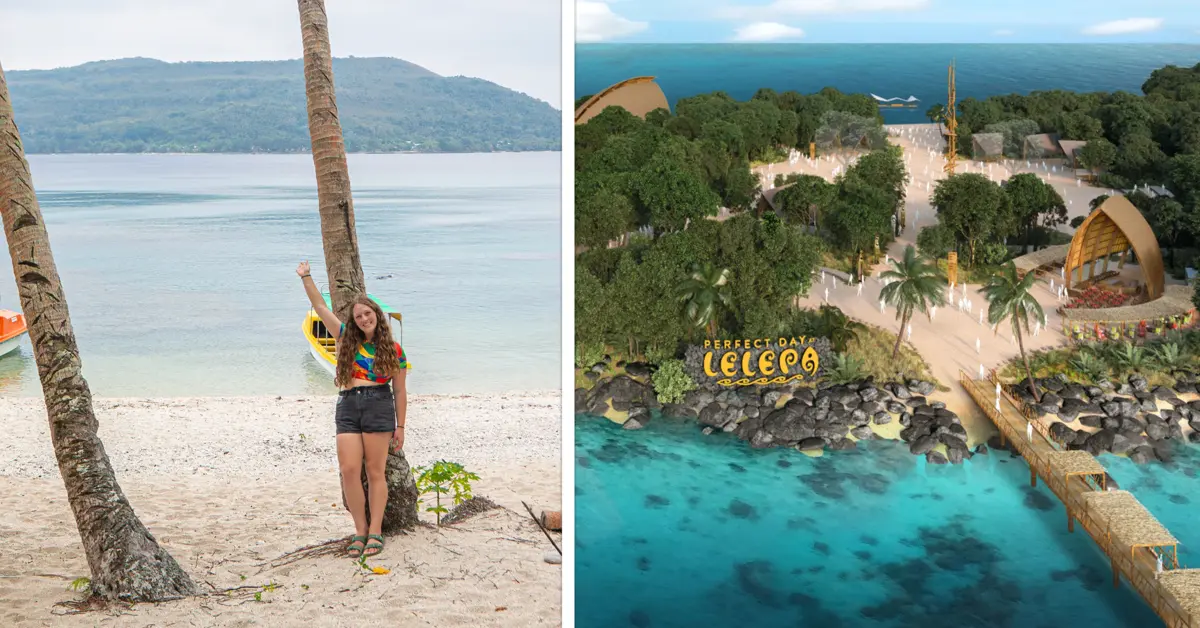 Perfect Day at Lelepa is set to launch in the coming years, although no official opening date has been set.  The private destination will be constructed on Lelepa Island in the South Pacific nation of Vanuatu.
During my recent South Pacific cruise itinerary, I jumped on the opportunity to visit Lelepa Island when my ship docked in nearby Port Vila. Although Perfect Day at Lelepa is not yet open—it hasn't even begun construction—visiting the island gave me a first hand look at what this unique destination may offer cruisers.
From out-of-this-world snorkeling to gorgeous beaches and friendly locals, here are the main insights I gained from my day ashore that you should look forward to.
Like Perfect Day at CocoCay, Perfect Day at Lelepa will be a private destination exclusively for Royal Caribbean cruise passengers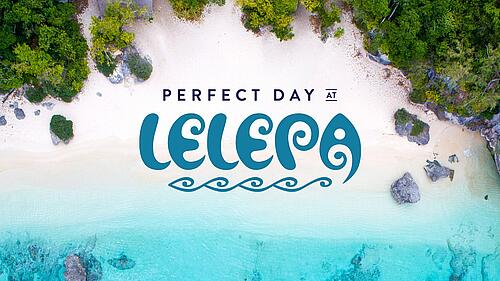 Perfect Day at CocoCay is one of Royal Caribbean's most popular cruise ports. The private island, located just 140 miles from Miami, features a waterpark, freshwater pool, exclusive beach club, and multiple beaches. Over two million cruise passengers visit the destination each year.
Related: 41 Perfect Day at CocoCay tips, tricks, and secrets
Given the popularity of the first Perfect Day destination, Royal Caribbean announced a second Perfect Day destination, Perfect Day at Lelepa, in 2019. Unlike Perfect Day at CocoCay, which offers thrilling activities like water slides and jet skis, Perfect Day at Lelepa will place more of a focus on the ecological beauty and diverse culture of Vanuatu.
The island will also be the first private cruise destination in the world to achieve carbon neutrality.
According to locals, construction has not yet started for Perfect Day at Lelepa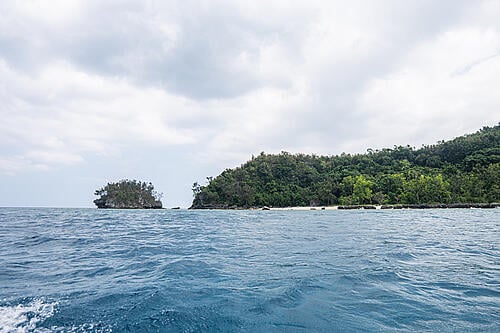 Following the 2019 announcement of Perfect Day at Lelepa, the cruise line planned to open the destination sometime in 2022. These plans, however, were quickly derailed by the coronavirus pandemic.
Royal Caribbean has not released any new updates about Perfect Day at Lelepa since March 2022, when a few artist renderings were released about what the destination could look like. 
The company's silence has many loyal cruisers wondering what the current status is with the destination. This is what I was most curious to find out as well.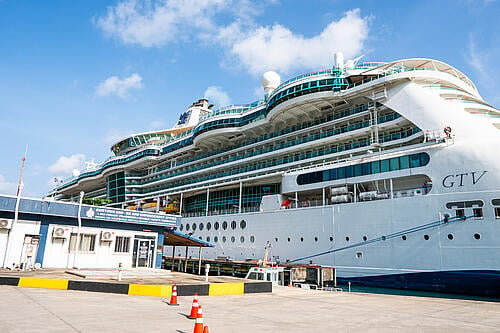 As soon as my ship docked in Port Vila, I hopped in a taxi for a 30 minute ride to the western side of Efate Island, from where I would board a small boat to Lelepa Island and start my day tour with Lelepa Island Day Tours.
During our short five minute boat ride from Efate to Lelepa Island, I asked the boat's captain about the private destination, and whether or not construction had begun.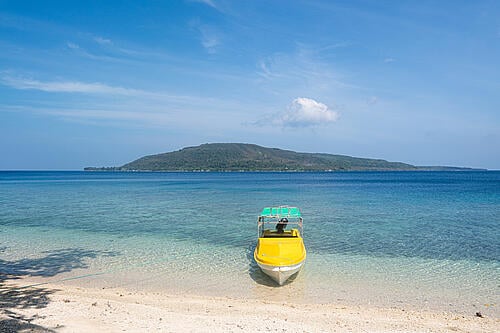 He pointed to the far north side of the island to indicate where the destination would be located, and told me that construction had not yet begun. 
It's unclear whether the infrastructure and buildings for the Perfect Day at Lelepa are being constructed elsewhere and will be transported to the island at a later date. That being said, if there's one thing I learned during my time on the island, it's that the opening date still appears to be very far away.
Lelepa Island's coastline is dotted with beaches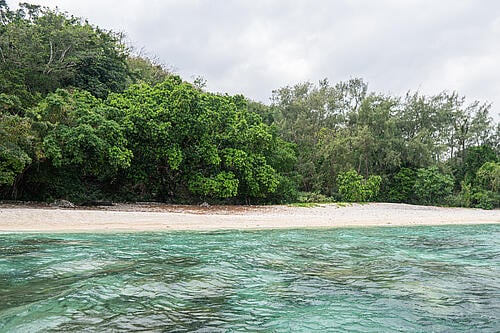 Unfortunately my day tour to Lelepa Island was unable to visit the part of the island that will become Perfect Day at Lelepa. My tour guide explained that they used to bring visitors to that area of the island, but cannot do so anymore due to the agreement with Royal Caribbean.
Even so, I was able to catch a glimpse of what will become one of the island's main beaches. While I only saw the beach from a distance, it appeared to be longer than other beaches around the island.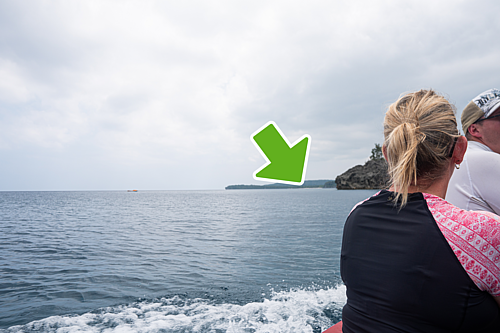 Of the beaches I visited during my day ashore, though, most of the beaches weren't made of fine sand. Rather, they were composed of small pieces of coral.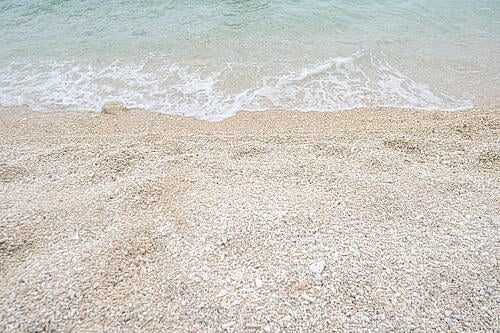 While not as comfortable as the soft sand somewhere like Perfect Day at CocoCay, the crystal clear, refreshing water will certainly make visiting Lelepa a perfect beach day for visitors.
Snorkeling opportunities at Perfect Day at Lelepa will be far better than those at Perfect Day at CocoCay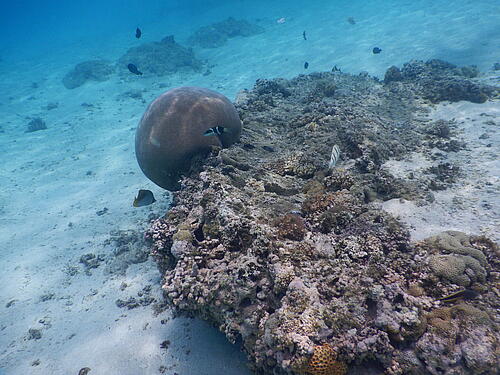 Perfect Day at CocoCay is a popular snorkeling spot on any Caribbean cruise, but Perfect Day at Lelepa easily blows the Bahamian island away.
During my visit to Lelepa, I had the opportunity to snorkel amongst some of the most colorful and abundant coral I've ever seen. From the moment I put my head under the water, I was left speechless with the variety of marine life in front of me.
As our tour guide put it, "People say the snorkeling here is even better than the Great Barrier Reef." I have to agree.
If there's one thing to be excited about with the launch of Perfect Day at Lelepa, it's the snorkeling opportunities. Bringing your own snorkeling gear ashore is a must. Like at Perfect Day at CocoCay, it's possible that snorkeling and scuba diving tours may be offered at an additional cost.
The island also offers the ability to visit a large cave as well as a local village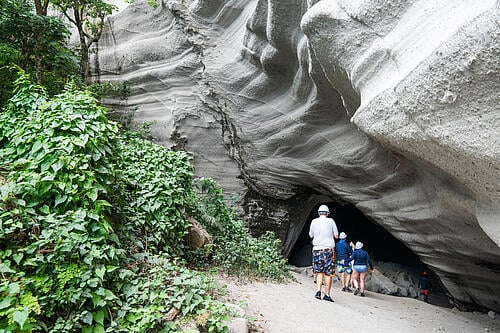 Outside of the beaches, Lelepa Island offers a few more activities for visitors. Of course, it's unclear whether these options will be offered to guests at Perfect Day at Lelepa, but it's possible they could become shore excursions.
The first is a visit to Fele's Cave, an 114 foot high cave with rock drawings up to 3000 years old. These cave paintings show animals, geographic shapes, and a human representation of Chief Roi Mata, a powerful chief of Vanuatu who was believed to have ruled in the 16th century.
I wasn't sure what to expect when we approached Fele's Cave during my visit to Lelepa Island, but I was stunned by the cave's size and the spiritual history it represented for thousands of years.
We also made a visit to Natapao, the main village on Lelepa Island.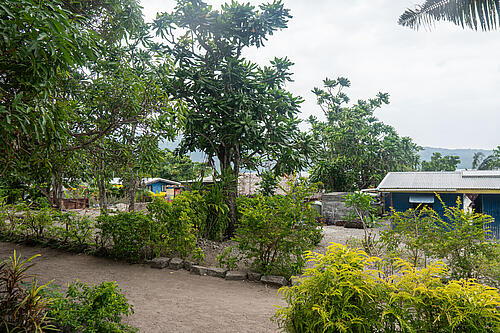 One of the most unique aspects of visiting a destination like Vanuatu is experiencing the unique cultures of Melanesia. Visiting the local village was a way to learn more about the local way of life on the island and purchase souvenirs that support the town's economy.
For those looking to experience the island outside of just the beach, these two options make an excellent choice.
Like any new project, locals have mixed feelings about the private destination, but overall thoughts remain positive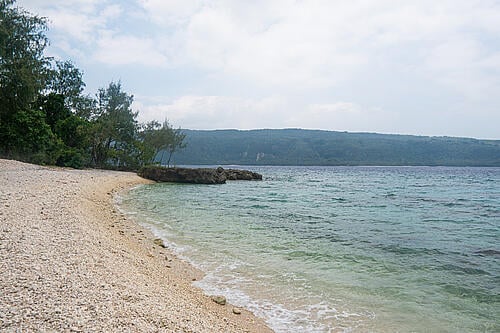 Although Royal Caribbean's marketing puts forth the image that Perfect Day at Lelepa is a remote island, the reality is that Lelepa Island is located just across from Port Vila, the most populous city in Vanuatu.
Despite the island's proximity to the main economic hub in Vanuatu, though, life remains relatively traditional for the 600 residents calling Lelepa home. With no access to freshwater, locals must visit Efate Island—where Port Vila is located—daily to collect water, and all electricity is provided via generators and solar power.
It goes without saying that a project as monumental as Perfect Day at Lelepa will likely change the lives of many on Lelepa Island. Most locals I spoke with seemed to be in favor of the private destination, as it will provide a significant source of economic generation for the island. Some, however, are of course worried about how it may affect the current way of life.
The island is sure to be successful with the Australian cruise market, but those in North America should also consider a visit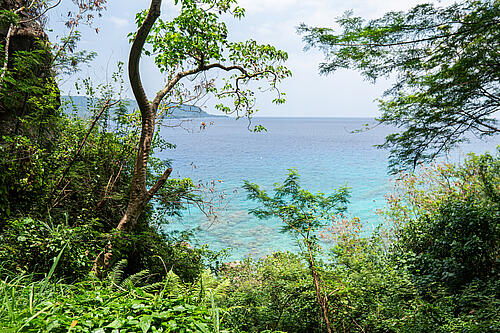 It's likely Perfect Day at Lelepa will quickly become a major selling point for cruisers based in Australia. South Pacific itineraries remain extremely popular in the region, offering a tropical getaway to islands primarily in New Caledonia and Vanuatu. Itineraries depart from both Sydney and Brisbane, Australia.
The benefit of visiting one of Royal Caribbean's Perfect Day locations over a traditional cruise port is the private atmosphere. Only Royal Caribbean cruise passengers will be permitted at Perfect Day at Lelepa.
Plus, even though some excursions may be offered at an extra cost, there will be no charge to visit Perfect Day at Lelepa, as it will be included in guests' cruise fares.
Despite the fact that I could not visit the future destination's exact location up close, traveling to Lelepa Island gave me an idea of what to expect once Perfect Day at Lelepa launches.
The most spectacular part of my day was the snorkeling—it was the most magnificent coral I've ever seen. Aside from exploring underwater, the beaches and pristine nature of Lelepa Island are sure to impress the estimated 800,000 passengers to visit the destination each year.
For more updates on Perfect Day at Lelepa, be sure to subscribe to the Royal Caribbean Blog newsletter and follow our Facebook page so you can be notified as soon as Royal Caribbean releases new information about this exciting new destination.