In:
After being delayed due to Tropical Storm Isaac, Royal Caribbean's ships returned to port today.  Allure of the Seas had her seven night itinerary extended to nine due to the storm, but arrived in Port Everglades at 5:30am this morning.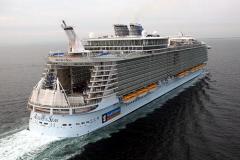 Despite the delay, passengers said the staff on board did a great job handling the storm and keeping everyone safe. "Good job. They did an excellent job. They let us know in advance. I didn't hear anyone complaining," said Barbara Moore.
Meanwhile Majesty of the Seas made her way back to the port of Miami, which was closed since Saturday.  Tropical Storm Isaac forced the port to close but was reopened on Monday afternoon.
Majesty of the Seas was extended from a three-day journey to a four-day trip, and the ship did not stop at the scheduled ports of call. "They gave us back our port charges, I guess because we didn't go to any ports. But other than that, I think they made a lot of money in the casinos and the alcohol," said passenger Michael Brodie.