In:
STX Finland's Torku shipyards are home to the soon to be completed Allure of the Seas.  Allure is floated, painted and almost ready to leave for her international press gala and start her service in Royal Caribbean's fleet, but once Allure of the Seas leaves, there's a lot of doubt in the Torku shipyards about what's next.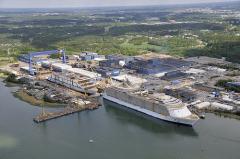 There isn't any news of any other ships on order and that's been the case now for a few years.  The main competitor to the shipyards are in Germany, Italy and France and all of them have received orders over the last few years. Turku shipyard is the only one who has no job pending.
One issue for Torku is that cruise lines tend to build cruise ships where previous ships were built, such as Carnival Cruises, who ordered a new ship to be built at the Italian Fincantieri shipyard because the ship of the previous series of ships was ordered from there.
There's no question that Turku shipyard's future depends largely on Royal Caribbean, the shipowner whose ships have been built in the shipyard for 40 years.
So what are Royal Caribbean's future ship building plans beyond Allure of the Seas?  The company has not yet committed to anything since the beginning of the financial crisis ended. It is, however, considering new ships, since the company's main competitor Carinval Cruise Line is looking to take a bigger lead in the cruise market.
Royal Caribbean CEO Adam Goldstein hasn't said much about what the future will hold, opting to focus on what's still in front of him, "We are going to grow as a company and brand, but today we focus on fully Allure of the Seas ship."