In:
Royal Caribbean's Freedom Class cruise ships are known for packing in lots of fun activities onboard a proven ship design.
Once the largest cruise ships in the world, these Royal Caribbean ships can accommodate slightly less than 4,000 passengers at double occupancy. All those passengers can look forward to plenty of specialty restaurant choices, and even Broadway shows on two of the ships, such as "Saturday Night Fever" and "Grease."
While Freedom-class ships are no longer in the top 10 of Royal Caribbean's biggest ships, they remain a great combination of value and things to do. In fact, Royal Caribbean upgraded Freedom and Independence of the Seas as part of its Royal Amplified program.  All Freedom Class ships have received updates over the last few years to add new features and amenities onboard.
Between all of the Royal Caribbean ship classes, here's everything you need to know to help you decide whether the Freedom Class is right for you.
What are the Freedom Class ships?
There are three Freedom Class ships:
Freedom of the Seas is the first ship of the class and sails from Miami, Florida
Liberty of the Seas is the second ship of the class and sails from Galveston, Texas
Independence of the Seas is the third ship of the class and sails from Port Canaveral, Florida
Their gross tonnage ranges between 154 - 156,000 GRT.
What is there to do on Freedom Class ships?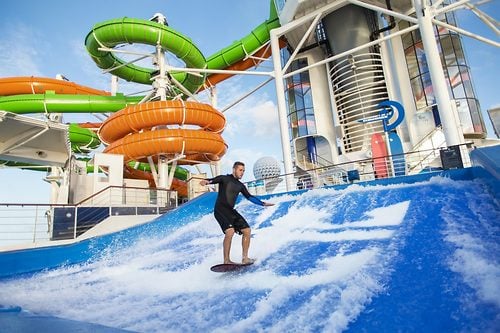 Freedom Class ships are known for all the fun activities on the pool deck, including cantilevered hot tubs, a FlowRider surf simulator, water slides, and a vibrant pool deck.
Freedom of the Seas' $116 million of upgrades in early 2020 added a resort-style Caribbean pool deck, along with its set of water slides.
Independence of the Seas also features new water slides, as well as the Sky Pad virtual reality bungee trampoline experience.
While Liberty of the Seas did not get her dry dock upgrades as originally scheduled in 2020, she did receive pool deck enhancements in 2016 that added a collection of waterslides including the first ever boomerang style slide at sea, Tidal Wave. New as well is Splashaway Bay, an aqua park featuring an interactive kid's play area with water cannons, geysers and much more. 
There's no shortage of great dining options on the Freedom Class ships. Each has Chops Grille, Johnny Rockets, and Giovanni's Table specialty restaurants.  Freedom of the Seas features an updated version of the Italian restaurant and new menu, known as Giovanni's Italian Table. Independence of the Seas has an expansive Playmakers Sports Bar area to watch the game from, as well as a very large Izumi Hibachi room. Liberty of the Seas is the only ship in the class to have a Mexican cuisine restaurant at Sabor.
If you like shows, Liberty of the Seas features the Broadway show "Saturday Night Fever", and Independence of the Seas has "Grease." All three ships have production shows and featured entertainment as well throughout the cruise.
Each of the ships has an ice skating show in Studio B, along with the opportunity for passengers to skate during designated free skate sessions.
Each of the Freedom Class ships has a nursery for children between 6 - 36 months old, which has an additional fee.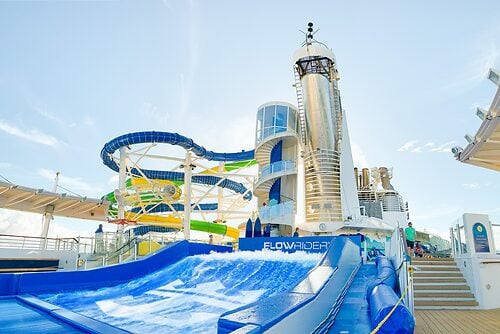 Freedom Class highlights
Aqua park
Rock-Climbing Wall
Ice-Skating Rink
Basketball court
Royal Promenade
British-Style Pub
Designer Shopping
Adults-only Solarium pool area
Outdoor Movie Screen
Panoramic staterooms
Flow Rider Surf Simulator
Water slides
Differences between the Freedom Class ships
When the Freedom Class ships first debuted, they were virtually indistinguishable from each other, but upgrades and enhancements have added features and amenities available on individual ships.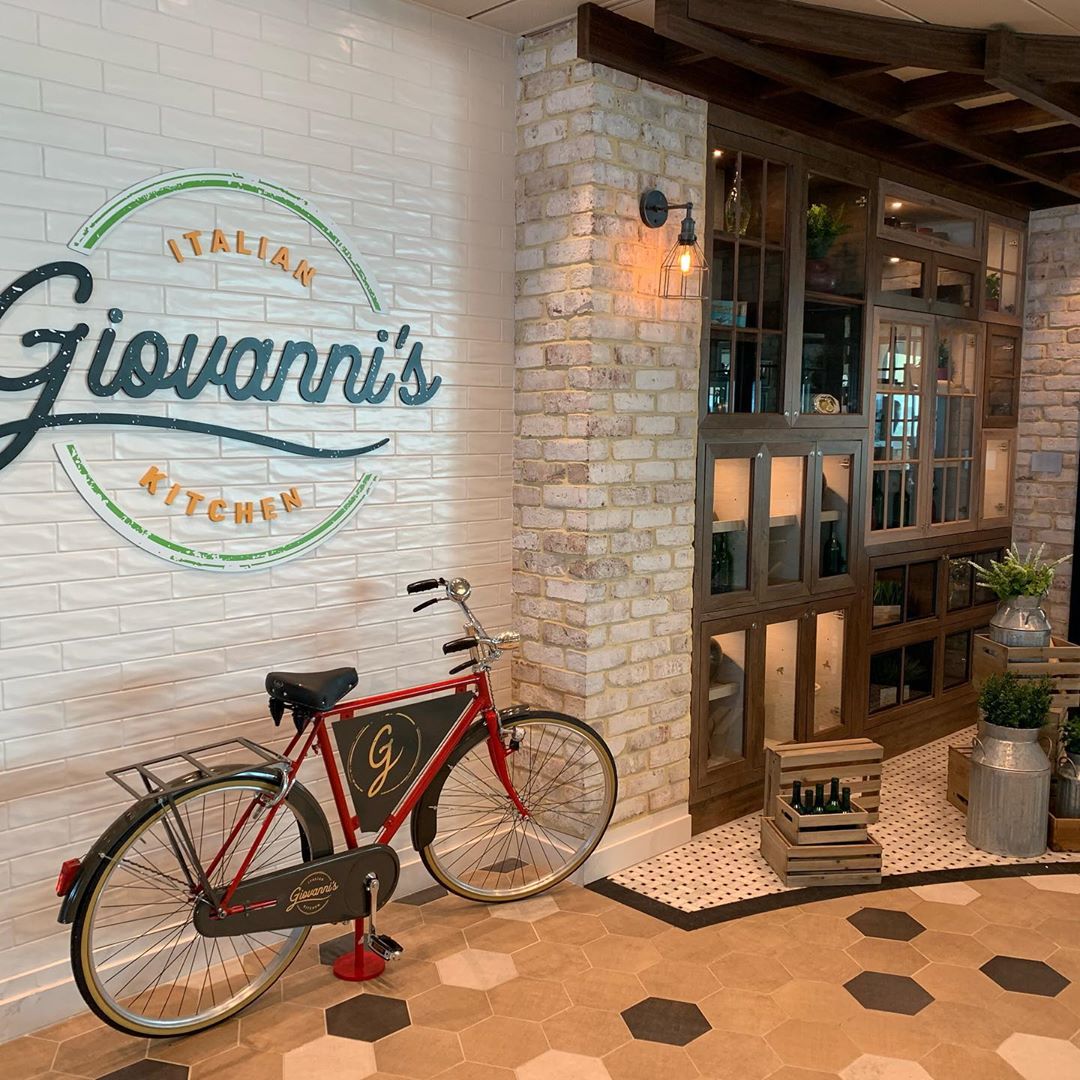 Freedom of the Seas was the most recent Freedom Class ship to be upgraded, and she is the only one of the three to offer these options:
Giovanni's Italian Kitchen
Upgraded Adventure Ocean and teens club area
Resort-style pool deck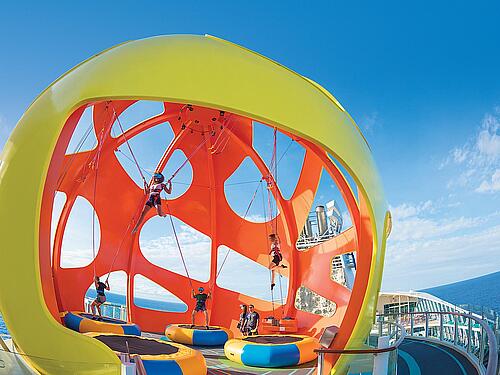 Independence of the Seas was upgraded in 2018 and offers these exclusives over her sister ships:
Sky Pad
Grease, the Broadway musical
Puzzle Break escape room 
Fish & Ships, a poolside eatery where guests can grab quintessentially British seaside treats.
Sugar Beach candy shop, a wondrous world of delicious delights, along with a few exciting surprises.
Liberty of the Seas may not have gotten a Royal Amplification, but she still has her own unique features among the class:
Sabor Mexican restaurant
Tidal Wave boomerang style slide
Who should sail on a Freedom Class ship?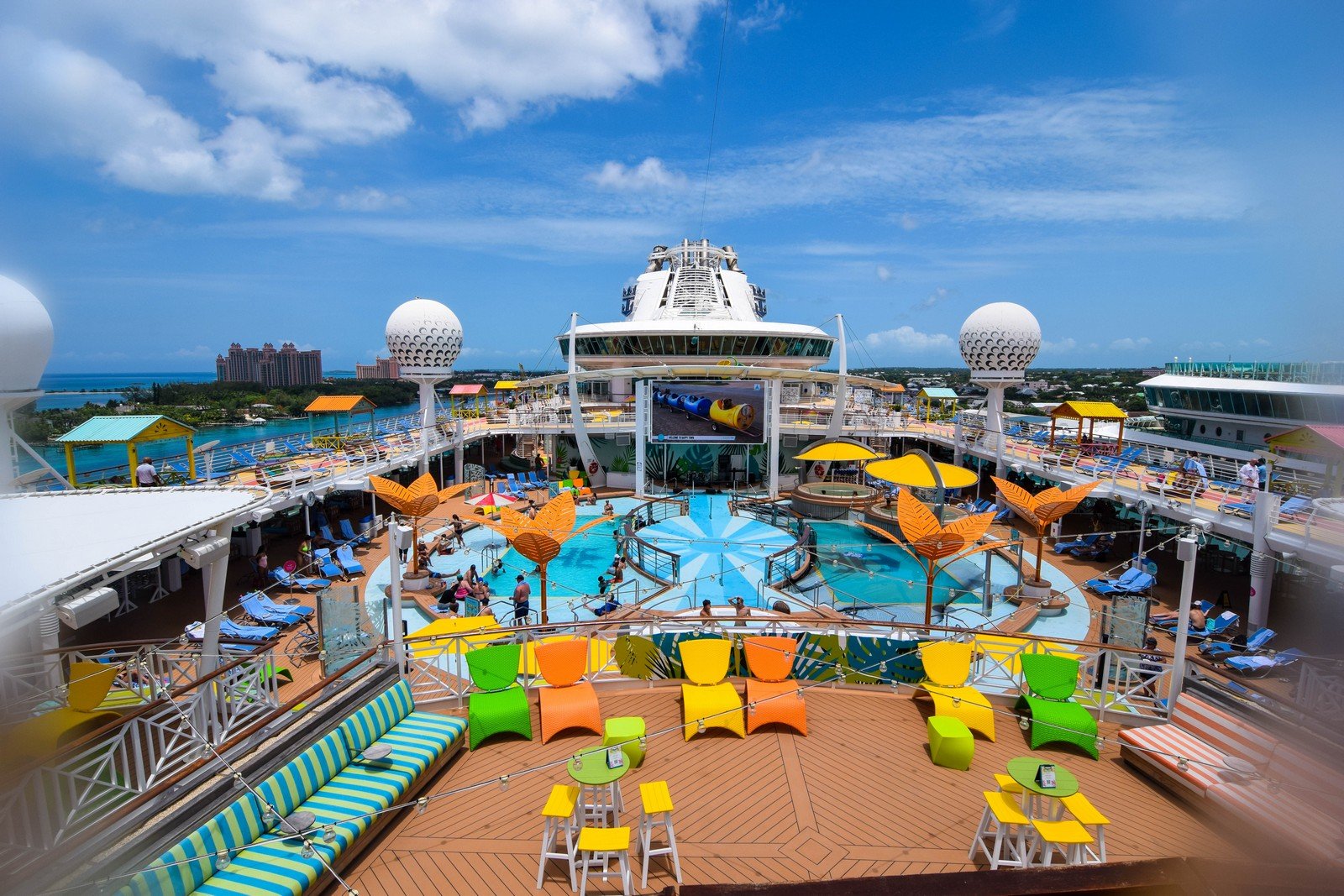 The Freedom Class ships were designed for families that want a lot of things to do onboard.  These days, another compelling reason to pick a Freedom Class ship is the value they offer.
Since Freedom Class ships are no longer the newest in the Royal Caribbean fleet, the cruise line tends to price them a bit lower than newer and larger ships. Think of it like buying a leftover new car: you get a better price because it's not as new.
Both the Freedom and Voyager Class ships are very close in size, look, and amenities, but the Freedom Class's extra size gives it more room for more fun with plenty of activities.
Forget the age of these ships, there's lots to do for every age, from the sports court, to the ice rink, to the rock wall. These ships feature plenty of live music, a mini-golf course, surf simulators, and more.
These are big ships, and are great for a special occasion, group of friends, or first time cruiser. 
The one area you might prefer to move up to an Oasis Class ship, like Symphony of the Seas, is for the suites. The Freedom-Class cruise ship does not include the Royal Suite Class amenities that offer more included with the suite experience.
Another reason to skip the Freedom Class would be if you prefer smaller size cruise ships.  The Radiance Class or Vision Class ships would be a better choice in that situation.
Freedom Class tips and secrets
The helipad is open any of the Freedom-class vessels, which means you can walk all the forward on the outside deck of deck 4 and access the helipad for great views during sailaway.
Book reservations for all the shows once you get onboard the ship. Reservations for Grease and Saturday Night Fever are available via the Royal Caribbean app as soon as you connect to the ship's wifi. You can also book other show reservations too.
If you have younger children, be sure to sign them up for Adventure Ocean youth program on the first day during the open house in the afternoon.
Don't miss the Viking Crown Lounge for the views.  Located on Deck 14 via the aft elevators, the lounge is a great place to enjoy sweeping views of the ship.