In:
Royal Caribbean announced that John F. Brock, chairman and CEO of Coca-Cola, has been appointed to the cruise line's board of directors.  The move is effective immediately.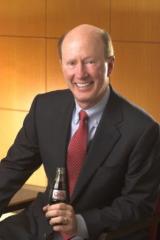 Royal Caribbean chairman Richard Fain commented on Brock's arrival, "John's demonstrated leadership skills and his broad and impressive executive experience in the international beverage industry will help us to deliver long term value for shareholders. We warmly welcome him to the board."
Brock has been the chairman of Coca-Cola Enterprises since 2008 and CEO since 2006. Mr. Brock also has significant Board experience, having previously served on the boards of Dow Jones & Company, Campbell's Soup Company, InBev, Cadbury Schweppes, and Reed Elsevier.
Prior to working at Coca-Cola, Brock served as CEO of InBev, S.A., a global brewer, from 2003 to 2005 and as COO of Cadbury Schweppes plc, from 1999 to 2002.