In:
If you're planning a European cruise with Royal Caribbean in the next two years, you will have fewer ships and itineraries to choose from when compared to previous seasons.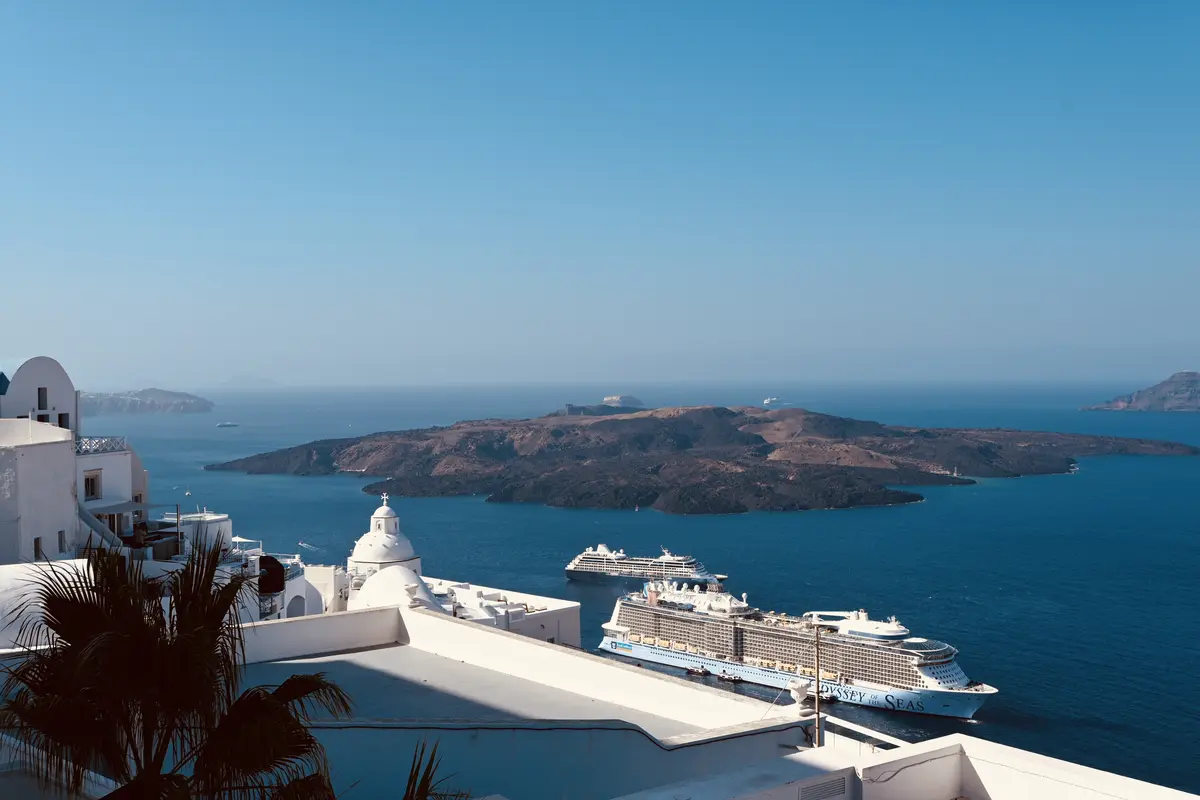 Royal Caribbean recently announced European itineraries for the summer of 2025 - and it's apparent the cruise line is continuing to reduce its presence in the region. By the summer of 2025, only six ships will be sailing in Europe for the cruise line. 
For comparison, Royal Caribbean had nine ships sailing in Europe for the summer of 2023. This is a 33% reduction in the number of cruise ships from Royal Caribbean's fleet that will be deploying for the European season. 
Based on double occupancy, the passenger capacity in 2025 for European itineraries will be reduced by about 23% from the 2023 European season. Deploying larger ships to the region has salvaged some of the lost capacity due to the reduction in ships for Royal Caribbean. 
For the summer of 2024, the European region will only receive seven ships from Royal Caribbean's fleet - one of which includes the Ultimate World Cruise on Serenade of the Seas.
Despite unexpected, increased demand for European cruises in the last quarter, Royal Caribbean is continuing to focus on increased capacity to its private island: Perfect Day at CocoCay. 
Over the years, Royal Caribbean has been slowly reduced the number of ships sailing in the European region. This downward trend is all but confirmed by the 2025 European deployment schedule.
Although Royal Caribbean has been reducing ships in Europe, the cruise line is sending bigger ships to the region.
For the 2024 and 2025 European seasons, Royal Caribbean has opted to increase the size of ships sailing around the Mediterranean and Northern Europe. In prior years, the cruise line would sail mostly Vision and Radiance-Class ships in the region, which are among the smallest in the fleet.
The largest ship will be Allure of the Seas, which is an Oasis-Class ship that will be returning to Europe for the first time since 2015. Sailing from the UK once again will be Independence of the Seas, which is a Freedom-Class ship that will replace Anthem of the Seas. 
Other large ships sailing in the region include Odyssey of the Seas, followed by Voyager of the Seas and Explorer of the Seas. Brilliance of the Seas will be the smallest ship sailing Europe next summer, which has a capacity of 2,140 passengers.
Compared to other cruise lines, Royal Caribbean's European presence is much smaller. For example, competitor Norwegian Cruise Line will be sending eight vessels to Europe in 2024 and 2025. The cruise line's two newest ships - Norwegian Viva and Norwegian Prima - will both be sailing in Europe during this time.
For Royal Caribbean's European season, Odyssey of the Seas - which first debuted in 2021 - will be the newest ship sailing in the region. Allure of the Seas is the second newest ship from 2009 followed by Independence of the Seas, which was built in 2008. Royal Caribbean's other ships scheduled to sail in Europe are all 20+ years old. 
Larger ships are restricted to certain ports due to their size, leading to less varied European itineraries. 
Although Royal Caribbean is planning to send bigger ships in the coming summers, this comes with its own set of challenges. Most important, larger ships cannot access certain ports due to size restriction. 
Sailing larger ships around Europe means Royal Caribbean's itineraries are less varied. You can still find port-intensive sailings, but options are more limited. You'll only be able to cruise from five departure ports in Europe starting in 2025: Southampton (London), Ravenna (Venice), Civitavecchia (Rome), Piraeus (Athens) and Barcelona.
Notably missing from the European summer schedule in 2025 include the British Isles, Arctic Circle, Baltic cities and Iceland. Royal Caribbean has always offered these European itineraries in the summer, but these sailings in particular are missing from the 2025 schedule. 
If you are looking for more diverse itineraries such as these, you will likely need to check out another cruise line, including sister brand Celebrity Cruises. Even with a smaller fleet, Celebrity Cruises is planning to send six cruise ships to Europe for 2024 (2025 sailings have yet to be released). You can find longer sailings to more interesting, unique destinations throughout Europe. 
Royal Caribbean also released a handful of short European itineraries with very few long sailings scheduled.
One of the most surprising shifts in Royal Caribbean's planned deployment schedule is the shift towards shorter European sailings. Interestingly enough, there are quite a few short sailings between 2 and 5 nights. 
Although Royal Caribbean has amped its weekend sailing options to the Caribbean, this is one of the first times we've seen the cruise line offer shorter itineraries in Europe. For example, you can book a 5-night cruise to Germany and Belgium on Independence of the Seas. In addition, Explorer of the Seas and Allure of the Seas each offer a few 5-night cruises to Italy, France and Spain. 
Looking at the 2025 summer schedule, Royal Caribbean's website only shows two 12-night sailings. There is one 12-night cruise on Odyssey of the Seas to Greece and Turkey while Independence of the Seas is only sailing one 12-night cruise to the Canary Islands. The deployment schedule for the summer of 2025 shows a few 9-night and 10-night itineraries throughout Europe, but the vast majority are 7-nights.
This is a diversion from Royal Caribbean's typical European summer schedule, as the cruise line has always offered multiple itineraries for 12-night to 14-night cruises.
Despite "roaring demand" demand for European itineraries, Royal Caribbean is focusing on increased capacity at Perfect Day at CocoCay.
In a recent 2023 Q3 earnings call, CEO Jason Liberty specifically called out the unexpected, strong demand for Europe in 2023. 
"While the Caribbean remains a standout performer this year, we were particularly pleased with the strength and quality of cruising demand for European itineraries. This acceleration of demand for Europe contributed to the better-than-expected yield performance for the quarter," stated Liberty. 
In fact, the accelerated demand for Europe resulted in better-than-expected yield performance for the quarter and is expected to increase revenue for these itineraries. However, according to Royal Caribbean, Europe only accounts for just 17% of the cruise line's capacity compared to the Caribbean's share of 55%.
Royal Caribbean is clearly pivoting from other markets to focus on increasing capacity to its private island: Perfect Day at CocoCay. With the new adults-only Hideaway Beach planned for the end of the year, the cruise line is aiming to increase the number of guests to the private destination.
"Obviously, we've planned to open Hideaway Beach at the end of this year in time for Icon and Utopia - that's going to increase our ability to add more gas to Perfect Day by about 3,000 people. So that allows us then to continue to increase our capacity into Perfect Day," said President Michael Bayley during the earnings call. 
Royal Caribbean Blog followers expressed disappointment and frustration over the 2025 European deployment schedule. 
With a more limited selection for European itineraries in the coming summers, some cruisers expressed frustration with Royal Caribbean.
To start, many followers mentioned the disappointment with Royal Caribbean's planned itineraries from Southhampton. "Very poor from Royal for Northern European…Indy has such poor itineraries and nothing for Iceland/Arctic circle? It's as though we're an afterthought. Not impressed," said Mark Middleton on Facebook. 
"I don't see Scotland or Ireland. We booked a Scotland/Ireland with NCL. We are pretty loyal to Royal Caribbean but wanted and needed more time to pay it off. Plus with some research it looked like RC was going to be more with nothing included," said Jennifer McCrory.
Follower Lynsey Bolton felt similarly, commenting, "Gutted as no 14 night Med/Canaries cruises for Summer 2025 from Southampton. Will have to try an alternative cruise line but desperately wanted to cruise with RC again!"
In addition, the cruise line has opted to swap the newer Anthem of the Seas with Independence of the Seas - something that many view as a downgrade.
User DS shared, "Real shame that Royal treat the UK clientele so poorly and have put Independence back in Southampton. All other cruise lines bringing new ships while Royal brings a 15-year old tired ship urgently in need of cabin refurbishment. Many UK residents will almost certainly now go elsewhere."
Other followers were disappointed in Royal Caribbean's decision to sail older ships to Europe. "Come on Royal Caribbean!! These sailings are second rate for Southampton and Europe .... we deserve better and newer ships too!" said Alison Guest.  Follower Sean Chan agreed, posting, "Love how Royal dumps old ships for Europe itinerary."