In:
Allure of the Seas has just started sailing out of Port Canaveral doing short three and four night cruises.  Their second sailing was during Halloween.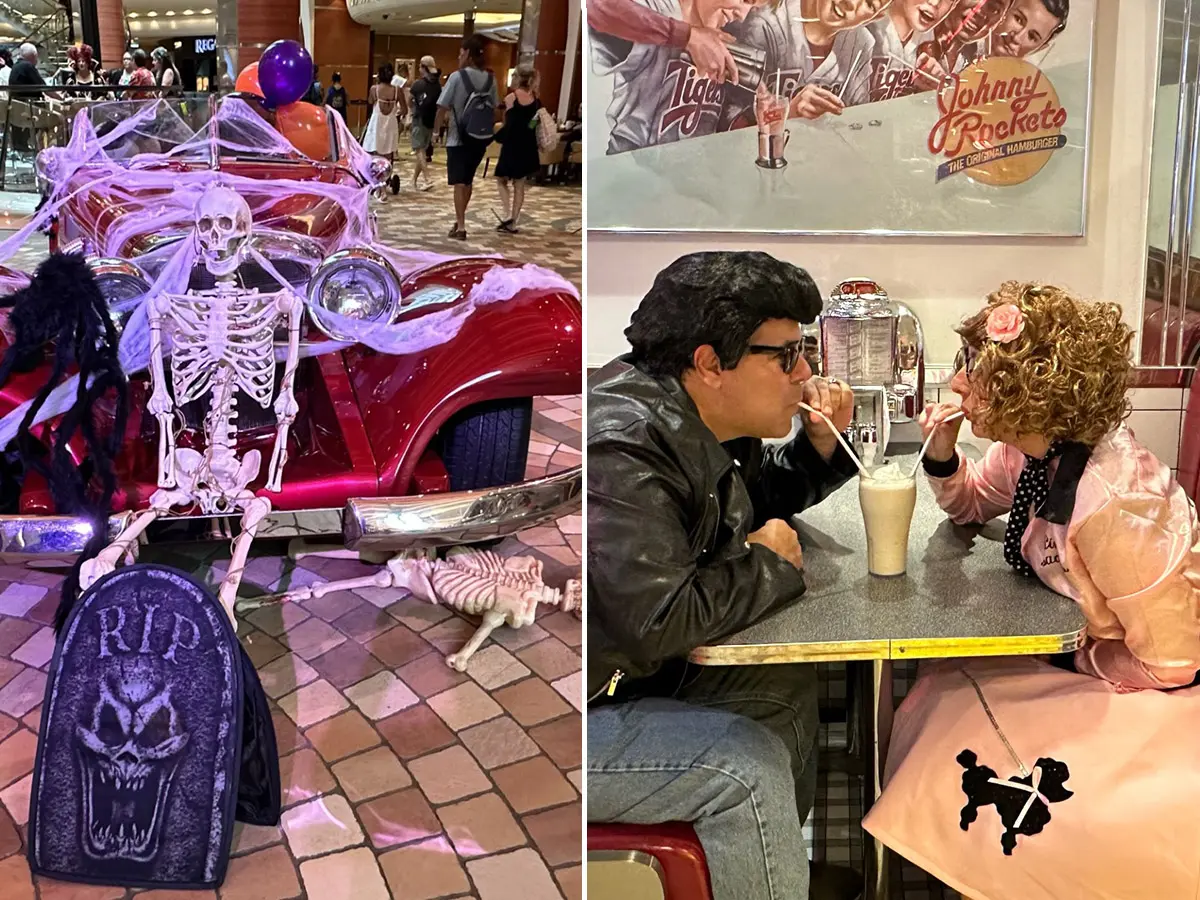 You might not think of Halloween and a cruise ship as an obvious must-do, but maybe you should reconsider.
My husband and I attended our first All Hallow's Eve on the Freedom of the Seas in 2006 and always cruise during that time, as our anniversary is three days prior. It's our favorite time to sail.  
Here is everything we did and saw that made our holiday extra special.
What costume to wear?
Halloween isn't just for kids!  In fact, in our experience, there are more adults that dress up than the children.  Since we live within driving distance to Port Canaveral, it's a little easier for folks like us when it comes to packing. We have the luxury of not having to worry about airline luggage weight limits yet we still didn't want to bring an extra suitcase filled with elaborate costume accessories.
Keep in mind all clothing and wigs tend to be compressed in your luggage and may need time to get their shape back. You can only imagine how much space my giant petticoat took up in my suitcase!
This year we went as characters from the movie "Grease."  We dressed as Marty Maraschino and Danny Zuko. (My husband wasn't too pleased that people kept calling him Elvis or The Fonz. LOL) We like to do couple costumes that will match something on the ship. Knowing there was a Johnny Rockets onboard, I knew I'd be able to get some awesome photos in that venue. Even the crew enjoyed seeing us in costume and helped us plan the perfect photo opportunity.
 Tip:  We purchased our outfits years prior at the Halloween stores' November 1st sale where all the costumes and accessories were 50% off.  If you know you're going to sail during that time, it's a great way to save money!  However, you can still celebrate the season without a costume at all.  We saw plenty of passengers dressed in Halloween themed t-shirts and dresses.
Halloween morning
Unlike Christmas, where the ships have holiday décor up for months, Halloween onboard is typically celebrated just that one day.  You won't see decorations around the ship until October 31st and they will all be quickly put away on November 1st.
We hurried down to the promenade at 7 a.m; anxious to see all the spooky sights.  We were greeted with none.  
Confused, we stopped by the Guest Services desk and asked where all the Halloween decorations were.  We were informed there wouldn't be any this year because the ship had just switched home ports this week.  That seemed odd to me as the decorations are typically stored on the ship so it shouldn't matter where the ship is sailing from. That was kind of disappointing.
Something we've learned over the years of cruising is that every ship has a different way of doing things. However, there were plenty of Halloween activities listed in the cruise compass so I knew there would at least be a celebration for the holiday.
Adventure Ocean Fun
I stopped in to the kids club area to ask the staff there what activities would be offered for the children.  I was pleasantly surprised to see the entire area was decorated with "Happy Halloween" signs, balloons, cobwebs and the like.  It looked very festive in there.  
There were plenty of events scheduled throughout the day and evening such as a costume contest, a parade, Halloween themed arts and crafts and a scavenger hunt.  
While there was no official trick or treating around the ship, we did encounter several fellow passengers that were handing out candy to children on the promenade.
A Spooky Surprise
Our ship was docked in Nassau that day.  Upon returning, we were greeted with Halloween decorations!  There was a display of carved pumpkins outside of the Windjammer as well as adornments up and down the Royal Promenade.  
I don't know what ended up changing their mind.  My theory is there must have been a lot of people voicing their displeasure concerning the lack of ambiance onboard at Guest Services, just as we had earlier in the day.  It made for a much better mood around the ship.  
We did the Monster Mash
The fun started for the adults at 5 p.m. with Halloween themed afternoon trivia and continued well past the witching hour. 7:15 p.m. in the Schooner Bar featured Halloween "Name that Tune" trivia.        
Costume contests started in the casino at 9 p.m.  Anyone dressed up that was playing at the slot machines were automatically entered.  The casino hosts would covertly circle the room and pick out random winners that were eligible for a variety of secret prizes.
The Royal Promenade was packed as the costume parade began at 11 p.m. There were so many wonderful costumes.  
Some of my favorites were "The League of their Own" group, a couple dressed as Maverick and Goose from "Top Gun" and Captain Jack Sparrow from "The Pirates of the Caribbean."  I couldn't help but laugh at the dozen or so inflatable sharks, perfect costumes for a cruise.
Studio B was the focal point of fun.  The holiday party started at 10 p.m. and went on until midnight.  The ice skating rink was covered with a dance floor and was packed with party goers. The live DJ played songs from Taylor Swift to Rhianna; line dances featuring the Cha-Cha slide, the Cupid Shuffle, and the Wobble.  And of course, Halloween favorites such as The Phantom of the Opera, Ghostbusters, and Thriller. 
There were two opportunities to sign up for the Halloween costume contest throughout the day.  Winners were chosen in Studio B at 11:15 p.m.  The winners were split up into categories: Scariest costume, Best Couple, Best Group, Scariest Costume and Overall Best Costume.
The party continued into the wee hours of the night for the 18 and up crowd with a D.J. in the Blaze nightclub that began at midnight. 
Final thoughts
I always recommend going on a Halloween cruise.  It is so fun to see all the creative costumes.  This year was different as Halloween also fell on formal night so it was an interesting mix of people dressed as zombies and others in ball gowns and suits although the majority were in costume.   It is a late night though, as the events take place after all the dining and show times. As someone who goes to bed early on their cruises, it was hard for me to be able to make all the festivities but I wouldn't miss it!