In:
When docked at Royal Caribbean's private island in The Bahamas, crew members both ashore and onboard will work to make sure that your day is, in fact, perfect, but it doesn't hurt to come prepared with a few items that can help elevate your experience at this one-of-a-kind destination.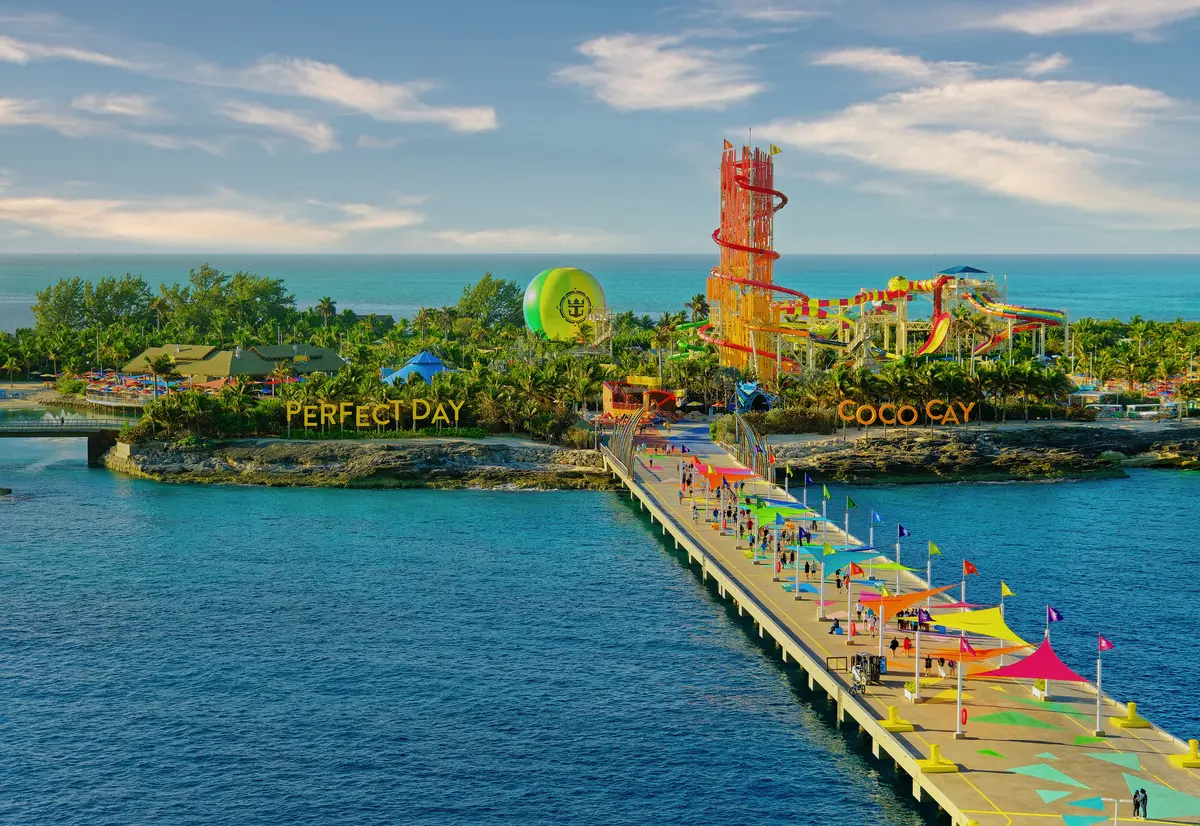 Perfect Day at Cococay is designed to be a place anyone can go and have a wonderful time, but are there ways to further enhance your day there?
Past cruisers who are part of the Facebook group "Coco Cay - The Perfect Day" shared some things they brought with them or wish they had while they were there. 
Here are 10 genius things you should bring to Royal Caribbean's private island to make it even better.
Please note that we have linked some items on Amazon, which contains an affiliate link. This affiliate link costs you absolutely nothing extra, but Royal Caribbean Blog makes a small commission if you purchase it. 
Inflatable floats from Amazon
Sure, you can rent $20 mats through Royal Caribbean. Wouldn't it be smarter to just bring your own, though? Not only are they a better investment, as you can use them when docked in other ports of call, during the summer at the pool, or on future trips, but they are also more stylish. 
Nicole Fedoryka wrote, "Used at 4 different places on our cruise last month. Easy to blow up and let air out..."
The key is to make sure that they are inflatable, though. You do not want them to take up too much space in your luggage before you get on the ship. You should also refrain from using them in the ship's pools, as they are already limited in space. 
On Amazon, a 4-pack of inflatable mesh floats is only $21.99. If you want, you can also research inflatable tube floats, if you'd rather sit in a donut-shaped float. 
Baby powder
Did you know that baby powder makes sand fall off of your feet? That's what Debby Smith advised everyone to bring with them ashore. 
Don't put it on before you go in the water, though. Smith recommended applying it after you've finished hanging out in the ocean. 
Kate Zingarelli seconded this item: "[It] also makes getting dressed after swimming easier. After you take off your swimsuit, powder the sticky not quite dry areas. Clothes go on smoothly. Great for helping kids get dressed." 
This is a common household item that many have in a drawer or cabinet in their bathroom already. If you don't, though, a bottle is less than $5 on Amazon. 
Towel clips
Towel clips should be on any upcoming cruiser's packing list. They are great for sea days when there might be a steady breeze blowing throughout the pool deck. 
Being able to use them at CocoCay is just another reason as to why you should get them! They will be useful in keeping your towels secure while you take a refreshing swim, use the restroom, or grab a bite to eat. 
Marshall Upright wrote, "Towel clips to hold the towel on the chair. Amazon 16 for $9." 
You might not need 16, though. If you are a family of four, eight clips will most likely do the job! Plus, at $5.99 smaller pack is even cheaper than $9. 
SPF lip balm
Sunscreen is usually not an overlooked item when packing for a cruise to the Caribbean or Bahamas. I'll admit, though, that I don't think I have ever packed SPF lip balm!
With how easily I burn, this is something that I am going to start making sure is at the top of my life. 
Unfortunately, Facebook user Katie Foster learned this lesson the hard way, as her lips got burnt on a recent cruise. 
Whether CocoCay is your first or last stop, it is important to protect your skin at every port. If they get swollen, you won't enjoy yourself as much. 
Full-face snorkel mask
"I really debated getting [a mask], said Bill Wyszomirski, "but oh boy was I glad I did. I must've told my wife 4 times afterwards that I was so glad we had our won stuff. Don't regret it one bit." 
Full-face masks mean that you do not have to mess with a breathing tube or goggles; it is just a single piece of equipment!
If you're someone who loves capturing vacation memories, this one is great because it has a GoPro attachment.
While equipment can be rented while ashore, purchasing your own means that it can be used at other points during your vacation or on next year's trip! Like the inflatable beach mats, they are a better deal.
Locking privacy pouch
Like SPF lip balm, this is another item that I wish I had thought about sooner! As someone who travels solo on cruises pretty frequently, I am always worried about my belongings. 
"...we can leave our phones and purse while we [are] in the water or [go] to grab food/drinks," commented Shaunna Pion. 
Upon during some research, I found that there are some bags that just lock without any sort of attachment to secure to your beach chair. 
I stumbled upon a water-resistant pouch with a security tether for only $26.99. It's perfect to protect your phone, cash, SeaPass card, and more. 
Liquid band-aids
Packing your own first-aid supplies is crucial for any trip. It is always smart to have band-aids on hand, especially when you are off the ship visiting a foreign country. 
One commenter reminisced on a time in which she wished she had liquid bandages after her son got injured. Brandi Leigh said that even though she had regular band-aids, she wished that she had liquid ones because standard band-aids kept falling off in the water, and the salt water stung his wound. 
Thankfully, another cruisers onboard had a tube of liquid bandage that she shared, so they could get back to having the best trip possible!
Liquid bandages do not actually adhere to the skin like traditional ones. Instead, the glue-like substance forms a touch protective barrier to seal out water, dirt, and germs. 
A spray fan
The Bahamas can get hot, like hot. The last time I was in CocoCay was over the week of the 4th of July. I was sitting in a shaded area of Chill Island sweating at 10 in the morning! 
Jenna Sprehe says that she had a spray fan to cool down while on the island. 
Even though the ocean and pool are always steps away, sometimes you just want a little mist while eating or reading a book on the beach! You don't always want to submerge yourself in the water. 
Many of them, like this $15 one from Amazon, do require batteries, though! Once you purchase it, you may find yourself needing it again in the future, like at the beach, a ballgame, camping, or waiting in line at a theme park. 
Collapsible folding wagon
If you're flying, you probably will not have the space for this, but those who live within driving distance should consider bring a collapsable folding wagon to CocoCay with them. 
LS McGallagher said, "Saw several people w fold up wagons (like we use for sports games) to lug stuff on/off boat. Seemed like a good idea if you have a lot of stuff."
Even though you will not have to worry about bringing your own beach chairs or umbrellas, there's still a lot of beach stuff that you might want to bring ashore with you. 
You will need towels, sunscreen, sunglasses, and a change for clothing for sure. What about beach toys? Inflatable mats? Snorkel masks? Things can take up room in a standard backpack or beach bag pretty quickly. 
Water shoes
If you are a first-time cruiser, you should come prepared for hot surfaces on the ship, especially on sunny days at sea. "Pool decks are hot," wrote Tina Kupfer-Fisher.
When docked, though, your water shoes can protect your feet on the pier, sand, and pathways when navigating the island. 
If you are spending the day in South Beach, for instance, you will have to walk to the Chill Grill for lunch, unless you are okay with the limited offerings at the Snack Shack. At 12:00pm and 1:00pm, you will not want to be barefoot! 
Don't worry, flip-flops will work just fine if you don't have water shoes. They just tend to be more secure and slip-proof.