In:
Royal Caribbean Group ships sailed at 102.1% capacity in the first quarter of 2023, but that doesn't mean what you think it means.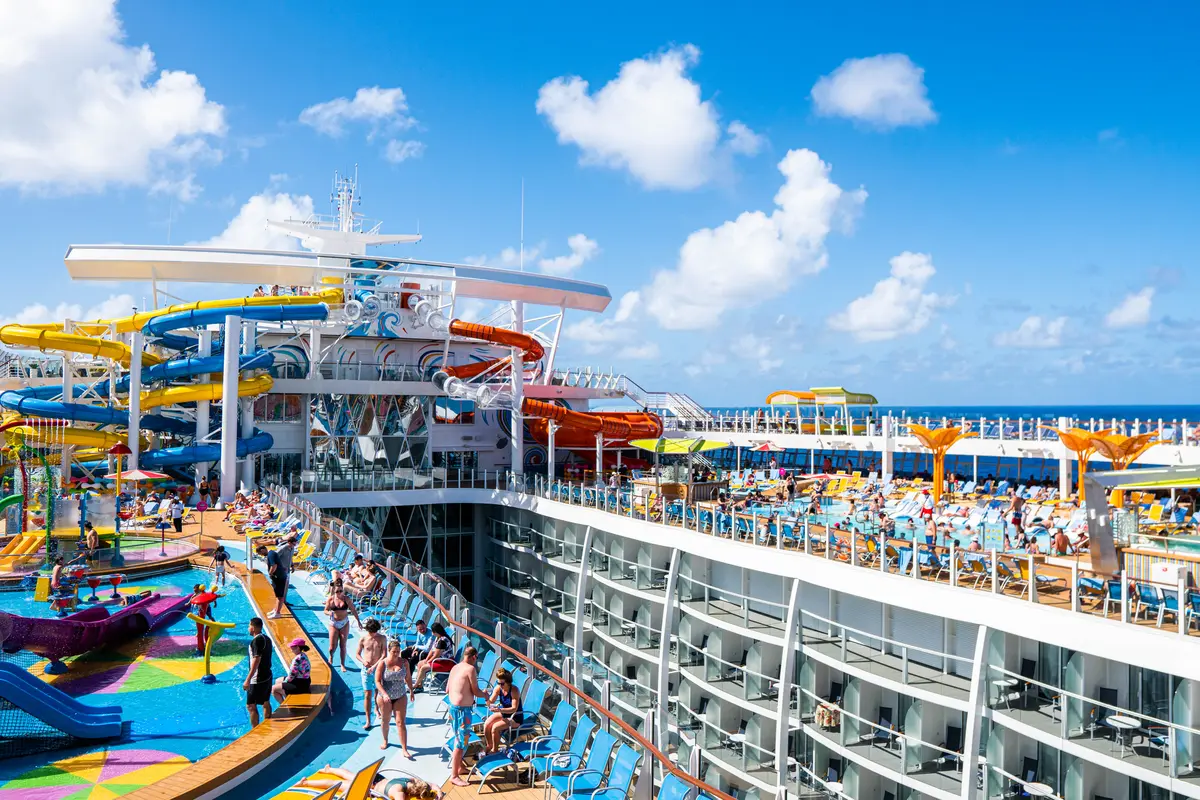 There's no doubt the cruise industry rebound from the 2020-2021 shutdown is in full force. 
After struggling with restarting operations, things are quite good for the "big three" cruise companies: Royal Caribbean Group, Norwegian Cruise Line Holdings, and Carnival Corporation. 
In fact, business is so good that the average cruise line occupancy rates for the first quarter of 2023 for these lines either exceeded or came close to 100%. 
Royal Caribbean: 102.1%
Norwegian Cruise Line: 101.5%
Carnival Cruise Line: 91.0%
If seeing those kind of numbers looks like a bad thing because it means their cruises are oversold, it's actually not that case and a misleading statistic.  
What does 100% occupancy rate mean?
Let's start by defining what it means when a cruise ship sails above 100% capacity.
That sounds like the ship is oversold or some people don't have a cabin, but you have to understand how occupancy rates are calculated for cruise ships.
The cruise industry sells cabins on its cruise ships based on double occupancy. This means the line assumes two people will be in each cabin that is booked.
Each cabin has a capacity number, and it varies depending on the stateroom's category, as well each cruise line's methodology.
But when a cruise ship cabin planned for 2 guests adds a third or fourth guest (i.e. kids sharing a room with their parents), the capacity of that cabin exceeds 100%.
In fact, if you look at stats of a cruise ship, you'll see the ship's capacity (at double occupancy) and max capacity (when every extra passenger is included).
When you see Royal Caribbean had 102.1% occupancy rate in the first quarter of 2023, that means there were third and fourth passengers in those cabins occupying the room, which was beyond the standard double occupancy minimums.
High occupancy rates aren't new
These occupancy rates aren't a new phenomenon by any means. In fact, it's the norm for the cruise lines.
Prior to 2020, it was quite typical for cruise ships to sail above 100% occupancy rates, with the mainstream lines typically sailing between 103 - 107%, depending on the ship and line.
The cruise industry has traditionally followed a business model built around managing bookings to ensure ships are always full.
In 2019, the last full year of sailing before the pause, Royal Caribbean Group had an overall occupancy rate of 108.1%.
2019: 108.1%
2018: 108.9 %
2017: 108.4%
2016: 106.4%
2015: 105.1%
As cruise lines restarted operations in 2021, occupancy rates were about half that, with some ships even starting out at 30% occupancy rate.  These rates were meant to get the ships back into service slowly. The intent was never to stay at those rates, as it would not be profitable for the line.
Occupancy rates had been a little sluggish in 2022, but Royal Caribbean saw improvement as the year progressed. Load factor for the year averaged 85%, although load factor climbed to 95% in Q4 with a high of 110% on peak December holiday sailings. 
In 2023, it's become clear based on booking rates that consumers have no hesitation about booking a cruise vacation again.
Why occupancy rates above 100% isn't a problem
While you may see figures about higher occupancy rates in the media, the reality is that's what the ships are designed to handle in the first place.
Using Royal Caribbean as an example, their ships are built with thousands of cruise ship passengers in mind.  Venues are designed to accommodate a lot of passengers, and activities and entertainment are strategically listed to keep passengers moving around and not all doing the same thing at the same time.
Given the occupancy rates for the years preceding the cruise industry shutdown of 2020, you can see the 2023 occupancy rates we are seeing are more in line with what's normal.
When ships restarted sailing in 2021 and 2022, it set an outlier situation with some lines at less than 50% occupancy.
What about the oversold cruises?
You may have also read about oversold cruises, and that's a different and unrelated situation.
There's been reports of a handful of Royal Caribbean cruise ships that were oversold, with the cruise line asking passengers for volunteers to change sailings in order to free up space.
On those sailings, that isn't related at all to the occupancy rate.  Rather, that's a problem with the cruise line's inventory management selling too many cabins.  
From what we can tell, they're isolated incidents stemming from a mistake with Royal Caribbean's internal selling mechanism.
For an oversold Wonder of the Seas cruise in April 2023, the line informed guests, "We're sorry to inform you that due to an unexpected inventory error, your scheduled Wonder of the Seas April 30th, 2023 sailing is currently oversold. We're aware that this may cause disruption to your booking, so if your travel plans are flexible, you may be able to take advantage of our special offer."
It's important to understand occupancy rates have nothing to do with if a particular sailing gets oversold, because of how cruise lines count passengers in a cabin.