In:
Nine times out of ten, the earlier you book a cruise, the more money you'll save. No one wants to waste money, but unfortunately, booking a cruise just a few months later than another passenger onboard could see you spending hundreds of dollars more for the same cabin, sail date, and cruise ship.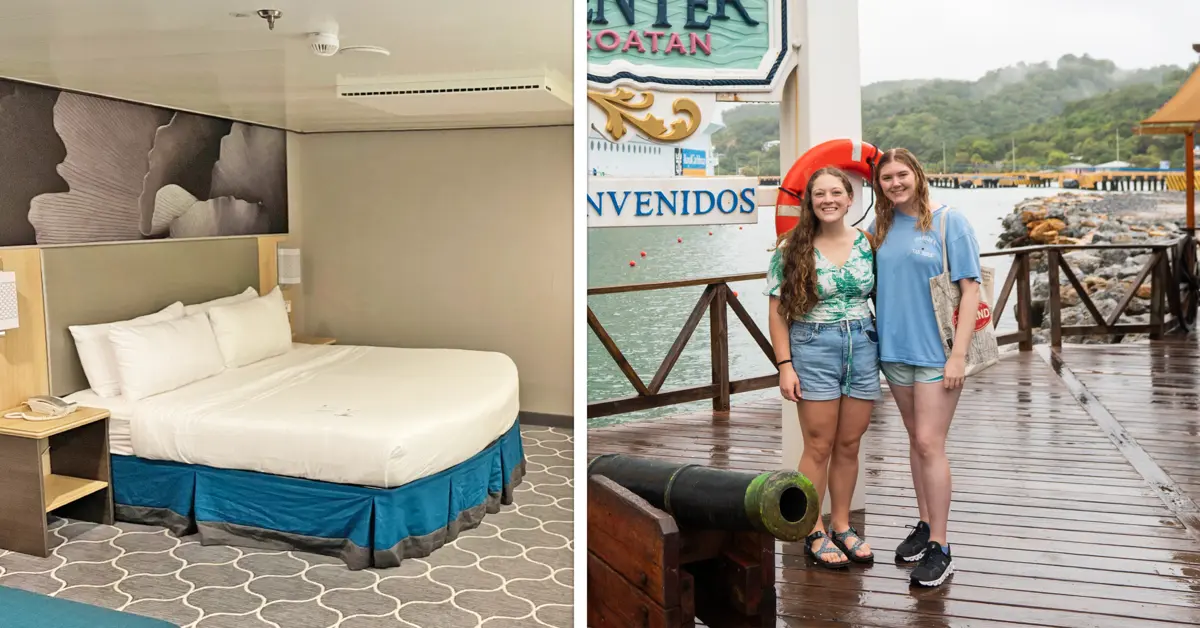 I recently sailed on Royal Caribbean's Symphony of the Seas for a 7-night Western Caribbean cruise. I booked my February cruise in early September—162 days before the sail date—and spent $1,656.
Just a few months later, my fellow Royal Caribbean staff member Elizabeth decided to book a separate cabin on the same sailing of Symphony of the Seas. She booked her room in mid December—59 days before the sail date—and spent $1986.
Both of our cruise rates reflect the total price for two adults in an interior cabin including taxes, fees, and gratuities. My cabin was only $828 per person, whereas Elizabeth's was $993 per person.
Suffice to say, when Elizabeth found out she spent hundreds of dollars more than me for the same exact cruise experience, it was a bit of a letdown.
Money wasted is never ideal, especially when you could have saved money by just booking a few months earlier. Saving money on your cruise fare means stretching your budget further, freeing extra funds for that amazing shore excursion, spa treatment, or drink package.
Let's dive in to share how you should approach the cruise booking process to avoid paying more than other passengers on the same sailing.
Booking your cruise early to save money
In general, the cheapest cruise fares are found as soon as Royal Caribbean releases new itineraries. Cruise itineraries are released around two or three years prior to the sail date.
Keeping an eye on when new cruise itineraries will be announced will help you snag the best deals. Two easy ways to do this are to sign up for Royal Caribbean's newsletter or follow our newsletter here at RoyalCaribbeanBlog.com.
Related: Pros and Cons of booking a cruise early vs last-minute
As more and more people book a cruise, the price of that cruise is likely to increase over time. Not only that, but certain cabin categories can sell out, which might force you to either book a more expensive stateroom or downgrade to a cabin you would rather avoid.
What about last-minute cruise deals?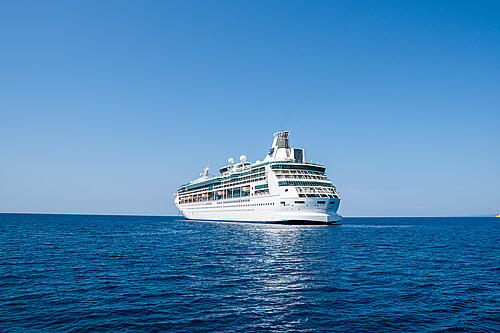 Some people prefer waiting to book a cruise with the hope of finding a last-minute cruise deal. In the case of Elizabeth's sailing on Symphony of the Seas, this strategy would not have worked.
She booked within the cruise's final payment date, which is after all passengers had paid the cruise in full. If there was a last-minute deal offered, it almost certainly would have been offered around the same time Elizabeth booked the cruise.
Related: Ultimate Guide to last-minute cruise deals
Royal Caribbean only offers last-minute deals if a certain cruise has low demand, but this did not appear to be the case with Symphony of the Seas.
If you do want to find a last-minute cruise deal you definitely can, but you'll have to remain flexible on ship, sail date, and destination. Finding a cheap last-minute cruise is not something you can necessarily plan for; it's more about the luck of finding a deal than anything else!
Book with a travel agent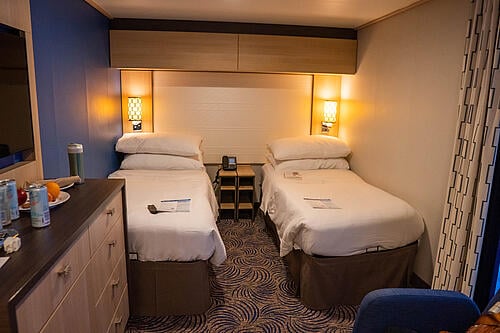 I've lost count of the amount of times I've saved money simply by booking my cruise with a travel agent. As someone who always preferred booking vacations on my own, I've been blown away by the service and convenience a travel agent provides.
Whenever I find a cruise I'm interested in booking, I send the cruise information to my travel agent. More often than not, she either responds back with a lower price than I found on Royal Caribbean's website, or the cruise fare includes a generous amount of onboard credit.
By booking with a travel agent, I often save more money than other passengers who booked a cruise on their own. Whether $50 or $200, any dollar saved is another dollar to put toward cruise add-ons like shore excursions and specialty dining!
Related: Top 5 things to look for in a good travel agent for your cruise vacation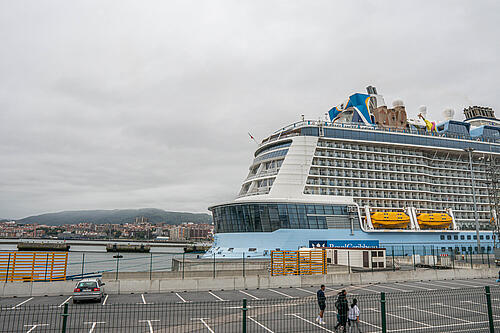 Not only can using a travel agent save me money on cruise fare, but it saves time. Whenever I have a question or concern, all I need to do is email my travel agent, and she will be the one who contacts Royal Caribbean instead of having to do it myself! Time is money, after all, and I've saved hours upon hours of time by using a travel agent instead of booking on my own.
If I'm being honest, when I first started cruising I didn't even know people still used travel agents to book vacations. After seeing the amazing service they provide, though, I can't imagine not using one for my cruise, especially if I'm looking to find the best cruise deals!
Check frequently for a drop in the price of your cruise
One of the best Royal Caribbean hacks to save money on cruise fare is to reprice your cruise. Royal Caribbean allows you to reprice your cruise until final payment date if you notice a lower fare.
Repricing a Royal Caribbean cruise means checking if the price of your cruise has lowered since you booked the sailing. If you booked a cruise for $3000 and notice a few months later that the price has dropped to $2500, the lower price will be honored on your reservation.
You can find out if a price dropped by searching for your sailing on Royal Caribbean's website or contacting your travel agent for an updated quote.
You should know that Royal Caribbean's website does not specifically mention this repricing policy. In fact, the Royal Caribbean website states that you can take advantage of a lower fare within 48 hours of booking your cruise.
That being said, we have had no problem repricing our cruises until final payment date. If you notice a price drop, simply contact your travel agent or call Royal Caribbean directly to take advantage of the lower fare.
Related: 45 ways to save money on a Royal Caribbean cruise
Let's take a look at a common scenario to highlight why it's important to reprice your cruise and save money.
Two passengers—let's call them John and Peter—book a Royal Caribbean cruise at the same time. Both book a balcony cabin on the same Oasis of the Seas cruise and pay $1500 each.
Four months before the cruise, however, John notices the price has changed to $1350 for a balcony cabin on his sailing. Noticing this change, he contacts Royal Caribbean (or his travel agent) and has the price readjusted, saving $150 total.
Unfortunately, Peter never checked the price of his cruise again after he made the initial booking, so he paid $150 more than John for the same cabin on the same cruise!
As you can see, taking advantage of repricing your cruise can make the difference between paying more or less for a cruise than another passenger. No one wants to pay hundreds more than someone else for the same experience, so checking the price of your cruise every so often is recommended.
Why saving money matters on a cruise
For my 7-night sailing on Symphony of the Seas, I spent $330 less than what Elizabeth paid for her cabin. With that money saved, I was able to spend extra on specialty dining and shore excursions without breaking the bank.
On my cruise, I spent a total of $60 on specialty restaurants and $150 in port—and that's before I accounted for the onboard credit I received by booking with a travel agent.
At $210 total, the amount of money I paid extra on top of my cruise fare was still less than the amount Elizabeth paid for just her cruise fare. Booking just three months earlier than she did allowed me to spend that money on additional ways to enhance my cruise experience.
Related: I'm a budget cruiser. Here are 8 strategies I used on my recent Royal Caribbean cruise to save money
If Elizabeth had booked her cruise earlier, she could have put the $330 extra she spent toward her flight, travel insurance, or a pre-cruise hotel stay. Essentially, she "wasted" hundreds of dollars just because she booked a few months later than me!
If there's anything I learned from this experience, it is to always book my cruises as early as possible. Although snagging a last-minute cruise deal is always a possibility, it's best to plan further in advance to ensure you get the lowest possible price.