In:
The anticipation of a cruise vacation is almost as fun as the trip itself. With endless food, diverse destinations, impeccable service, and impressive entertainment options, boarding a Royal Caribbean cruise is nothing short of exciting.
Whether you're a seasoned cruiser or planning your very first cruise, you'll find certain aspects of the vacation stand out more than the rest. Some cruisers can't wait to watch shows each evening whereas others look forward to elegant dinners and tranquil evenings on their balcony more than anything else.
Regardless of your cruising style and preferences, there's plenty to be excited for on any Royal Caribbean cruise. These are the top 15 things I look forward to every time I go on a cruise ship.
An escape from the ordinary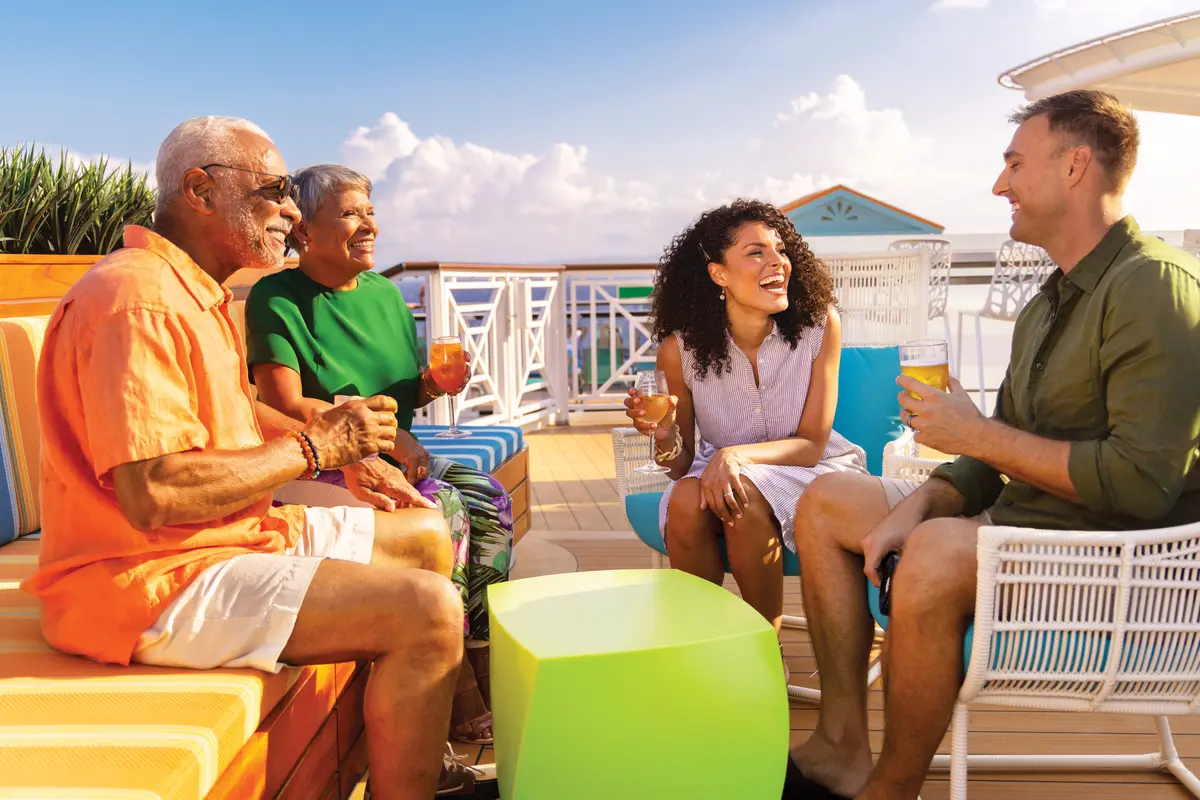 Boarding a Royal Caribbean cruise transports you far away from day to day life back at home. There's no need to worry about sitting in traffic, going grocery shopping, or answering work emails. Instead, your biggest worries of the day will be whether to order spaghetti bolognese or steak for dinner (why not both?).
Escaping the normalcy of life at home is always one of the things I look forward to every time I go on a cruise ship. I love waking up in a new place each day, meeting new people, and enjoying three-course meals every evening.
The post-cruise depression really sets in when I settle back into the routine of cooking, cleaning, and working upon returning home, but it's always worth it.
A schedule of fun activities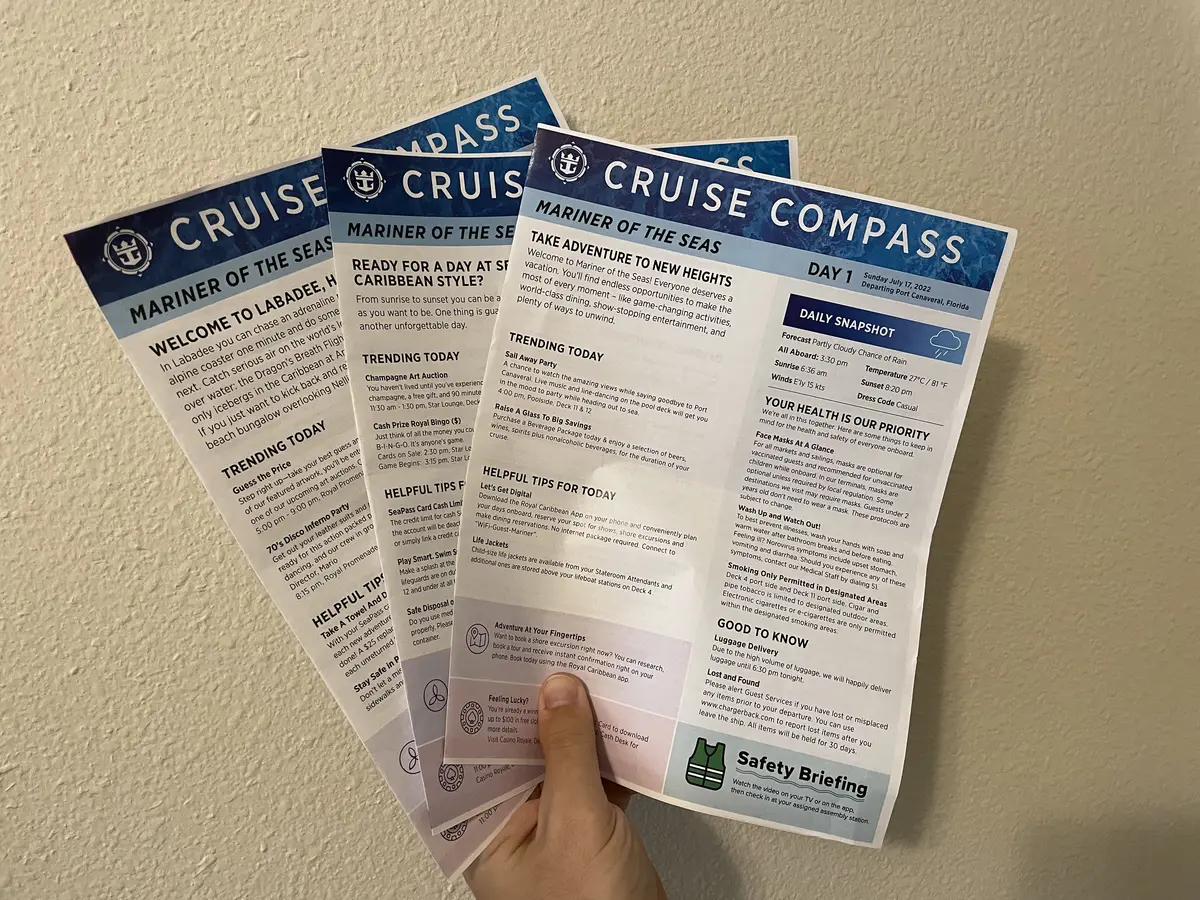 As a kid, I loved attending summer camp, where I could participate in a schedule of fun activities like arts and crafts, dodgeball, and rock climbing. A Royal Caribbean cruise, with its daily schedule of activities in the Cruise Planner, often feels like a summer camp for adults, and I absolutely love it.
Related: 15 free things to try on your next cruise
While no one is obliged to participate in any activities on a Royal Caribbean cruise, I find that having a schedule of things to do at nearly every hour of the day is amazing. From trivia to scrapbooking classes, pickleball tournaments, and cocktail seminars, I'm always impressed by the variety of programming available onboard.
I'm usually more of a go-with-the-flow type of traveler, but whenever I'm on a Royal Caribbean ship I religiously check the Cruise Planner to see which fun activities are coming up next.
Visiting new ports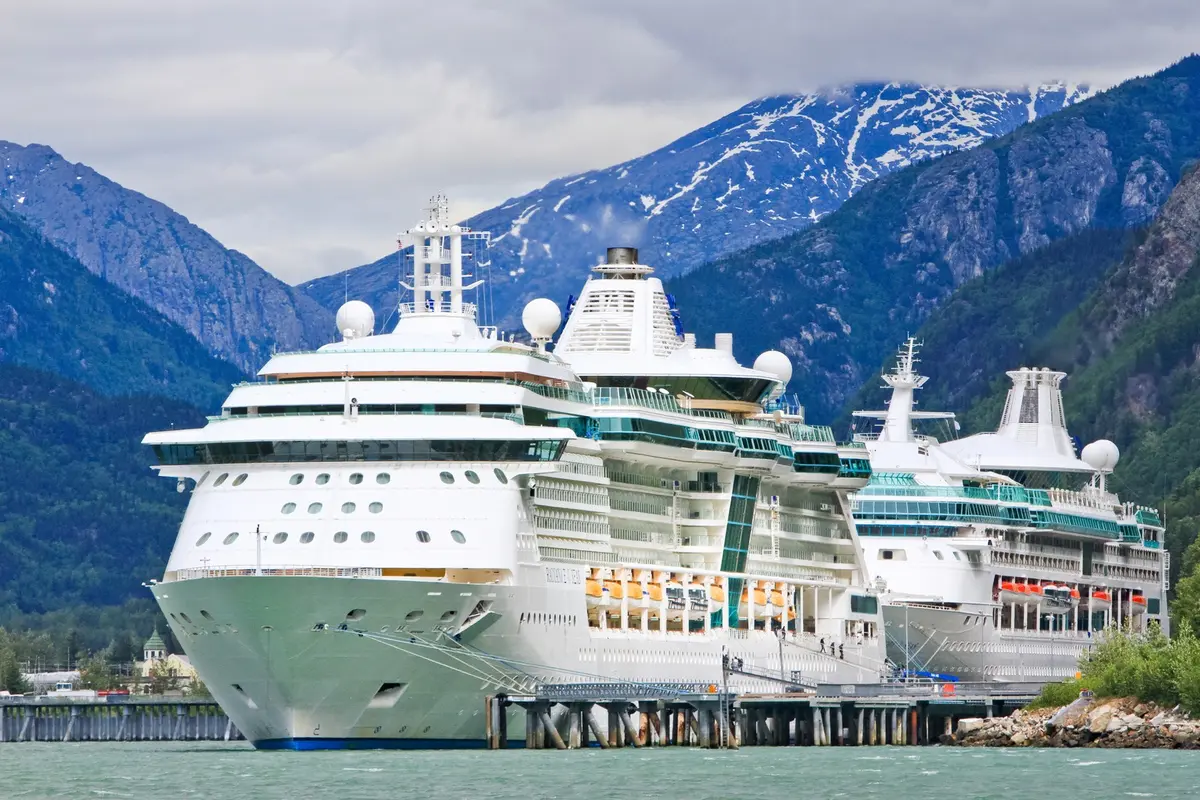 One of the best aspects of cruising for me is the opportunity to explore new destinations. I always prefer booking an itinerary that visits places I've never been to before, allowing me to experience the childlike sense of discovery that comes with exploring somewhere new.
Cruising is unique compared to land-based vacations in that you can experience vastly different destinations each day. Exploring the Basque country of Spain on Monday and quaint French towns on Tuesday is something you can't experience as easily on a land-based trip, and that's something I love most about cruising.
Indian food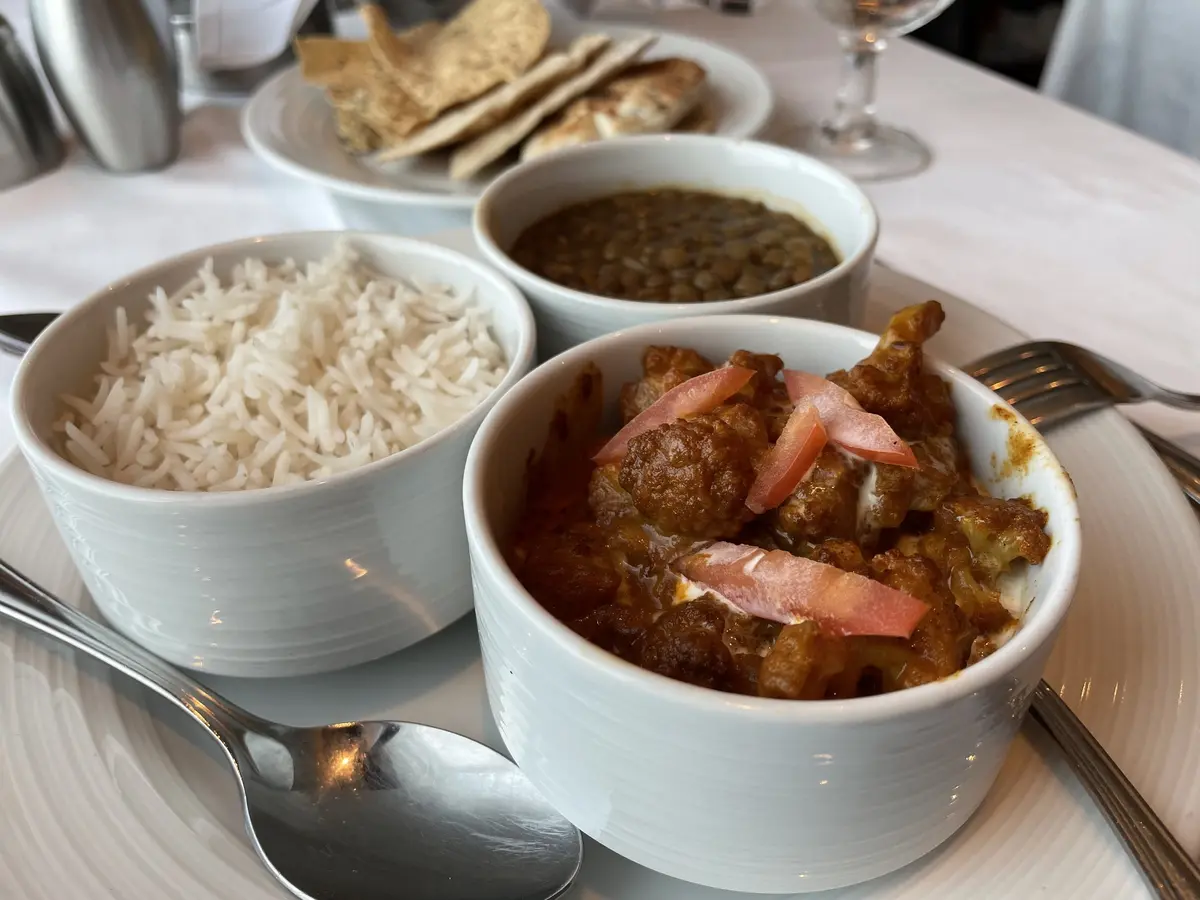 Indian food is one of my favorite cuisines; the spicy, aromatic, unique blend of flavors paired with rice and naan perfectly aligns with my palette. One thing I always look forward to when I board a Royal Caribbean cruise is the variety of Indian food I can enjoy during my sailing.
Related: Top 10 insider tips for Royal Caribbean's Main Dining Room
You can find Indian food on Royal Caribbean ships in both the Windjammer buffet and Main Dining Room. The Windjammer always has several options available for breakfast, lunch, and dinner, including chana masala (my personal favorite), butter chicken, and egg bhurji.
Indian dishes are offered in the Main Dining Room, too, but are not always on the menu, so ask your server which Indian dishes are available for your meal.
Desserts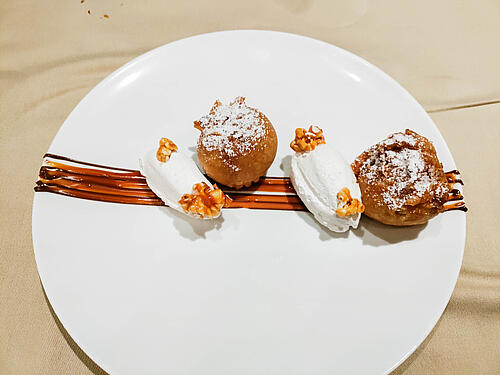 Unlimited food is synonymous with cruising, and I'll put Royal Caribbean's desserts near the top of my list on what I look forward to every time I go on a cruise ship.
As someone with a huge sweet tooth, I feel like a kid in a candy store anytime I'm onboard a Royal Caribbean cruise. Molten chocolate cake? Tiramisu? Unlimited soft serve ice cream? I'll skip dinner and head straight to dessert!
Related: Top desserts to try on Wonder of the Seas
Don't even get me started on the fried cheesecake from 150 Central Park, one of the most beautiful dishes I've ever had the pleasure to try. Royal Caribbean simply kills the dessert game, and I'm all here for it.
Live music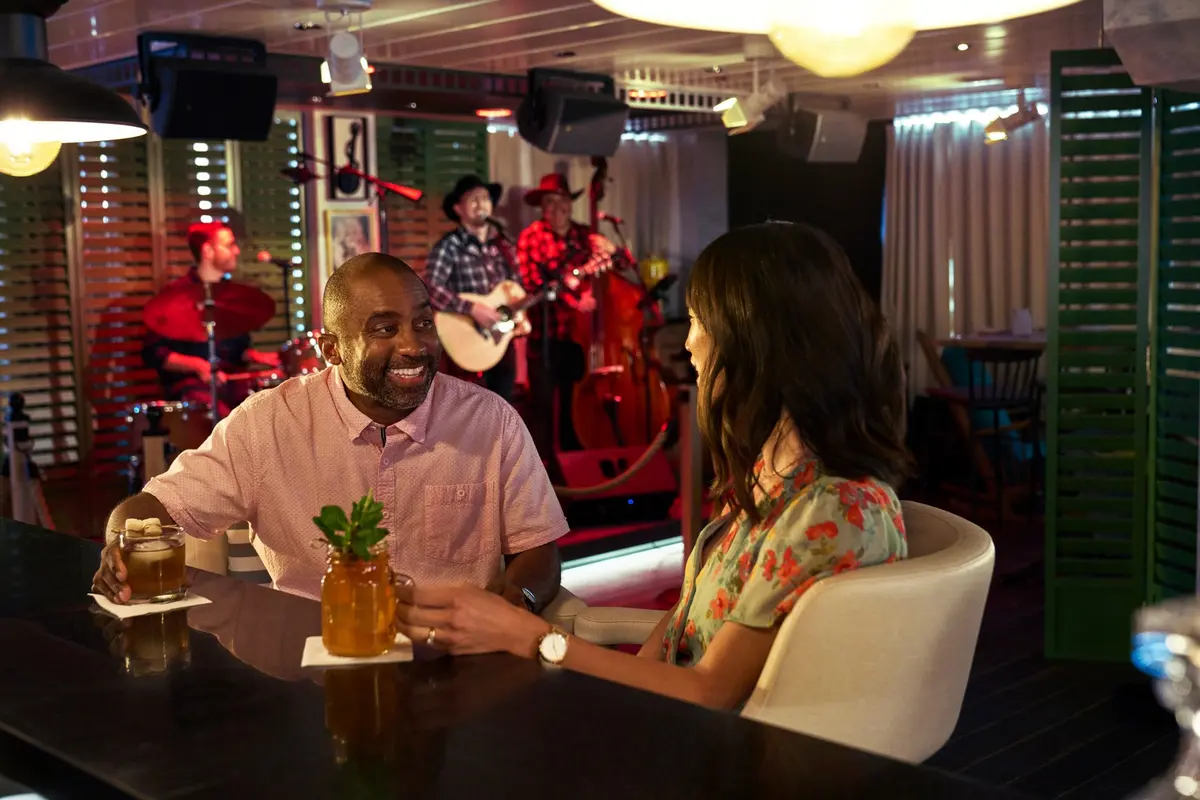 The convenience of finding live music onboard a Royal Caribbean cruise ship cannot be understated, and this is one of the things I look forward to most every time I sail. It's extremely easy to find impressive musicians around the ship, whether acoustic guitar in the pub or piano tunes at Schooner Bar.
On any given day on a cruise ship–even on Royal Caribbean's smallest ships–you'll find live music. While most performances are during the evening, it's common to find music throughout the day as well, such as a reggae band on the pool deck or classical guitar player at Vintages wine bar.
The service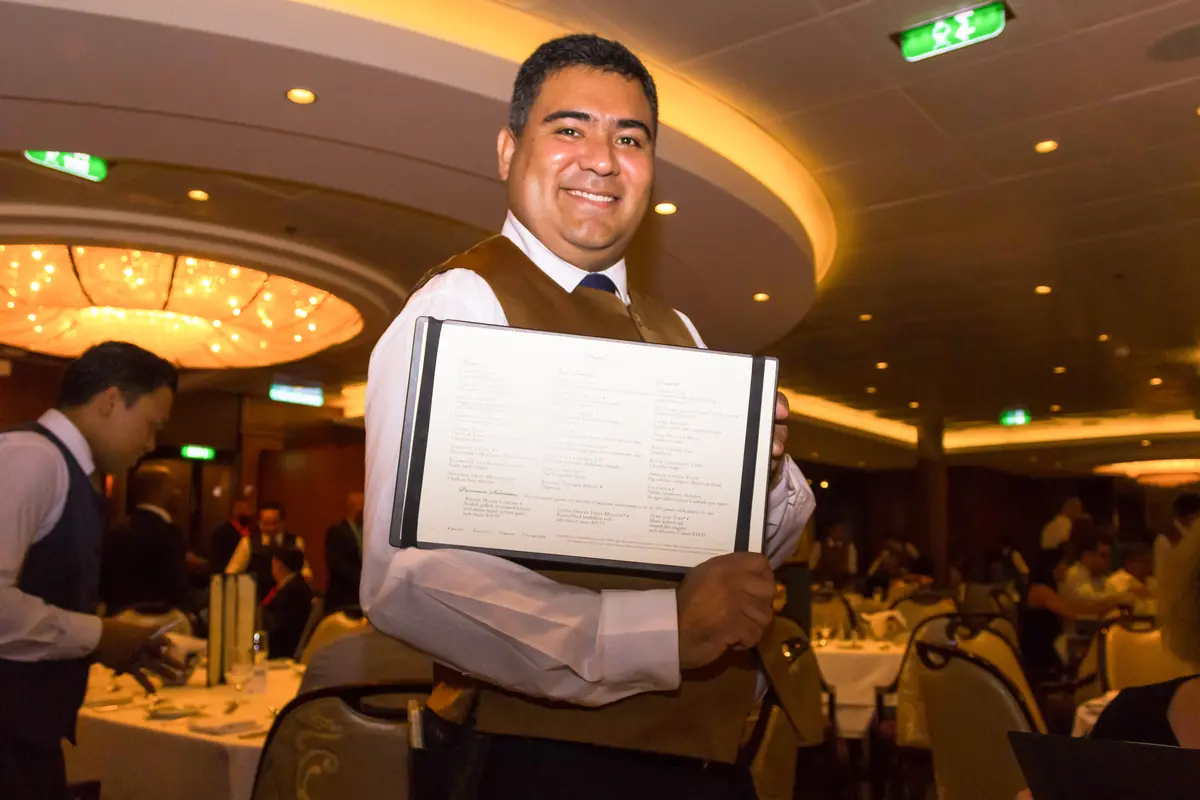 I've never experienced the level of service you receive on a Royal Caribbean cruise anywhere on land.
Whether it's the incredible service from my stateroom attendant, attentive waiters in the main dining room, or just conversing with bartenders, the incredible service from Royal Caribbean's crew members is something I look forward to every time I board a ship.
Adjusting back to "normal" customer service is one of the hardest parts about returning home!
Ice skating shows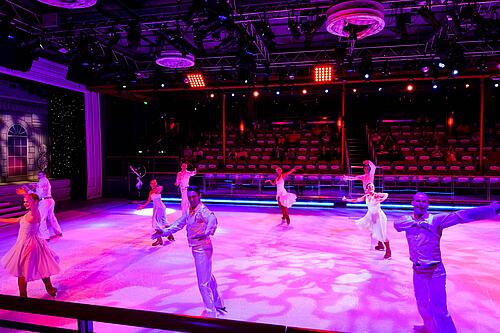 The ice skating shows on Royal Caribbean ships are vastly underrated. I always hear passengers discussing their favorite Broadway musicals or AquaTheater performances onboard, but rarely the ice skating shows.
Maybe it's the former gymnast in me, but I love watching the twists, tricks, and flips put on by the talented ice cast. I'll never get tired of watching back flips on ice, triple axels, and the nerve-wracking headbanger skill–during which a skater's head comes dangerously close to the ice.
I'll admit I don't always understand the storyline of the ice skating shows, but you'll still always catch me reserving the first show of the cruise on any Royal Caribbean ship.
Meeting crew members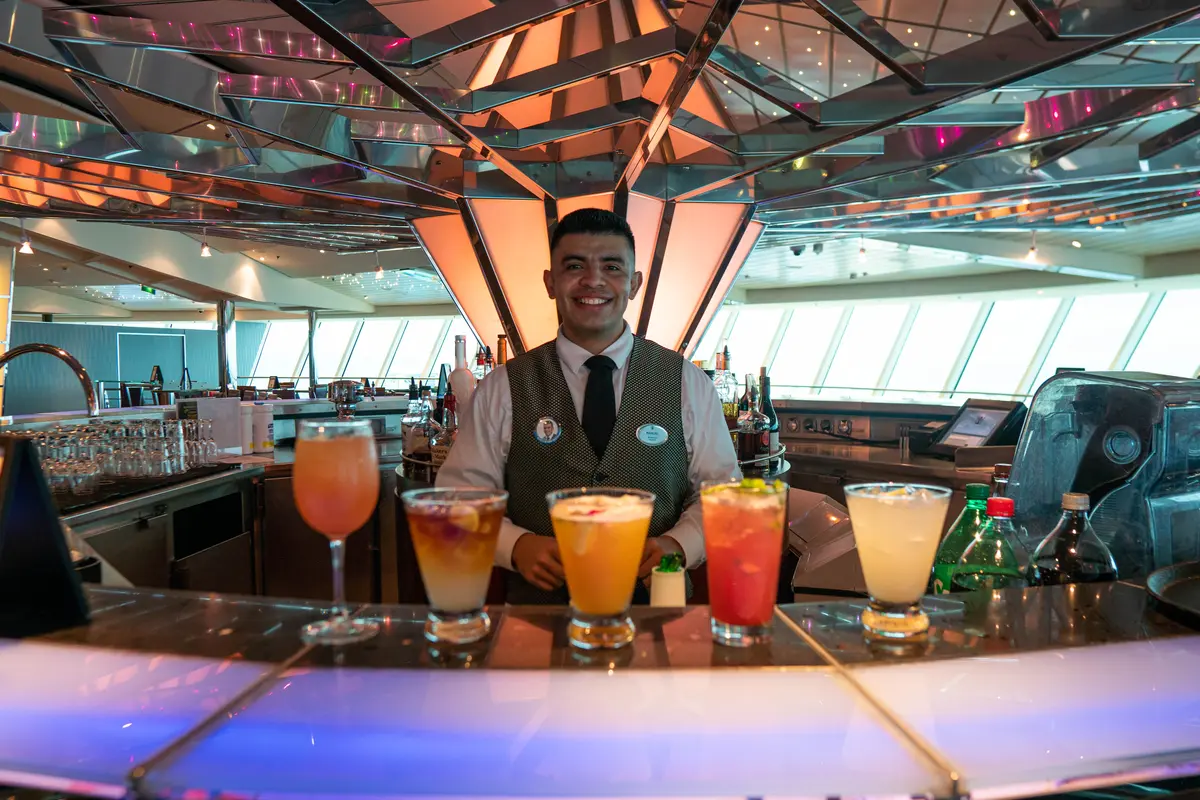 Royal Caribbean crew members are from all over the world, and one thing I always look forward to when boarding a cruise is conversing with the crew onboard.
I've gotten to know several crew members during my time onboard, from bartenders to my stateroom attendant and waiters. I always love hearing about their lives back home, how they ended up working on cruise ships, and what their favorite destinations have been.
Chatting with crew members is one of the most interesting aspects of cruising for me. After all, where else can you have a conversation with people from the United States, Italy, Mexico, Brazil, Ukraine, Turkey, India, the Philippines, China, and Indonesia in one place?
My home away from home
Coming back to your cabin after a long day exploring port is a wonderful feeling, and my cruise cabin always feels like my home away from home by the end of the sailing.
Even in the smallest of interior cabins, I feel much more "at home" in a cruise cabin compared to a standard hotel room. Maybe it's the cozy size (or perhaps the escape from the busy atmosphere found elsewhere onboard), but I always look forward to spending time in my cabin on a Royal Caribbean cruise.
Sunsets at sea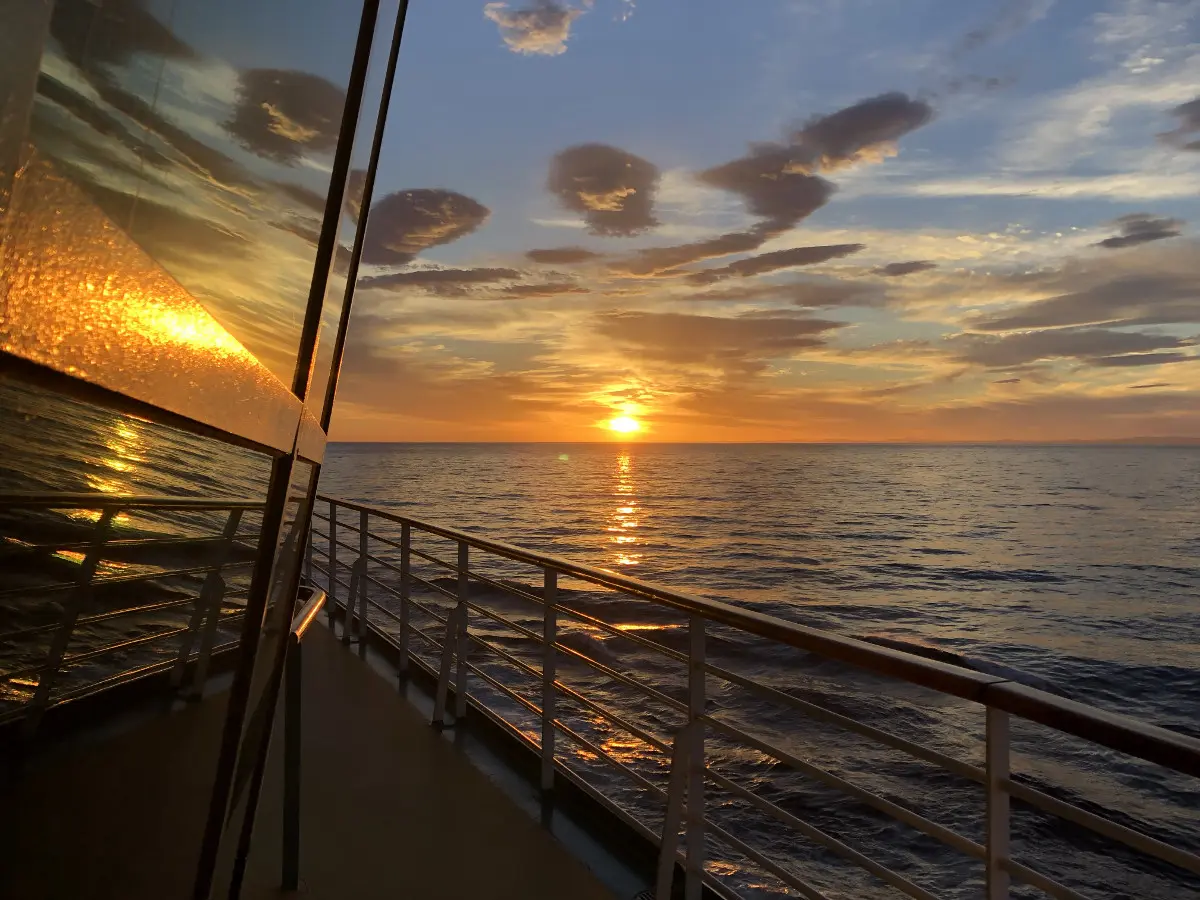 One place you'll always find me during sunset on a cruise ship is lounging in a pool chair near the jogging track. I love the quiet, peaceful environment of the pool deck once most passengers have gone to dinner, and the upper pool deck is arguably the best spot to catch views of the sunset.
Related: The best spot for sailaway on every Royal Caribbean cruise ship
I make it a point to watch the sunset nearly every evening onboard, whether from the pool deck, the helicopter pad, or the dining room. And with a cocktail in hand? Even better.
Spending time with friends and family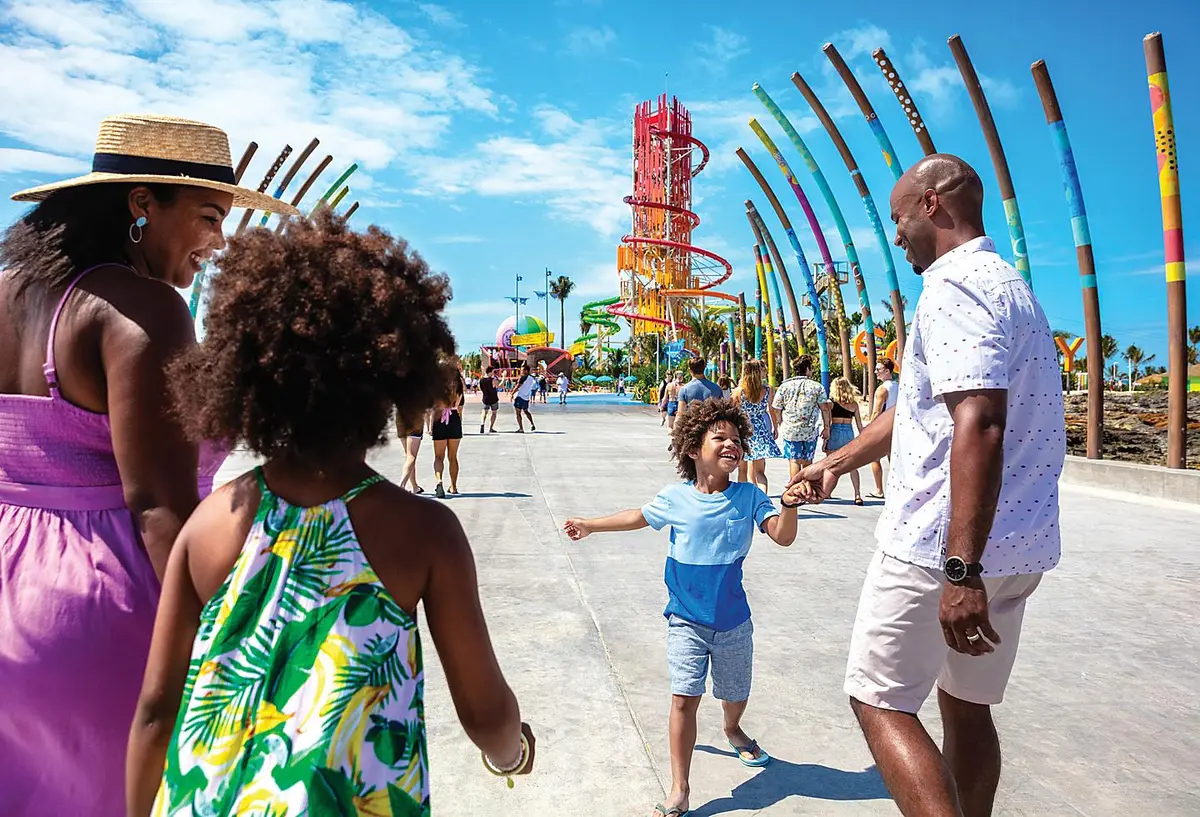 I find cruises to be the perfect vacation to enjoy with friends and family. They offer the ideal mix of structure and freedom, allowing each member of the family to choose how they would like to spend their day.
I live across the country from most of my family, so I always cherish the time we can spend together when cruising, whether in the Caribbean, Europe, or Alaska. I've also had the chance to cruise with some of my best friends who live across the country (or across the ocean) from me.
There's something extra special about making memories with your loved ones on a cruise, and I can't wait to explore more of the world with my friends and family in the future.
Trying new cocktails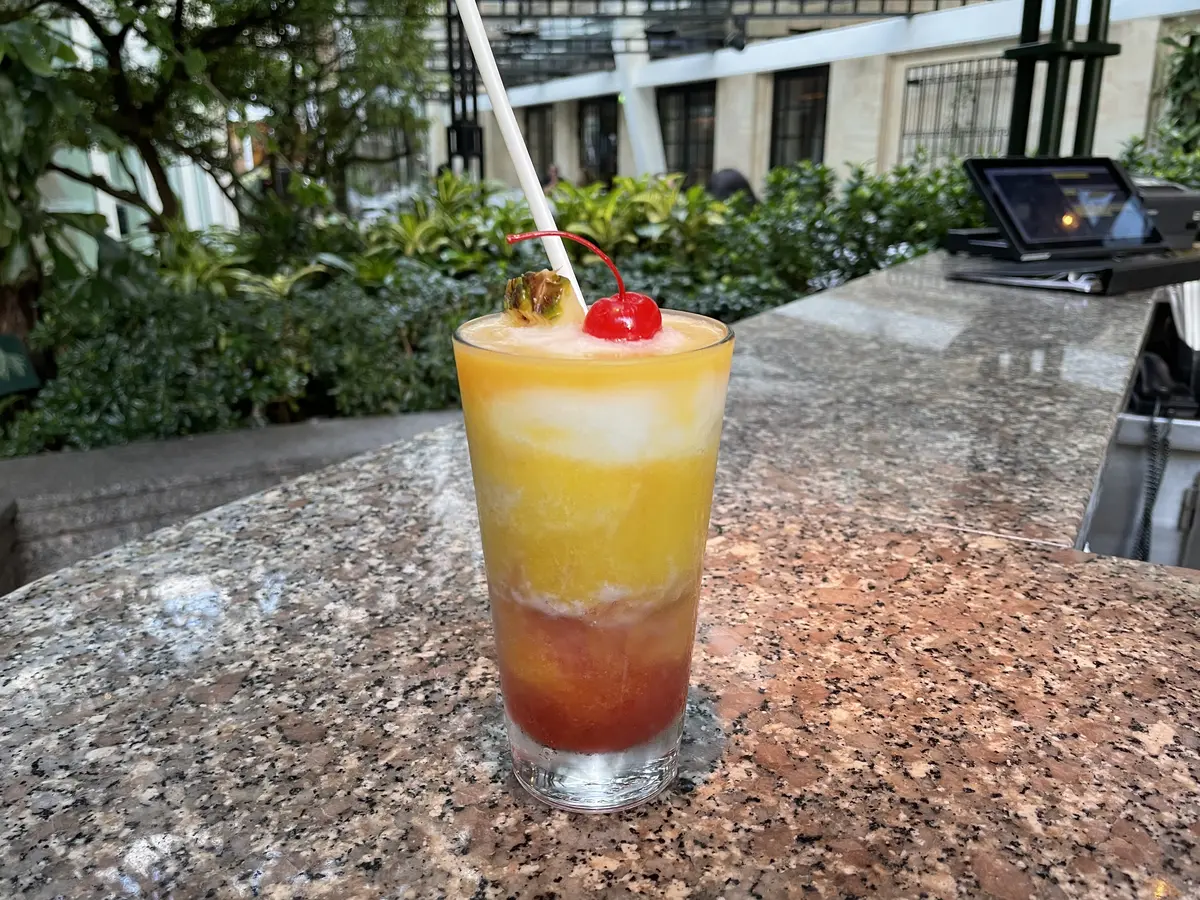 Before I started cruising, my repertoire of cocktails was minimal at best. I found myself ordering the same basic cocktails anywhere I went without knowing better. While gin and tonics are great, they're a bit boring compared to the signature drinks you'll find on a Royal Caribbean ship.
One thing I look forward to on every cruise is trying new cocktails, whether a standard piña colada or something more unique, such as a PB&J old fashioned or cucumber martini.
Related: Top 10 cocktails to try on your next Royal Caribbean cruise
Plus, if you have a Deluxe Beverage Package or Crown & Anchor Society drink vouchers, you can try a variety of cocktails without worrying about whether or not you'll like the drink.
I've "wasted" several drink vouchers on cocktails I haven't enjoyed, but on the flip side I've ordered cocktails I was skeptical about which have since become my favorite drinks!
Karaoke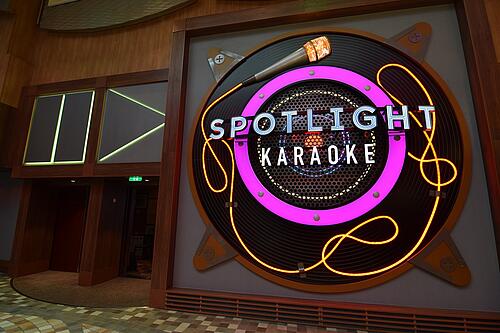 Funny enough, one of my favorite activities to attend on a cruise ship is karaoke. While I'm too shy to get on the stage myself, the energy and performances at karaoke on a cruise ship are unmatched.
In fact, I find myself spending nearly every evening at karaoke on some sailings. Some of the best cruises for this are short 3 and 4-night itineraries from South Florida. These sailings tend to have a higher party atmosphere than other cruises, leading to some seriously fun performances at karaoke.
Perfect Day at CocoCay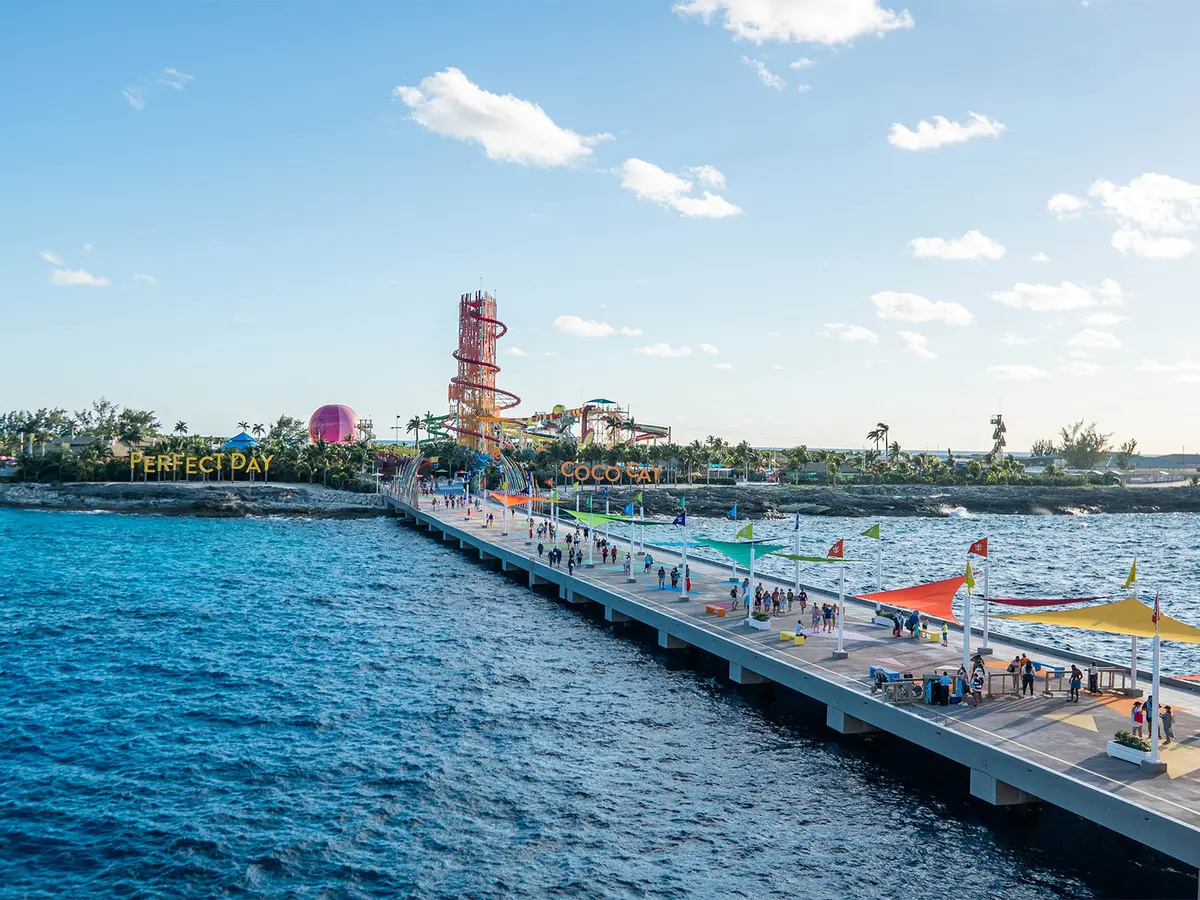 While I don't visit Perfect Day at CocoCay every time I cruise, it's something I always look forward to whenever the port is on my itinerary.
Royal Caribbean's private island in the Bahamas lives up to its name: it's absolutely perfect. White sand beaches, crystal clear turquoise waters, and the stunning Oasis Lagoon pool make the island a fantastic place to spend the day.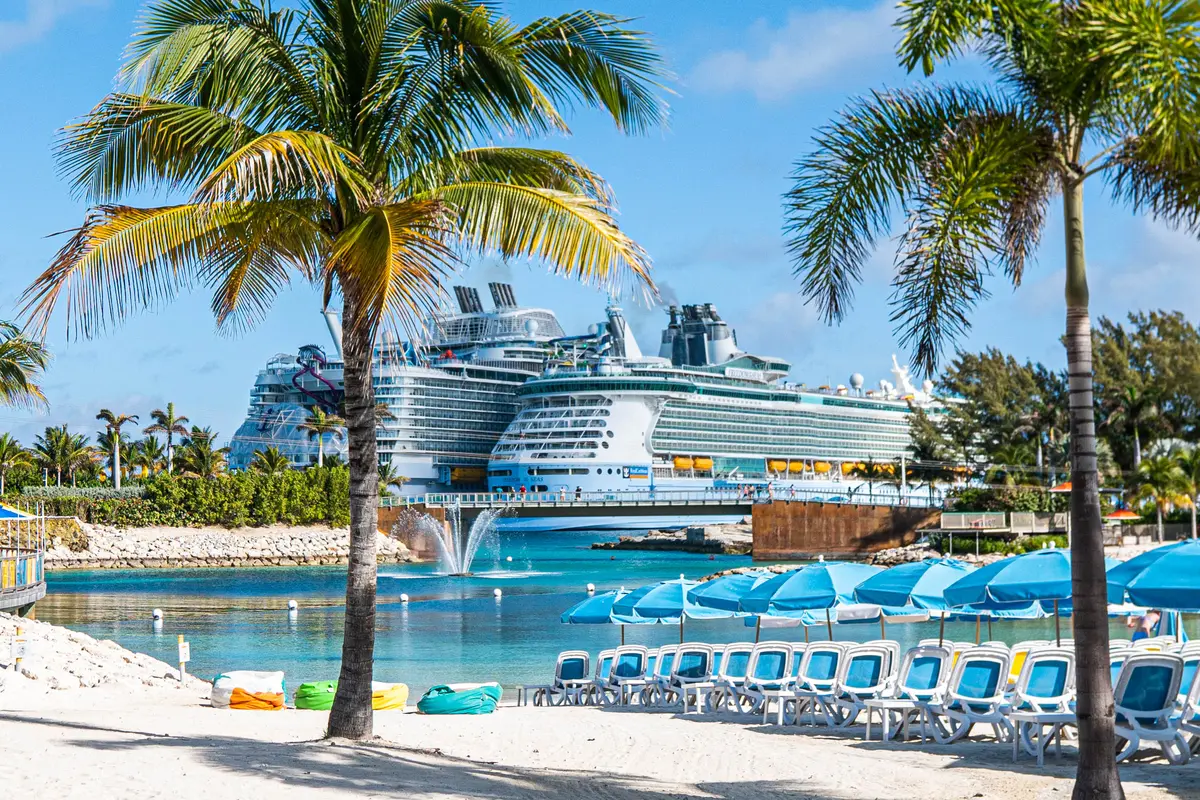 What I appreciate about Perfect Day at CocoCay is that you don't need to spend anything extra once on the island. Beach chairs, umbrellas, food, and several non-alcoholic drinks are complimentary. In addition, there are plenty of activities for guests of all ages, including Splashaway Bay for kids and a sports area with basketball, volleyball, and other beach games.
And if you do want to spend extra while on the island? There's a wide selection of add-ons to book, from private cabana rentals to an adrenaline-packed day at Thrill Waterpark.
Read more about Perfect Day at CocoCay:
What do you look forward to most whenever you board a Royal Caribbean cruise? Let us know in the comments below!