In:
Could this be what the next version of Royal Caribbean's main dining room menu looks like?
Royal Caribbean sent past guests an email survey with options for a new main dining room menu, and asked them for feedback.
RoyalCaribbeanBlog reader Shannon Apodaca shared screenshots from the survey, which asked a variety of questions regarding the main dining room experience.
The example menu is for a French night theme, and it features both a new layout and new choices on the menu.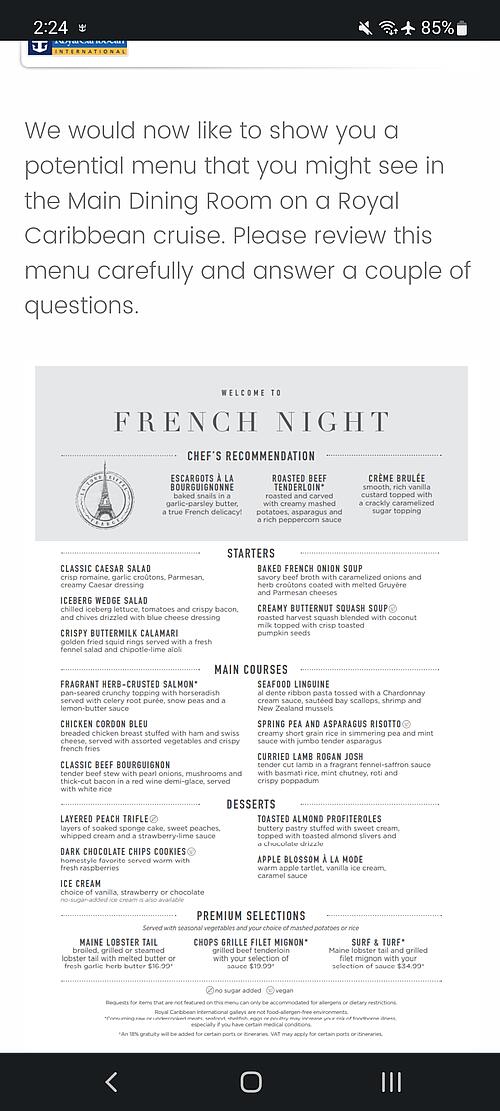 The survey then asked for ratings of each dish and how appealing they were to the respondent.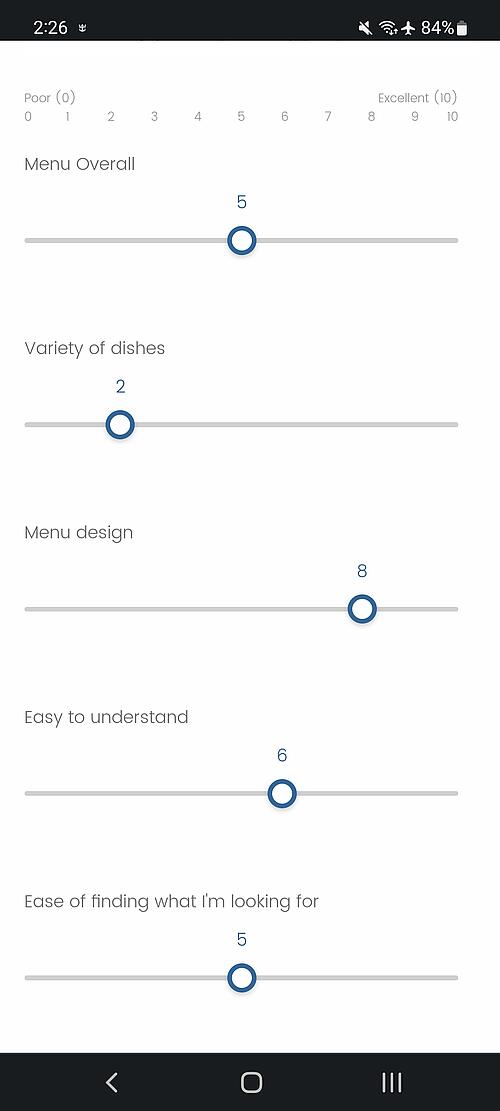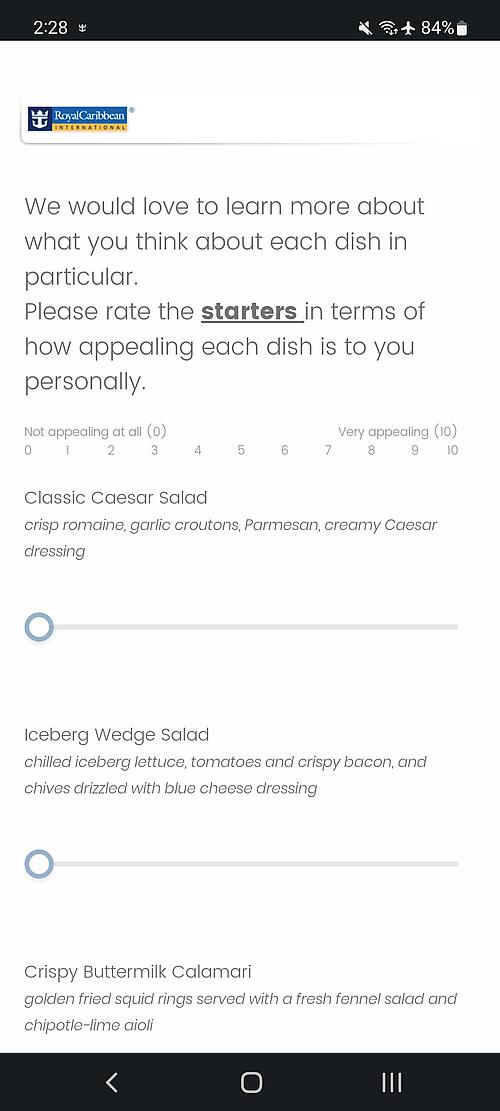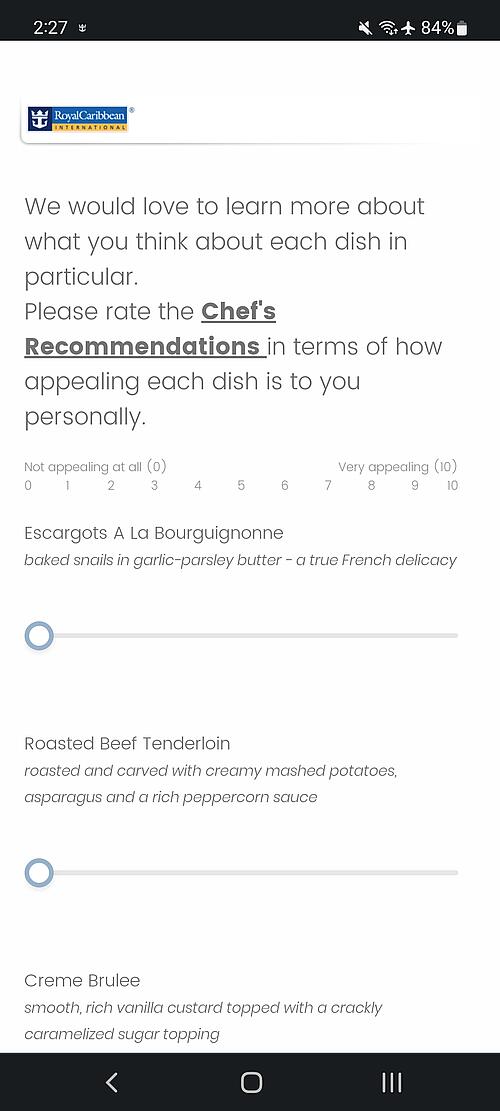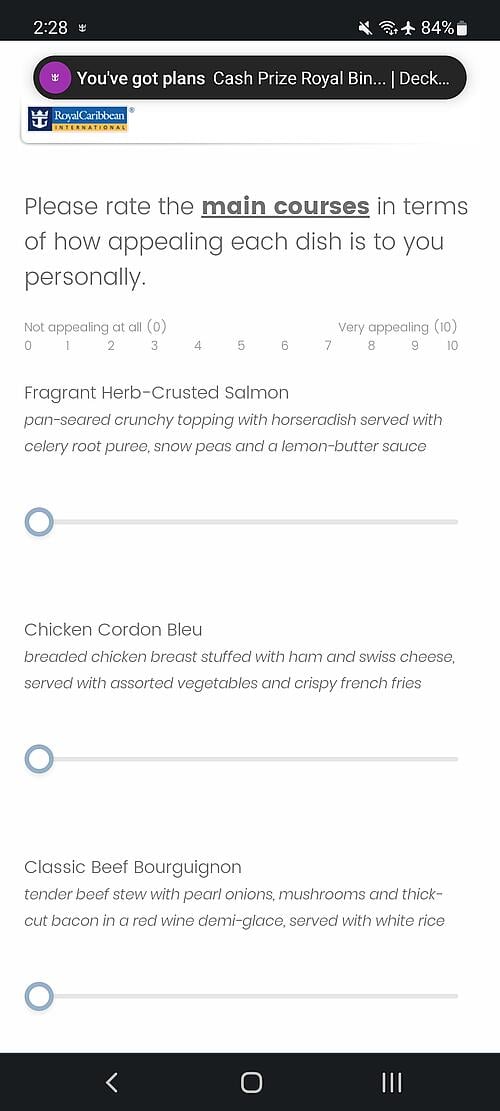 Also included in the survey were questions about the main dining room experience overall, such as:
How many minutes is too short, just right, and too long for dinner in the main dining room?
What proportion of the menu would you prefer to contain familiar vs new dishes?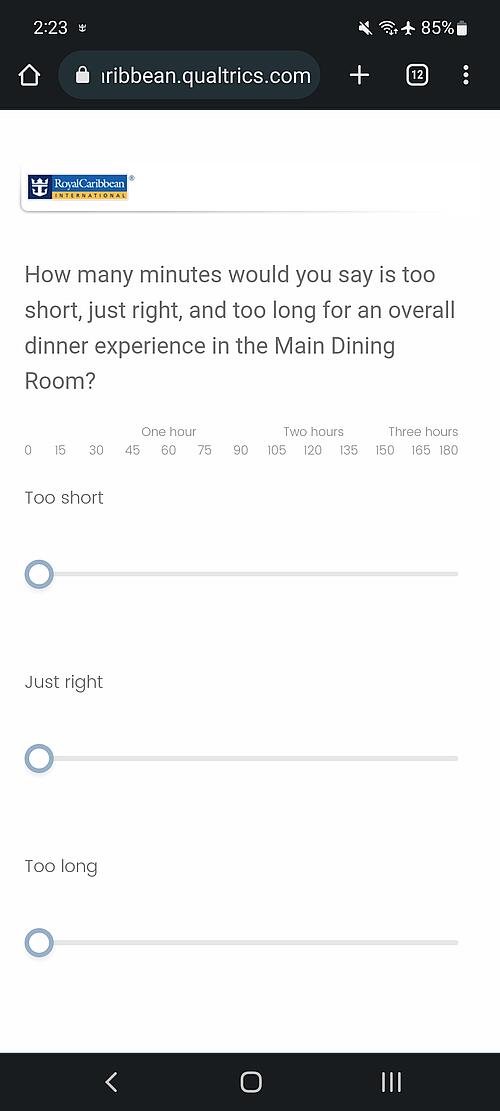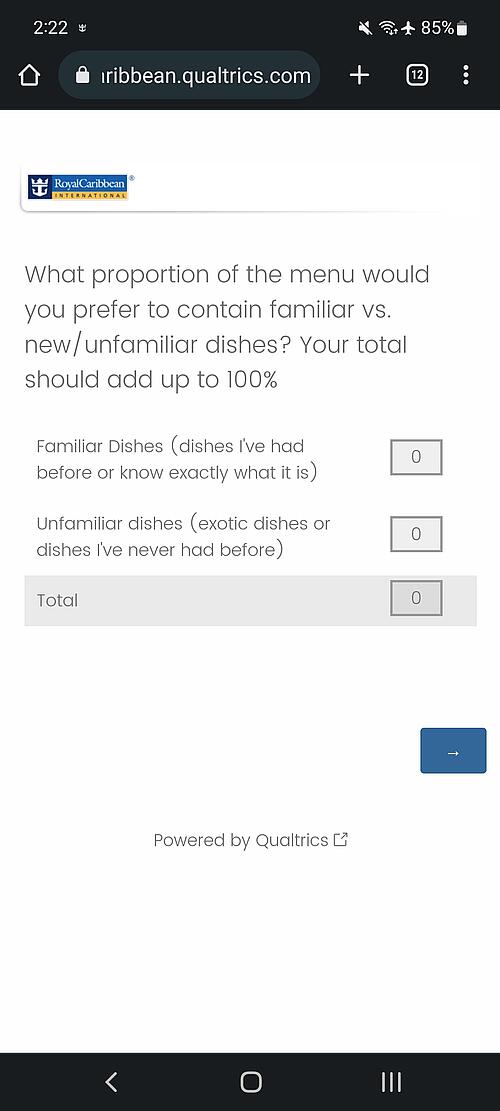 Then the survey asked for the top 3 things you look for in the menu items:
Wide variety of dishes
Lots of dishes to choose from
Familiar items
Healthy options
New items I've never had
Easy to understand descriptions
Small portions
Listing of all ingredients in each dish
Sourcing of ingredients
Exotic options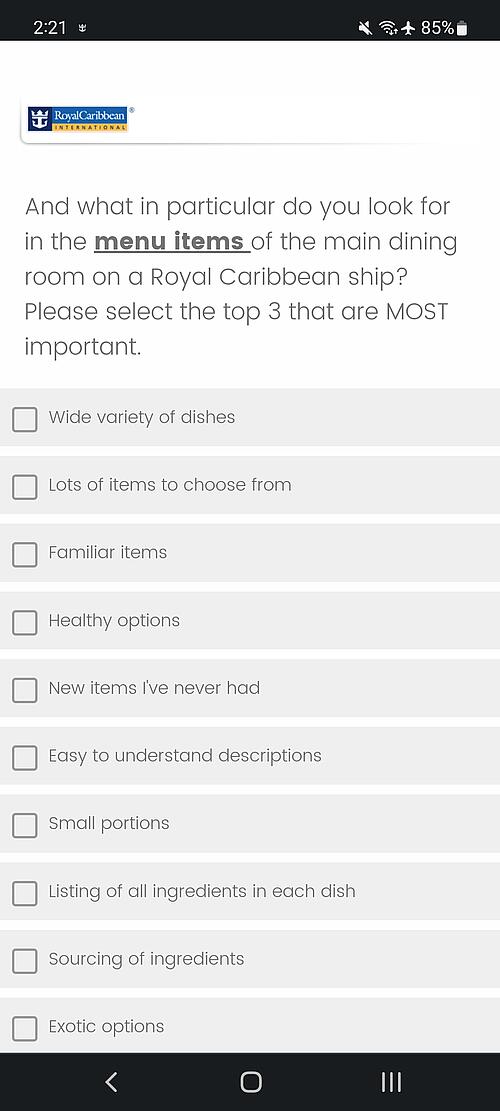 Next was a question about top 3 things in particular do you look for in the service of the main dining room:
Gets to know me
Anticipates my needs
Doses not rush my service
Offers suggestions
Quick Service
Friendly staff
Bring samples to try
Goes above and beyond
Provides detailed description of menu items
Refills drinks promptly
Same server each night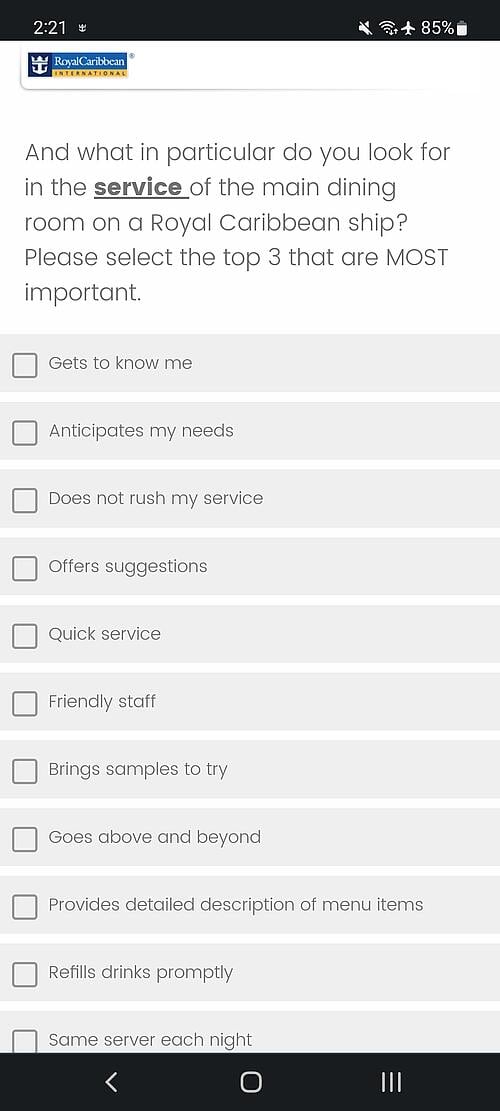 Finally, it asked for guests to share the ideal main dining room atmosphere, in terms of lighting, table settings, music, silverware and more.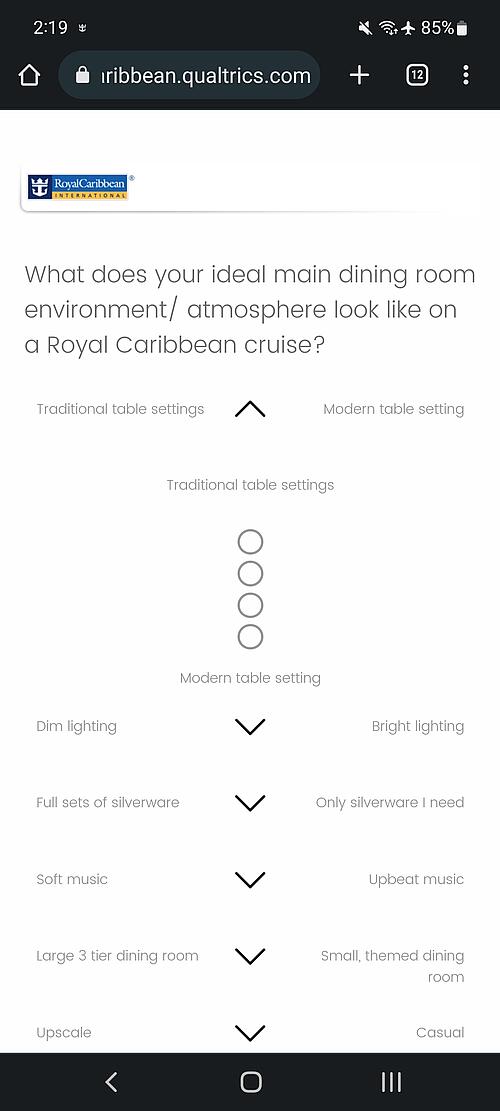 Following up on ship testing
This survey is being conducted in conjunction with a real-world example of the new menu taking place on Symphony of the Seas.
As we reported first, Royal Caribbean has changed the main dining room menu on only Symphony of the Seas to trial out the new menu.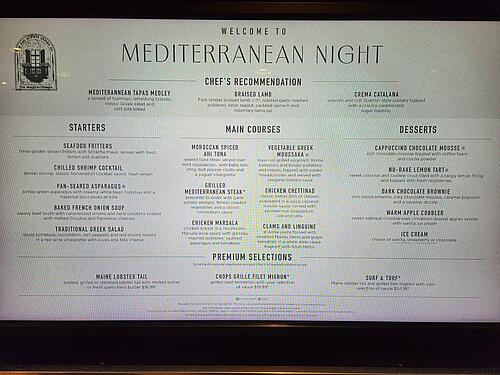 Thanks to Thomas Napolitano for providing these menus
The new menu layout is part of the test, along with a change in the lobster portions provided.
Royal Caribbean says the impetus for making the change is for the guest experience in an effort to simplify the dining room menu, which would allow the service to speed up.
In short, Royal Caribbean is looking for a way to make the dinner experience in the main dining room more predictable and efficient.