In:
Ever since Royal Caribbean revealed the first details about Icon of the Seas, there has been an incredible amount of excitement for the new ship.
With any new cruise ship, Royal Caribbean likes to sprinkle updates leading up to the ship's launch.
While on Allure of the Seas this week, Royal Caribbean's Senior Vice President and Chief Product Innovation Officer Jay Schneider talked to travel agents about Icon of the Seas.
Most of the talk was going over information that was already announced, but in the process, Mr. Schneider revealed a few new details previously not disclosed.
If you're like me, you can't get enough Icon of the Seas details and updates, so here's 7 new things about Icon of the Seas you should know about.
1400 Bar
There's a new bar coming to Icon of the Seas, known as the 1400 Bar.
Located on the Royal Promenade, this is a bar that will be right when you walk onto the ship.
If you're wondering about the name, it's actually a reference to the ship's build number at the Meyer Turku shipyard.
Each cruise ship is given a number at a shipyard because the yard constructs cruise ships for multiple cruise lines and they may not yet know the ship's name when construction begins.
Royal Caribbean decided to pay homage to Icon's build number by naming it the 1400 bar.
Royal Promenade
Mr. Schneider talked about the Royal Promenade and talked about a few interesting facts.
First, the Royal Promenade will be two levels high, with an upper and lower Promenade.
In addition, the Promenade will loop around, meaning there will be no "dead ends".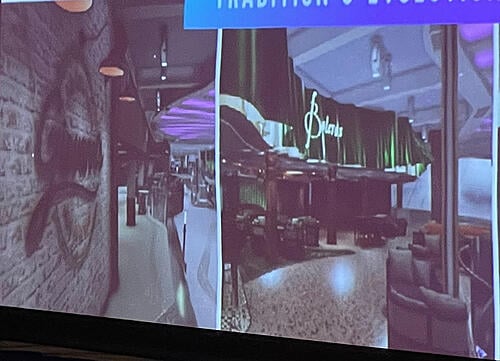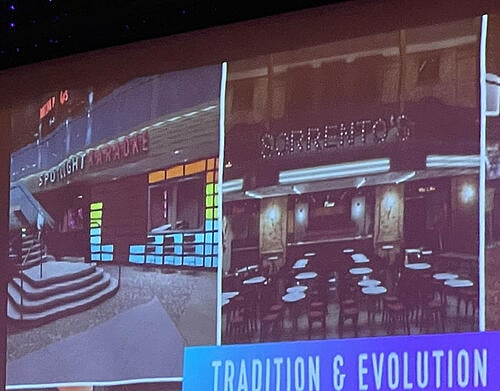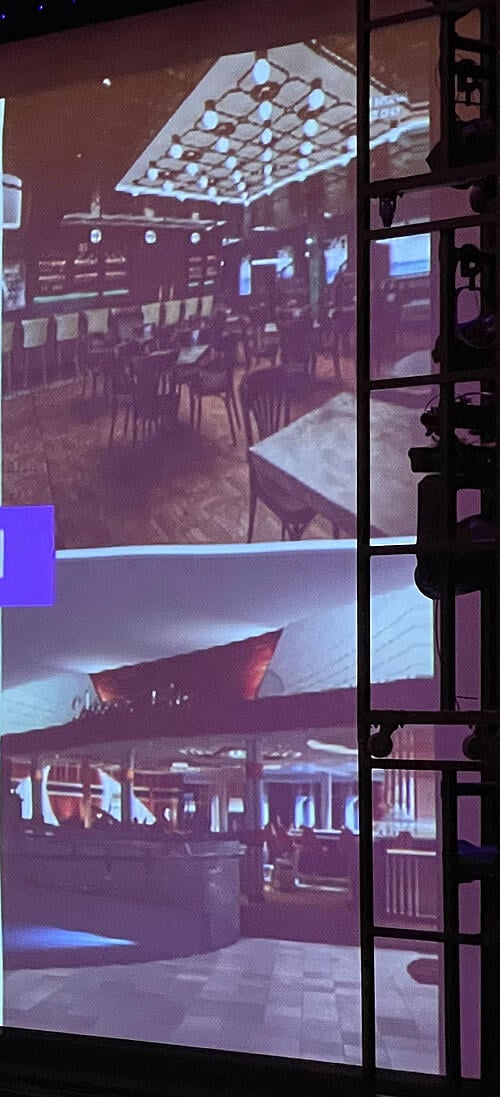 We also got a few screenshots of dining venues that Royal Caribbean hasn't talked about yet.
Sorrentos
Boleros
Giovanni's Italian Table
Spotlight Karaoke
There will be a staircase that leads directly from the Royal Promenade up to Central Park.
We also got a look at a rendering of the Playmakers Bar, which will be located off the Royal Promenade.
Sushi to go option
While we knew already there would be an Izumi sushi restaurant in Central Park, there will be a new way to get sushi on Icon of the Seas.
Izumi will have a "sushi to go" window, where you can order a bento box of sushi and take it elsewhere on the ship to enjoy.
Celebration Table
Icon of the Seas will have the next evolution of the Chef's Table experience.
Known as Celebration Table, this will be similar to Chef's Table, but it will be a new take on what you can expect.
Celebration Table will be located in the AquaDome.
Supper Club
We don't know what it is exactly, but one of many new dining concepts on Icon of the Seas will be the Supper Club.
Mr. Schneider didn't talk about it, but tried to move past what this venue is while going through areas of the ship.
Based on some later screenshots in his presentation, it appears this venue will be called the Supper Club.
Crown's Edge will cost money
While the Category 6 water park will be included in your cruise fare, the Crown's Edge adrenaline experience will cost extra.
Crown's Edge is a brand new activity coming to Icon of the Seas, combining a skywalk, ropes course, and thrill ride all in one.
Mr. Schneider didn't disclose exactly how much it would cost, only saying it would have a "nominal fee" to go on it.
Eco mode
In an effort to help save energy, Icon of the Seas will employ a new approach to air conditioning in your stateroom.
When you leave your cabin and walk off the ship for a shore excursion, the ship's computer will detect when the last person scans their SeaPass card upon disembarkation and at that point, the air conditioning will go into eco mode since no one is on the ship to need it maintained.
As soon as the first person booked in the cabin scans their SeaPass card coming back onboard the ship, eco mode turns off, and the air conditioning turns back on to the previous setting.