In:
Royal Caribbean offers two kinds of internet packages, so which should you buy?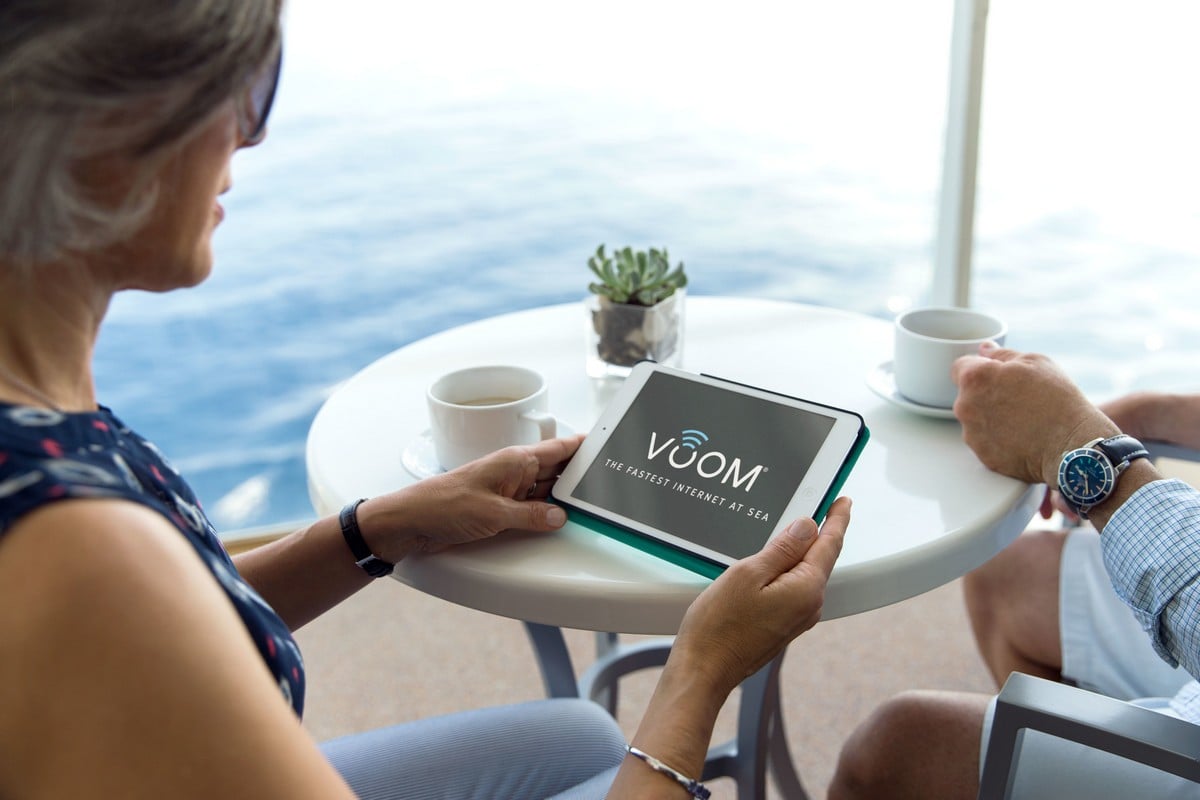 Staying connected on a Royal Caribbean cruise is fairly inexpensive, and it allows you to enjoy unlimited internet access during your cruise.
Before you can pick the right package for you, here are the key differences between Surf and the Surf & Stream packages.
Voom Surf Voyage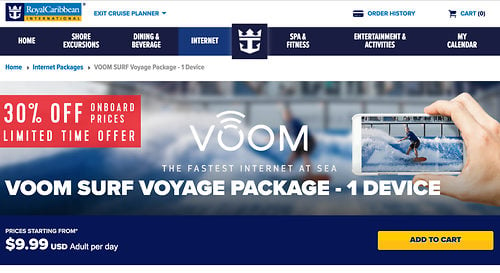 The Surf Voyage package is the base package, and offers what you need to do basic web browsing, such as email, internet browsing, social media and more.
It includes:
24 hour access
Ideal for:

Web browsing access
Email
Messenger apps such as Whatsapp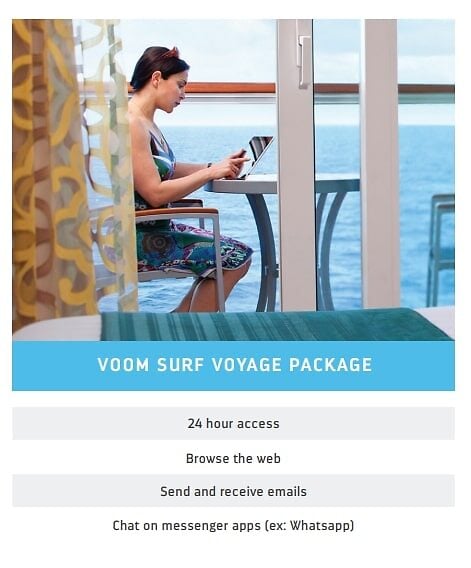 In my experience, Royal Caribbean throttles down the Surf Voyage package to keep the speeds lower in order to be fine for basic web browsing, but not work with more bandwidth demanding applications.
Surf will cost less per device than Surf & Stream.
Voom Surf & Stream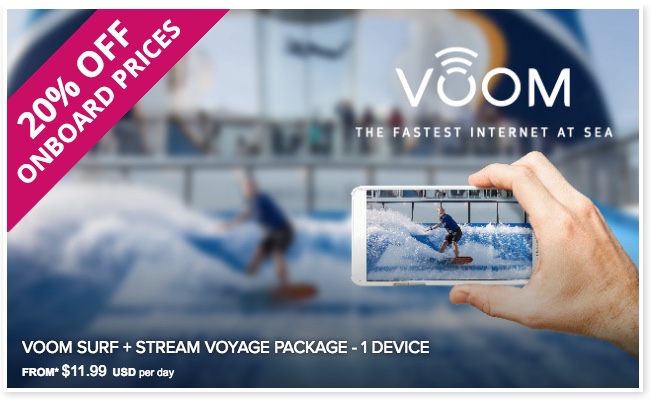 The higher tier package comes in the form of Surf & Stream, which advertises itself as offering the full internet experience.
Essentially, Surf & Stream has faster internet speeds because it is not throttled, and that means you can theoretically access video and audio streams onboard.
It includes:
24 hour access
Ideal for:

Web browsing access
Email
Messenger apps such as Whatsapp
Video Chat Live
Stream music, videos, movies, TV shows and more
Live stream and post on social media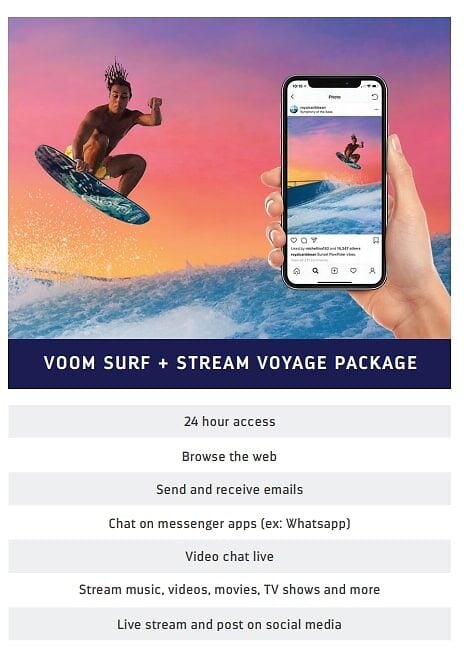 Surf & Stream will cost more than a comparable Surf package per device.
How fast is Voom?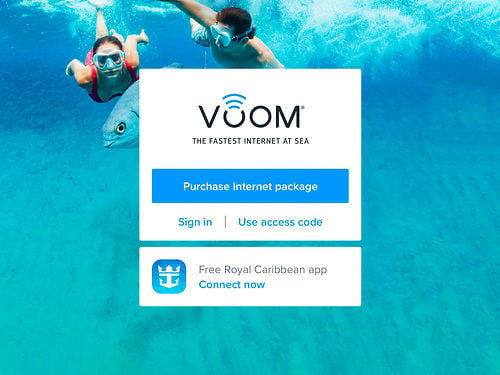 Despite what Royal Caribbean may advertise, internet speeds on Royal Caribbean cruise ships are not the same across the fleet.
Some ships have significantly faster speeds available to them compared to other ships, and it has to do with the cruise line's agreement with the internet carrier they utilize.
The surf package will be fast enough for basic internet use, but fall short if you want to stream just about anything.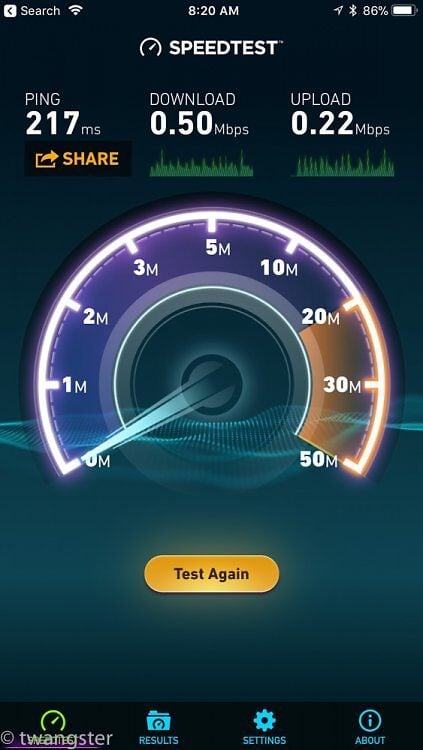 Surf and Stream will see significantly faster speeds because it is not as throttled down.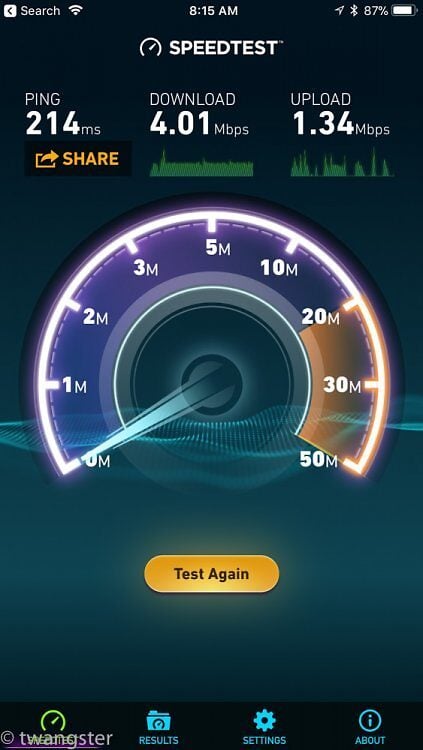 Speeds can vary from spot to spot on the ship, depending on usage. While you cannot expect the same results on your sailing, the dynamic of Surf and Stream being much faster usually holds true.
Another factor is the location of the ship around the world. When in Europe, different satellites are used for Voom on older ships. 
Unlike newer ships that have access to faster internet, older ships use geostationary satellites much like the ones used for most TV services such as Bell's expressVU or Shaw's satellite TV service.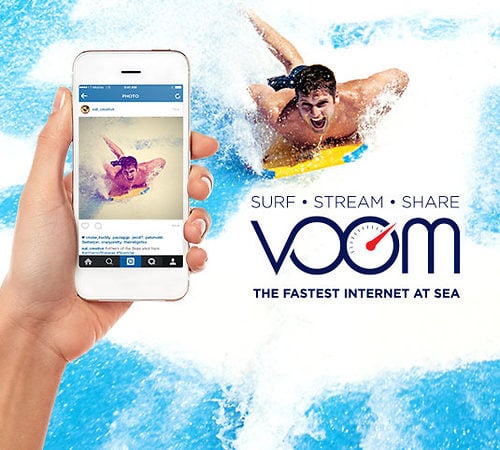 Generally speaking, the best internet performance will be available on Oasis, Allure, Harmony,  Anthem, Ovation, Quantum, Freedom, Independence and Symphony of the Seas.
The faster internet service (known as O3B) only works between 45° S and 45°N latitude, so parts of Northern Europe, Canada, Alaska and parts of New Zealand are technically outside of the intended O3b coverage area.  Even newer ships have to switch over to the older geostationary satellite (non-O3b) when the O3b signal weakens in these areas.
On other ships, latency can dramatically increase and normal non-voice stuff like text, email, web browsing works pretty well but voice calls and video chatting suffers due to the delay.  Consistent throughput also suffers on these ships.  Rain seems to affect them more.
With all of that being said, Royal Caribbean's Voom service works well for most guest's needs.  It is when you try to push the bandwidth and latency limits with applications that involve video that you typically run into issues.
Which Voom package should you buy?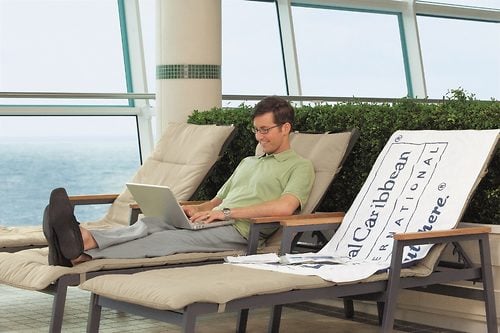 Regardless of what you intend to do on the internet, I recommend everyone buy the Surf & Stream package.
The Surf & Stream package is a better overall experience, regardless of if you are going to stream video or not.  Faster internet speeds mean quicker load times all around, and you would be surprised how often having additional bandwidth helps.
Yes, it will cost more to buy Surf & Stream, but I think it is worthwhile.
How to get a discount on a Voom package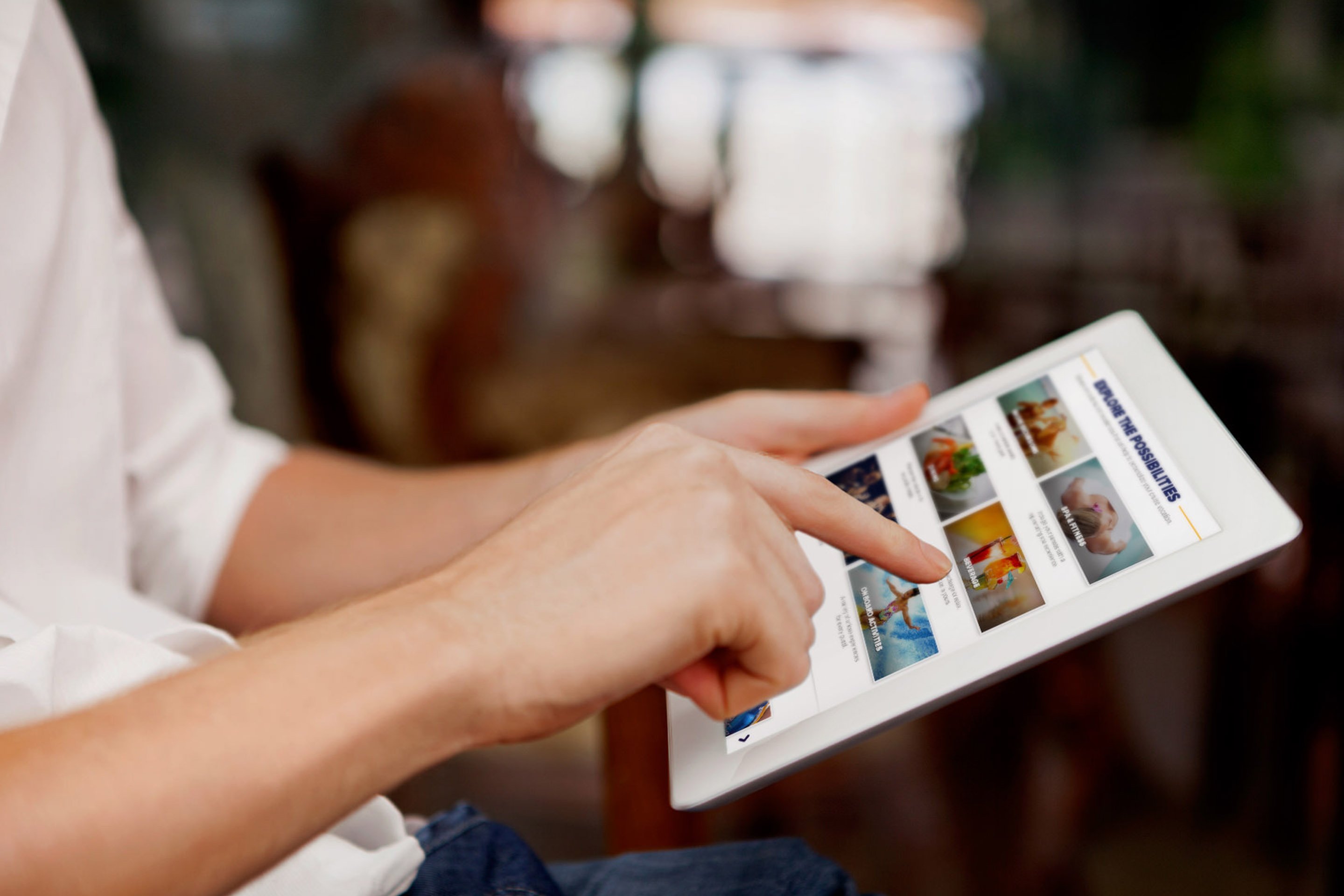 Royal Caribbean offers significant discounts on its internet packages if you buy it before your cruise.
In order to spur purchases, the cruise line will offer money off the cost of a Voom package compared to buying it onboard the ship.
To be clear, you will absolutely save money if you pre-purchase online compared to waiting to buy it on your ship.  So if you know you want to get an internet package, definitely pre-purchase.
Read more: Will a Royal Caribbean sale actually save me any money?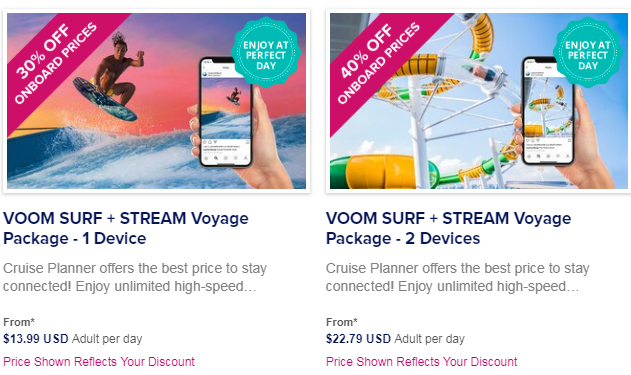 To get access to the lower prices, log into Royal Caribbean's Cruise Planner website and navigate to the Internet & More section.
Royal Caribbean provides internet access across a variety of packages that allow a certain number of devices to be connected at one time.
You can share internet access with anyone you want, and swap between devices as much as you want, but it will limit you to the amount of devices you purchased under the plan at any given time.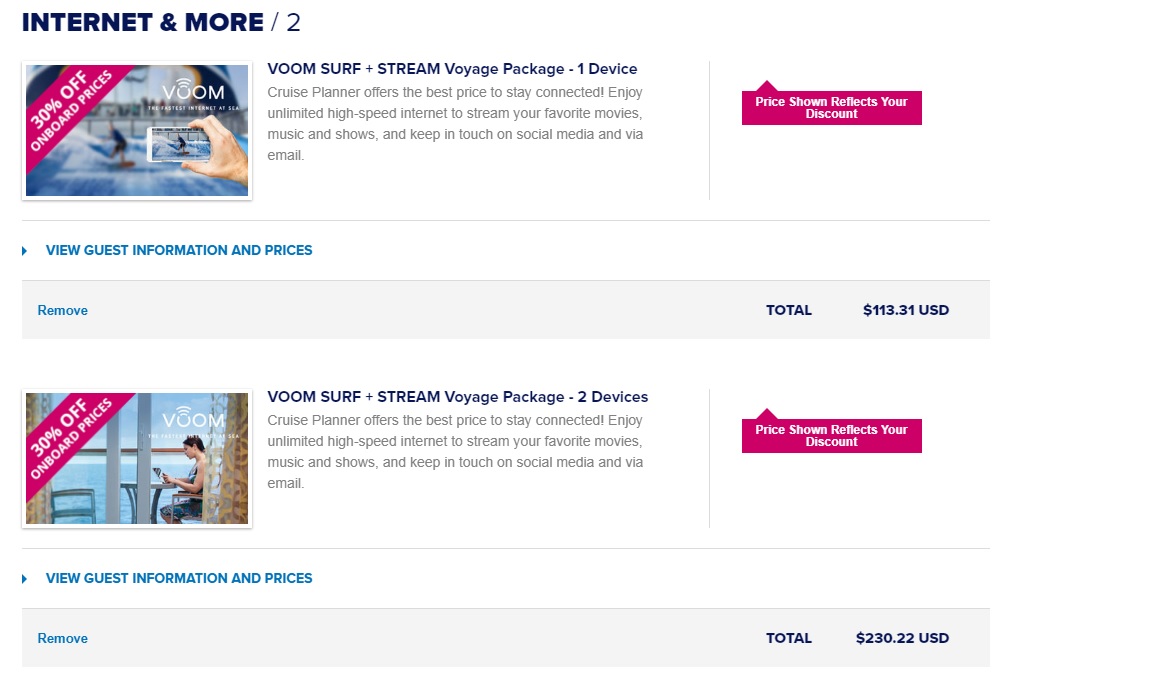 In addition, the cost per device, per day, comes down with the higher device count plans.
The price of a WiFi package will also fluctuate depending on what offer and sales Royal Caribbean is running, so check back periodically to see if there has been a price drop.
Diamond Discount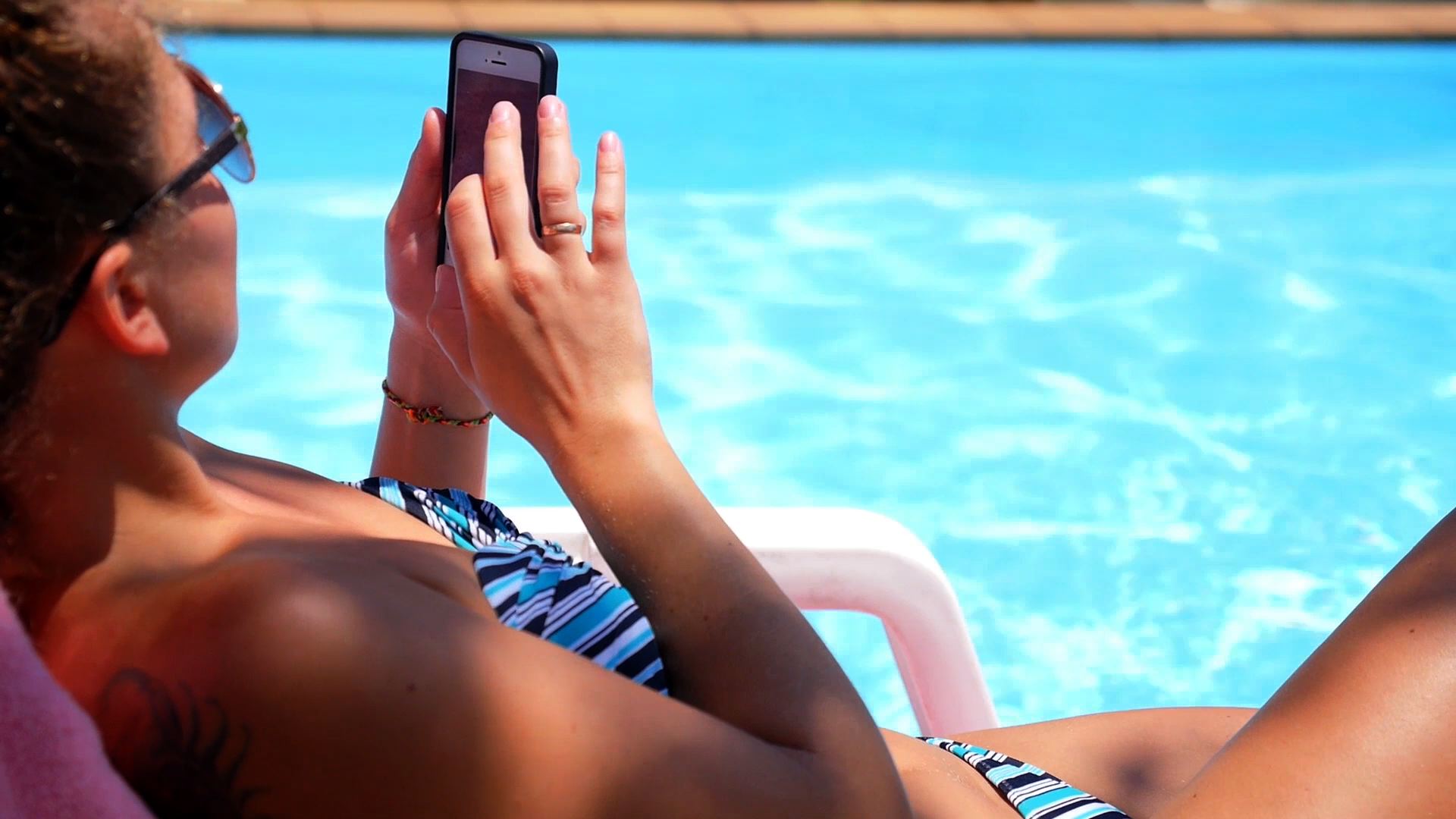 If you are at least a Diamond member or higher in Royal Caribbean's Crown and Anchor Society, there is an onboard discount available for internet packages.
You cannot combine or use your Crown and Anchor Society discount on internet packages purchased before the cruise, so you would have to wait to buy a Voom package onboard.
Depending on your sailing length, waiting to buy an internet package onboard with your loyalty discount may make sense.
Read more: Cruise hack: Maximize Voom internet discount for Diamond members or above