In:
Happy Fourth of July! A holiday as festive as American Independence Day is bound to fill Royal Caribbean's cruise ships with decorations and fun onboard.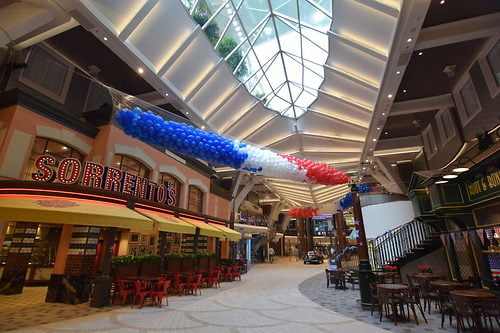 Many people that book a cruise over July 4th are curious what, if anything, Royal Caribbean does to celebrate.  The good news is Royal Caribbean works hard to make the holiday special for those celebrating onboard.
All over the ship, you will find red, white and blue decorations, complete with streamers, American flags and patriotic music. On top of it, expect special Fourth of July food and drinks to enjoy all day long!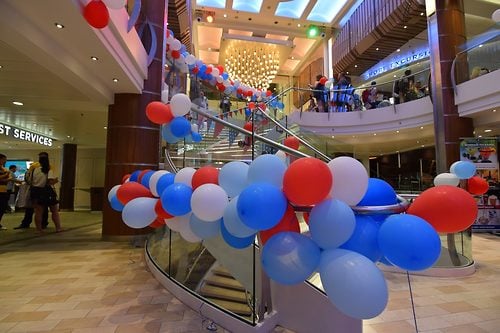 The public areas of Royal Caribbean's ships, such as the Boardwalk or Centrum, will be focal points of a lot of the celebrations.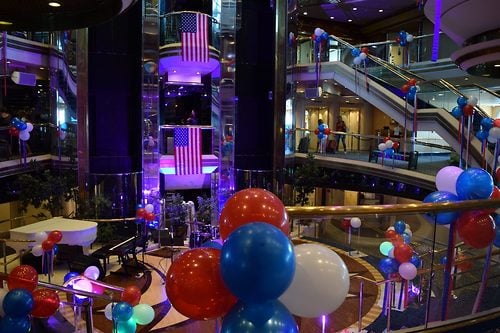 You will also find special July 4th events onboard, such as July 4th trivia sessions, and special events like a balloon drop.
A lot of guests onboard will get into the spirit of things with plenty of patriotic garb to wear around the pool deck and onboard the ship.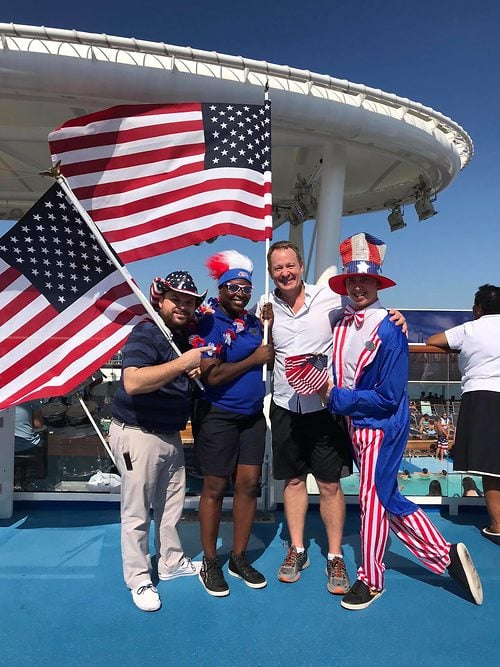 Photo by Cruise Director Mitch
Speaking of the pool deck, some ships offer a poolside BBQ action so you can enjoy traditional hot dogs, burgers and pie between splashing in the pool.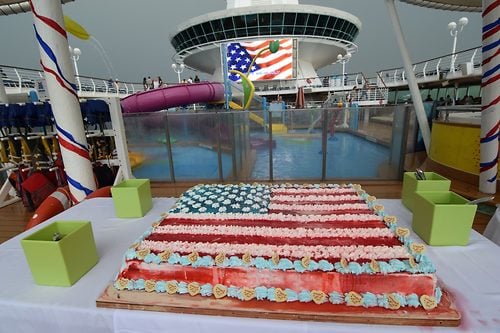 Does Royal Caribbean shoot fireworks for the Fourth of July?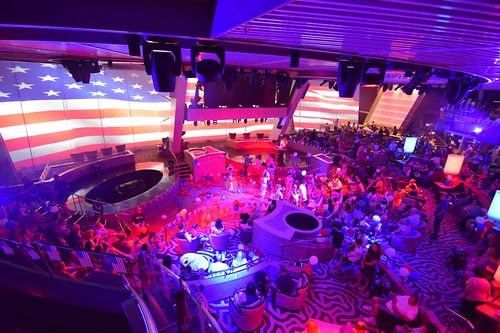 A very common question from readers is if there are fireworks offered either onboard their ships, or at one of their private islands, for the Fourth of July.
Unfortunately, the answer is Royal Caribbean does not offer fireworks at sea. 
On Royal Caribbean's Quantum Class ships, they do offer a virtual fireworks party in Two70.
Red White & Blue cocktail recipe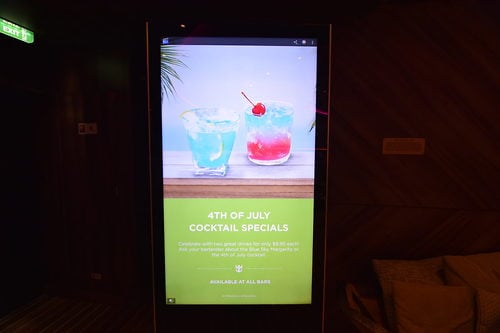 Royal Caribbean can celebrate any holiday with a special cocktail, and nothing says patriotic like a red, white and blue drink!
If you cannot be on a Royal Caribbean ship for July 4th, at least you can make one at home to celebrate.
Red White & Blue cocktail Ingredients
1 oz grenadine
3 oz lemonade
1 oz vodka
1 oz blue curacao
ice
Red White & Blue cocktail Instructions
1. Add grenadine to a glass
2. Fill glass with ice
3. In a shaker, shake lemonade and vodka then gently pour the mixture over the back of a spoon into the glass creating the white layer of the drink. 
4. Cascade blue curacao over the back of a spoon to make the final blue layer.