Royal Caribbean is celebrating the holidays with December cruises
In:
All December long, Royal Caribbean is getting in the holiday spirit with special holiday sailings.  From a tree-lighting ceremony right on deck to an arrival parade with Santa himself. And it all culminates in the biggest New Year's celebration at sea.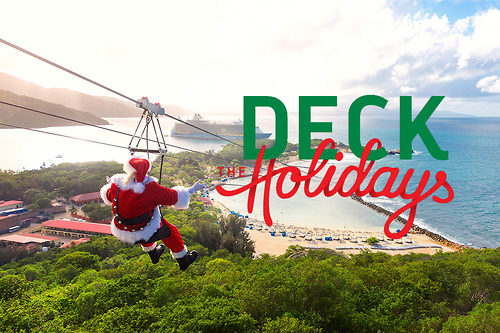 Guests taking one of these sailings can enjoy a number of fun events onboard:
Merry Moments

Join us for the ultimate Christmas celebration, featuring holiday hangouts, family story time and even a special arrival from the big boss himself during Santa's Arrival Parade.

Decked out Decor

We're decking the halls – and the hulls – for the holidays. You'll be transported to an onboard winter wonderland as carolers delight with holiday favorites. And a grand tree lighting ceremony will make sprits merry and bright.

Festive Fun

Celebrate the season with games and parties, including holiday-themed trivia contests, scavenger hunts and even an Ugly Christmas Sweater Party.

Christmas carolers and yule tide tunes
Story time with Santa's elves
Holiday classics shown poolside and at theaters onboard
Holiday arts & crafts at Adventure Ocean youth program
Letter writing to Santa at the North Pole
DreamWorks characters don their holiday finest
New Years Eve events

Hottest NYE party at sea
Festive hats, confetti and party favors
Countdown to Balloon Drop
The 2017 holiday sailings are combinable with the recent WOW Sale that began yesterday.
Here are the Royal Caribbean sailings that will enjoy these great events. Pricing for the holiday sailings begin at these rates (prices subject to change):
Christmas Sailings 2017
| | | | |
| --- | --- | --- | --- |
| Adventure of the Seas | 12/23/2017 | 7 NIGHT SOUTHERN CARIBBEAN HOLIDAY | $ 1,465 |
| Adventure of the Seas | 12/22/2018 | 8 NIGHT EASTERN CARIBBEAN HOLIDAY CRUISE | $ 1,713 |
| Allure of the Seas | 12/24/2017 | 7 NIGHT EASTERN CARIBBEAN HOLIDAY CRUISE | $ 1,839 |
| Allure of the Seas | 12/23/2018 | 7 NIGHT WESTERN CARIBBEAN HOLIDAY CRUISE | $ 1,465 |
| Anthem of the Seas | 12/22/2017 | 8 NIGHT BAHAMAS HOLIDAY CRUISE | $ 1,812 |
| Anthem of the Seas | 12/21/2018 | 8 NIGHT BAHAMAS HOLIDAY CRUISE | $ 1,585 |
| Brilliance of the Seas | 12/23/2017 | 5 NIGHT WESTERN CARIBBEAN HOLIDAY CRUISE | $ 1,412 |
| Enchantment of the Seas | 12/26/2017 | 3 NIGHT BAHAMAS CRUISE | $ 551 |
| Freedom of the Seas | 12/23/2017 | 8 NIGHT EASTERN CARIBBEAN HOLIDAY CRUISE | $ 1,172 |
| Grandeur of the Seas | 12/21/2017 | 12 NIGHT SOUTHERN CARIBBEAN HOLIDAYS | $ 1,599 |
| Harmony of the Seas | 12/23/2017 | 7 NIGHT WESTERN CARIBBEAN HOLIDAY CRUISE | $ 1,999 |
| Independence of the Seas | 12/21/2017 | 9 NIGHT EASTERN CARIBBEAN HOLIDAY CRUISE | $ 1,298 |
| Jewel of the Seas | 12/24/2017 | 7 NIGHT SOUTHERN CARIBBEAN HOLIDAY | $ 1,332 |
| Liberty of the Seas | 12/24/2017 | 7 NIGHT WESTERN CARIBBEAN HOLIDAY CRUISE | $ 1,265 |
| Majesty of the Seas | 12/22/2017 | 4 NIGHT BAHAMAS HOLIDAY CRUISE | $ 715 |
| Empress of the Seas | 12/24/2017 | 5 NIGHT HAVANA OVERNIGHT & COZUMEL | $ 1,887 |
| Navigator of the Seas | 12/22/2017 | 9 NIGHT SOUTHERN CARIBBEAN CRUISE | $ 1,527 |
| Oasis of the Seas | 12/24/2017 | 7 NIGHT EASTERN CARIBBEAN CRUISE | $ 1,505 |
| Rhapsody of the Seas | 12/24/2017 | 7 NIGHT WESTERN CARIBBEAN CRUISE | $ 970 |
| Vision of the Seas | 12/23/2017 | 5 NIGHT WESTERN CARIBBEAN CRUISE | $ 478 |
New Year's Sailings 2017
| | | | |
| --- | --- | --- | --- |
| Adventure of the Seas | 12/30/2017 | 7 NIGHT SOUTHERN CARIBBEAN HOLIDAY | $ 1,469 |
| Allure of the Seas | 12/31/2017 | 7 NIGHT WESTERN CARIBBEAN HOLIDAY CRUISE | $ 1,158 |
| Anthem of the Seas | 12/30/2017 | 8 NIGHT BAHAMAS HOLIDAY CRUISE | $ 1,439 |
| Brilliance of the Seas | 12/28/2017 | 5 NIGHT WESTERN CARIBBEAN HOLIDAY CRUISE | $ 1,453 |
| Enchantment of the Seas | 12/29/2017 | 4 NIGHT BAHAMAS HOLIDAY CRUISE | $ 1,141 |
| Freedom of the Seas | 12/31/2017 | 6 NIGHT WESTERN CARIBBEAN HOLIDAY CRUISE | $ 1,041 |
| Harmony of the Seas | 12/30/2017 | 7 NIGHT EASTERN CARIBBEAN HOLIDAY CRUISE | $ 2,639 |
| Independence of the Seas | 12/30/2017 | 5 NIGHT WESTERN CARIBBEAN HOLIDAY CRUISE | $ 927 |
| Jewel of the Seas | 12/31/2017 | 7 NIGHT SOUTHERN CARIBBEAN HOLIDAY | $ 1,199 |
| Liberty of the Seas | 12/31/2017 | 7 NIGHT WESTERN CARIBBEAN HOLIDAY CRUISE | $ 1,099 |
| Majesty of the Seas | 12/29/2017 | 4 NIGHT BAHAMAS HOLIDAY CRUISE | $ 900 |
| Empress of the Seas | 12/29/2017 | 4 NIGHT NASSAU & KEY WEST HOLIDAY CRUISE | $ 868 |
| Navigator of the Seas | 12/31/2017 | 5 NIGHT WESTERN CARIBBEAN | $ 1,265 |
| Oasis of the Seas | 12/31/2017 | 7 NIGHT WESTERN CARIBBEAN CRUISE | $ 1,252 |
| Rhapsody of the Seas | 12/31/2017 | 7 NIGHT WESTERN CARIBBEAN CRUISE | $ 999 |
| Vision of the Seas | 12/29/2017 | 5 NIGHT WESTERN CARIBBEAN CRUISE | $ 489 |