In:
Guests sailing on a Royal Caribbean ship in the last couple weeks have reported non-alcoholic frozen drinks have been added to the Diamond member happy hour drink menu.
RoyalCaribbeanBlog reader John Durland first reported the change and readers Eileen & John Triplett shared a photo of the new drink menu.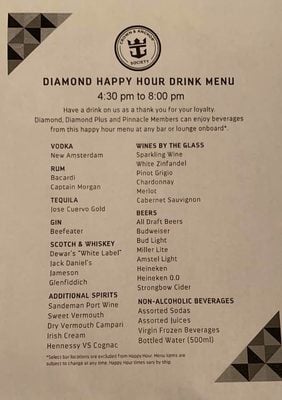 Diamond Drink menu from Mariner of the Seas, January 2020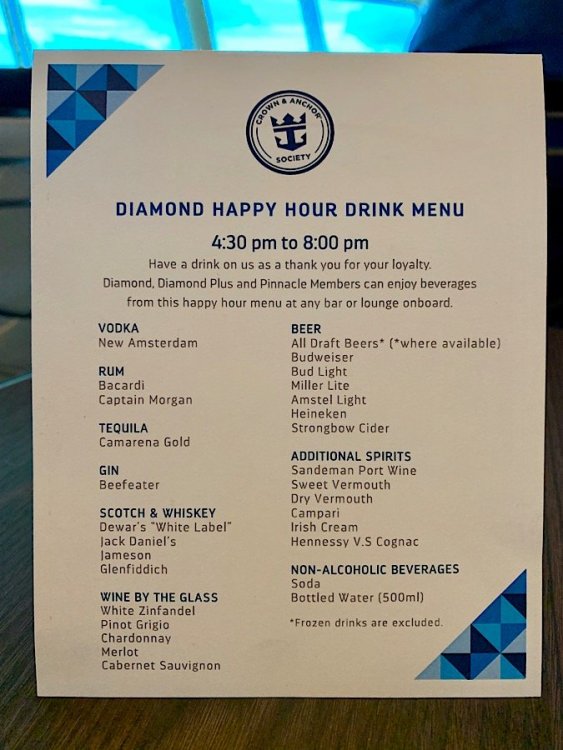 Diamond drink menu from Independence of the Seas January 2019
The updated menu adds juices and virgin frozen beverages to the menu, along with new wines added to the Wine By The Glass menu and Heineken 0.0.
Each evening, Royal Caribbean offers complimentary alcoholic and non-alcoholic beverages in its Diamond lounges for Diamond, Diamond Plus and Pinnacle members. In addition, Diamond members and above receive three complimentary drink vouchers to use at bars and lounges around the ship during the same time.