Deck by deck drydock changes to Oasis of the Seas
In:
Royal Caribbean announced a $165 million refurbishment for Oasis of the Seas that will take place later this year, and we now have a good idea of the full extent of changes coming to the ship.
After receving lots of questions related to how where the changes are onboard the ship, we've compiled a list of the changes coming visually. Note that some stateroom categories may have changed, but we were looking for significant changes to the ship.
Deck 3
Deck 4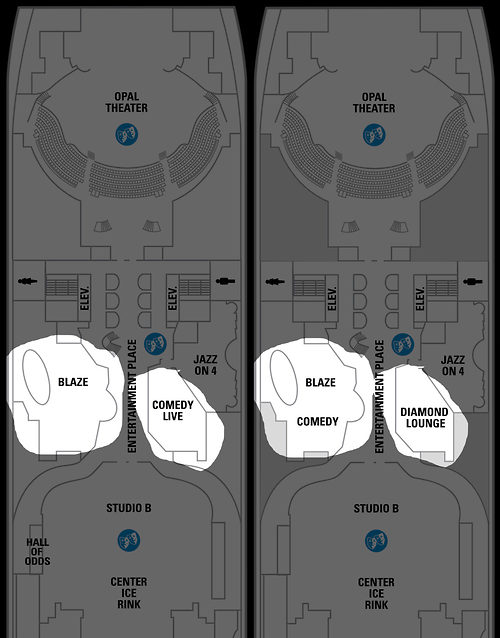 Blaze Comedy Club includes Comedy Club
Diamond Lounge replaces Comedy Live
Deck 5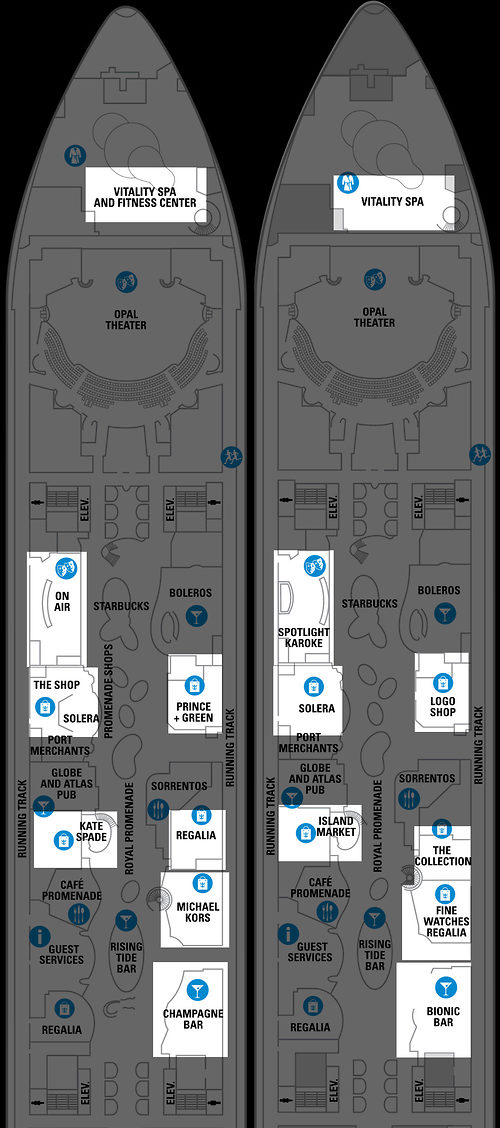 Spotlight Karaoke replaces On Air
Solera expands to occupy area by The Shop
Logo Shop replaces Prince & Green
Island Market replaces Kate Spade
The Collection replaces Regalia
Fine Watches Regalia replaces Michael Kors
Bionic Bar replaces Champagne Bar
Deck 6

Playmakers Sports Bar replaces Cups & Scoops, Arcade and Sabor
Ultimate Abyss landing replaces Sabor Bar
Sugar Beach/Beach Shop replaces Candy Beach
Deck 7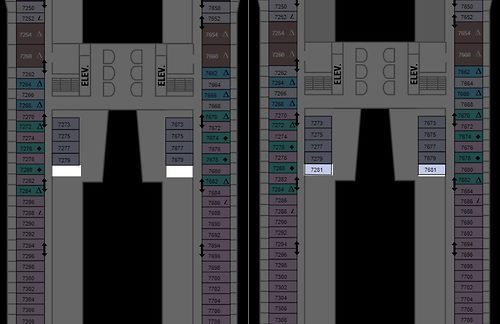 New staterooms added (7281 & 7681)
Deck 8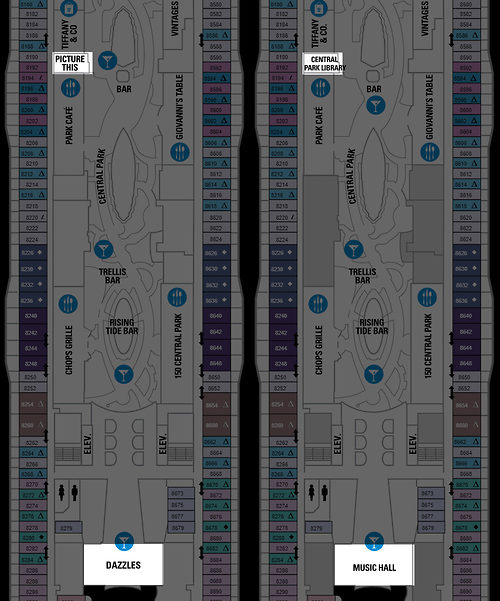 Central Park Library replaces Picture This
Music Hall replaces Dazzles
Deck 9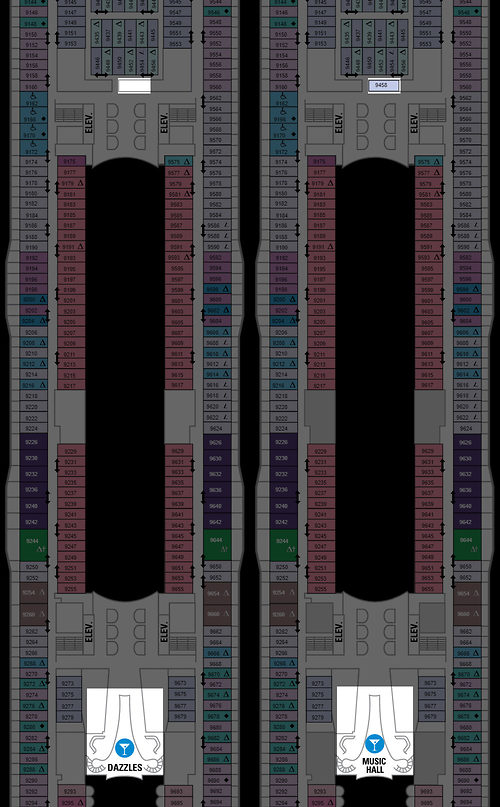 New stateroom added (9458)
Music Hall replaces Dazzles
Deck 10
Deck 11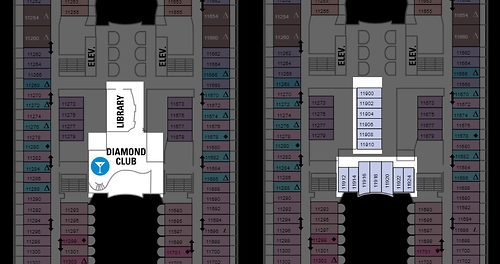 New staterooms replace Library (11900, 11902, 11904, 11906, 11908, 11910)
New staterooms replace Diamond Club (11912, 11914, 11916, 11918, 11920, 11922, 11924)
Deck 12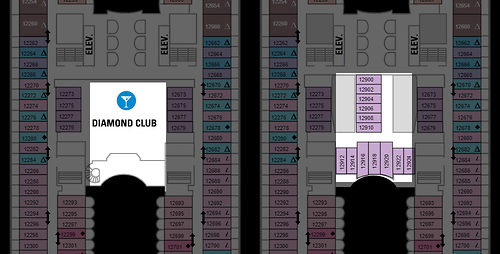 New staterooms replace Diamond Club (12900, 12902, 12904, 12906, 12908, 12910; 12912, 12914, 12916, 12918, 12920, 12922, 12924)
Deck 14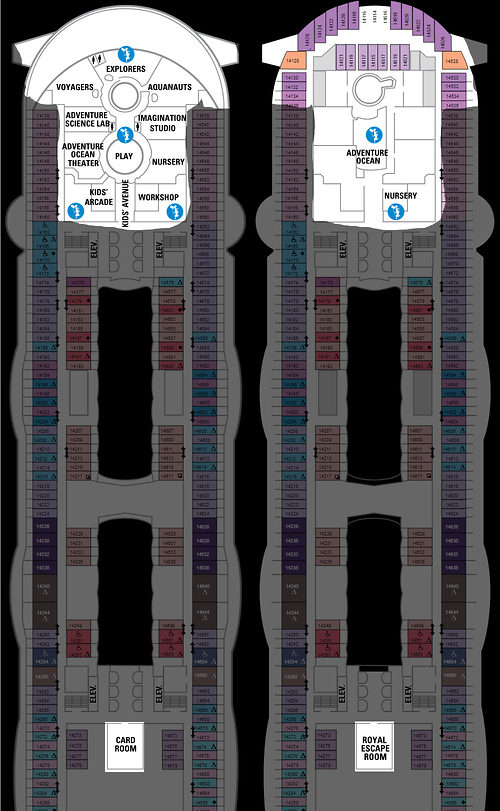 New staterooms added in forward area of deck 

14128, 14126, 14124, 14122, 14120, 14118, 14116, 14114, 14516, 14518, 14520, 14522, 14524, 14526, 14528
14130, 14132, 14134, 14136
14121, 14119, 14117, 14115, 14517, 14519, 14521
14530, 14532, 14534, 14536

Adventure Ocean redesigned
Royal Escape Room replaces Card Room
Deck 15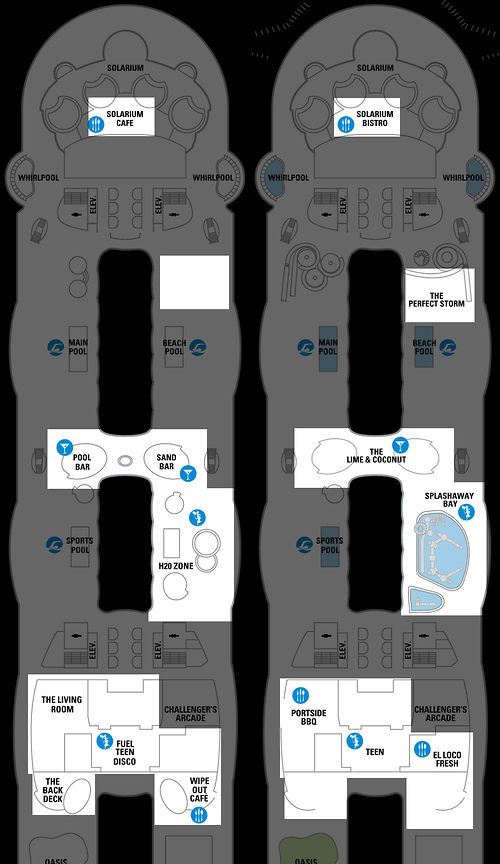 Solarium Cafe renamed to Solarium Bistro
Perfect Storm waterslides added
The Lime & Coconut replaces Pool Bar and Sand Bar
Splashaway Bay replaces H2O Zone
Portside BBQ replaces The Living Room
Teen area redesigned
El Loco Fresh replaces Wipe Out Cafe
Deck 16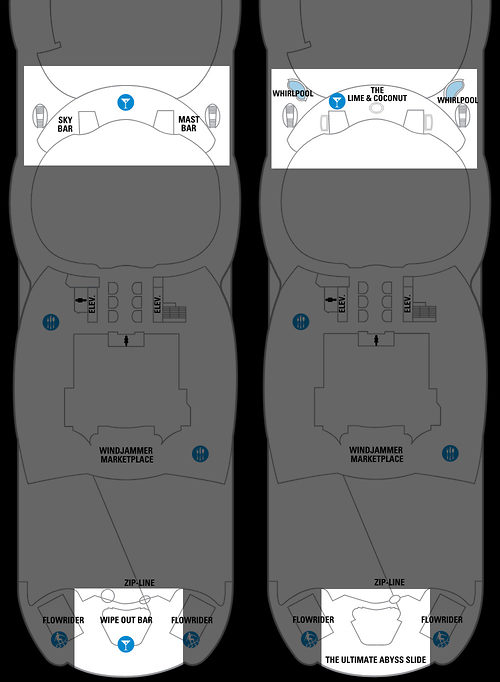 The Lime & Coconut replaces Sky Bar & Mast Bar
Whirlpools added
Ultimate Abyss slide replaces Wipe Out Bar
Deck 17
Deck 18