In:
Royal Caribbean has posted an update for its remaining 2020-2021 deployments, with some additions to the schedule, as well as date changes.
Royal Caribbean Blog reader Pippa Madden alerted us to an updated schedule, which expanded on the previously posted schedule.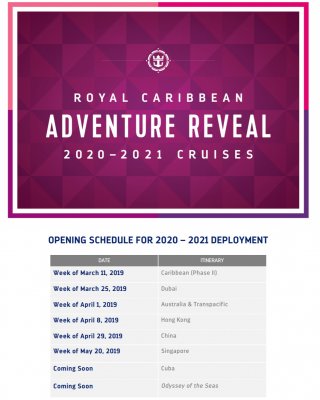 Week of March 11, 2019 Caribbean (Phase II)
Week of March 25, 2019 Dubai
Week of April 1, 2019 Australia & Transpacific
Week of April 8, 2019 Hong Kong
Week of April 29, 2019 China
Week of May 20, 2019 Singapore
Coming Soon Cuba
Coming Soon Odyssey of the Seas
The updated schedule added releases for Hong Kong, as well as referencing a deployment schedule for the recently announced second Quantum Class ship, Odyssey of the Seas.
All itineraries and openings are subject to change without notice.