In:
Royal Caribbean's Boardwalk neighborhood on its Oasis Class ships is a favorite spot for so many cruisers.  The area is inspired by both the seaside piers that dot the coast of England and the nostalgic boardwalks of yesteryear such as Coney Island.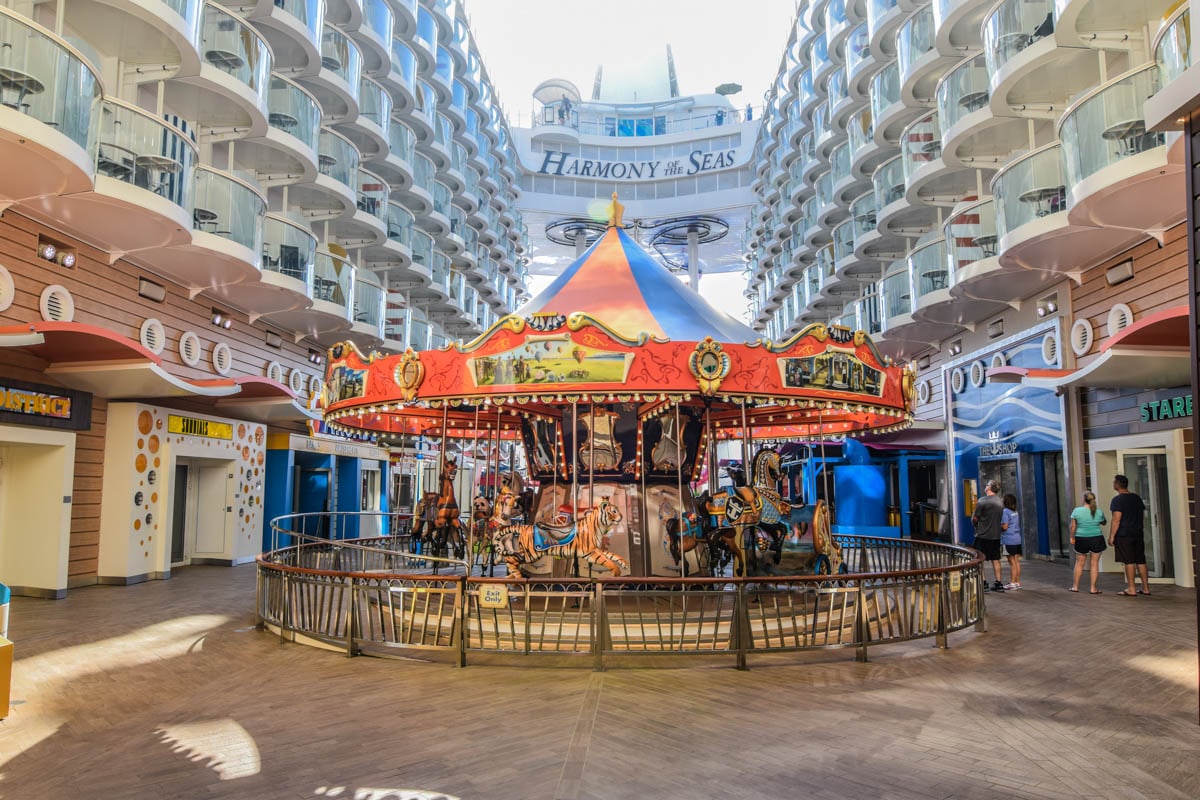 There is a lot to see and do around the Boardwalk, and we have eight secrets that you may not know about the Boardwalk neighborhood.
Complimentary breakfast at Johnny Rockets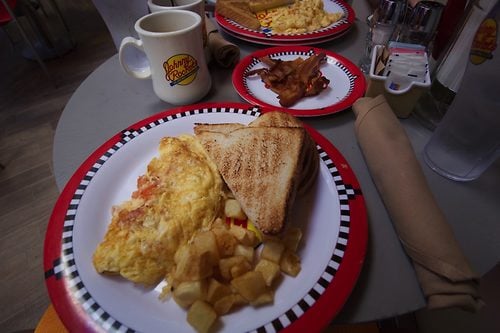 Did you know that Johnny Rockets on Harmony of the Seas is complimentary for breakfast?  All Oasis-class ships offer this option, but many guests are unaware that breakfast is served here, nor that it is included with your cruise fare (Johnny Rockets has a cover charge for lunch and dinner).
The Johnny Rockets breakfast menu on Oasis Class ships is a traditional American breakfast, with pancakes, omelettes, French toast and the like.  In fact, Johnny Rockets is one spot onboard Harmony of the Seas to get omelet made-to-order.
Johnny Rockets tends to be not very crowded for breakfast, because many guests are unaware of this option, and it also has a large seating capacity (indoor and outdoor seating options).
Slide down and celebrate at the bar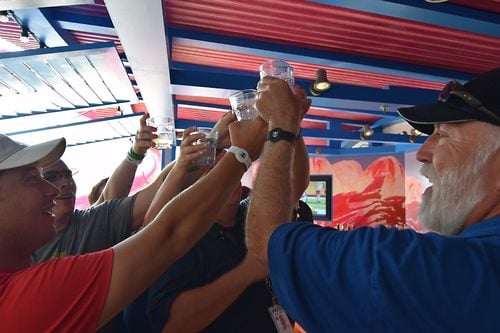 If you are on Harmony of the Seas or Symphony of the Seas, a fun sea day activity is to take a ride down the Ultimate Abyss down to the Boardwalk and then celebrate with a drink (or two) at the bar.
The Ultimate Abyss slide concludes at the rear of the Boardwalk, convenient to the bar at Sabor (on Harmony of the Seas) or Playmakers (on Symphony of the Seas). 
An after-slide drink is the perfect way to celebrate conquering the Ultimate Abyss!
Aft chairs with a view
If you are looking for a quiet spot to watch the ocean, many guests are unaware of an area right below the first Aqua Theater suite balcony on deck seven.
Just behind the rock wall, you can find comfortable Adirondack chairs to sit in with the perfect view of the ocean.  Rarely will you find other guests here.
Ride the carousel at night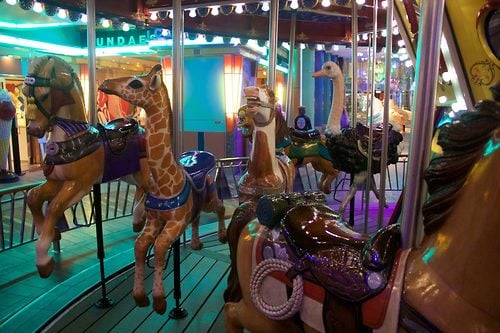 Photo by Michael Poole
No cruise aboard an Oasis Class ship is complete without a ride (or three) on the Carousel.  Regardless of age, guests of all ages can enjoy the classic nature of this attraction.
The full-sized, traditional hand-crafted carousel was specially designed for Royal Caribbean, and many guests find this a fun family activity.  Be sure to include at least one ride at night, because like the fairs of the past, nighttime is when these rides really shine when they are all lit up.
Luckey climber
On Harmony of the Seas and Symphony of the Seas, Royal Caribbean added a large climbing structure perfect for kids to try out called the Luckey Climber.
Luckey Climber is a brand of rather large climbing structures that are surrounded by a net, designed for kids to jump on and explore.
These innovative playgrounds are part art and part jungle gym that feature some very bold colors. It is a bit hidden in the back of the Boardwalk, so not all guests are aware it is there, but it is a really fun spot for kids to burn off some energy.
Eat and drink at the bar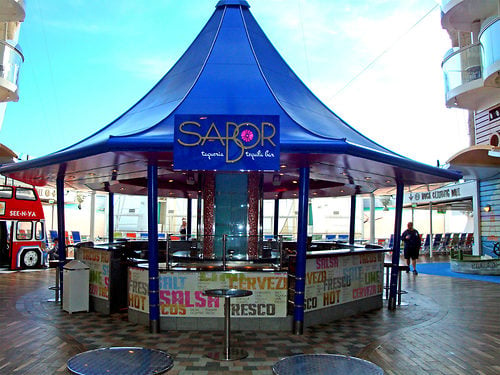 While the kids are trying the Luckey Climber, you should to the opposite side of the Boardwalk to grab a drink and maybe an appetizer.  Sabor offers a bar on Oasis, Allure and Harmony of the Seas while Playmakers is on Symphony of the Seas.  
Regardless of which ship you are on, you can go to the bar without any reservations and sit down to enjoy a cold beverage whenever the restaurant is open.  It is a great spot for meeting friends, and there is usually a nice ocean breeze passing by.
Pre-pay for arcade credit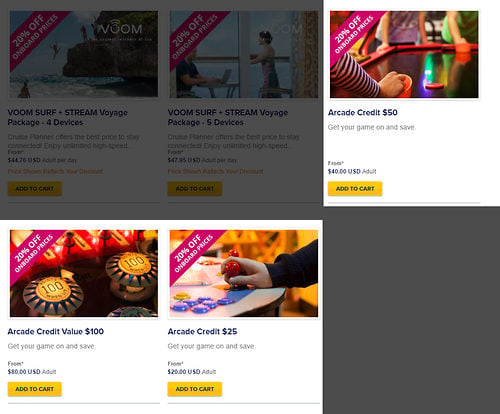 If you plan to let your kids enjoy the arcade on Royal Caribbean, you would be best served to invest in a pre-cruise arcade credit purchase for the bonus savings offered.
There are three options available to purchase prior to a cruise, which offers the convenience of pre-loading arcade credit, as well as a discount.
$25 Arcade credit for $20
$50 Arcade credit for $40
$100 Arcade credit for $80
By purchasing arcade credit ahead of time, you will ensure your kids get extra game time while saving you money in the process.
Boardwalk Balcony rooms come with special perks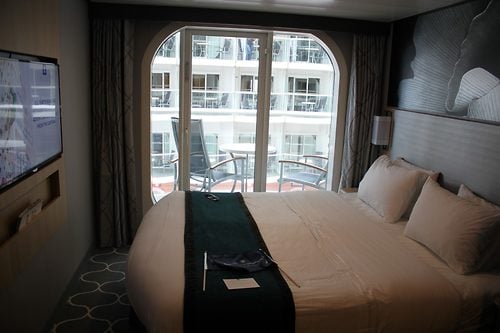 Guests staying in a Boardwalk view balcony stateroom are entitled to special amenities for booking this type of stateroom.
Specifically, you will receive:
Complimentary meal for four at Johnny Rockets
Complimentary Royal Refreshment soda package for two guests
Exclusive rock climbing wall experience for the entire family
Boardwalk view balcony rooms typically cost less than ocean view balcony rooms, and the added amenities make it a great deal.