In:
Royal Caribbean's Symphony of the Seas has generated a lot of interest among Royal Caribbean fans and first time cruisers alike, and with a ship this intriguing, there are a lot of concerns and questions people may have.
We decided to list answers to some of the most commonly asked questions related specifically to Symphony of the Seas for everyone's future reference.
When can I reserve shows onboard?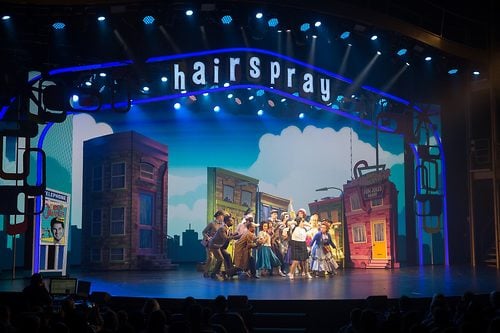 Royal Caribbean has added a lot of great entertainment on Symphony of the Seas. Guests are able to reserve shows on their Symphony of the Seas cruise, although when exactly they become available varies from sailing to sailing. The truth is, there is no rule about when these kinds of activities become available for booking, and every sailing can be different.
Typically, we see entertainment become available to reserve online around 75-60 days prior to the sail date, but your experience may vary.
What makes Symphony different from other Oasis-class ships?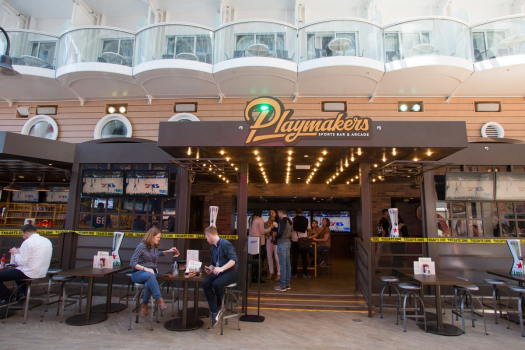 Despite being the fourth Oasis Class cruise ship, Symphony of the Seas has a number of differences from her sister ships.  Here is a list of the most noticeable ones:
Solarium has a 2,594 square foot art installation
No Sabor on Boardwalk. Instead, Playmakers Sports Bar & Arcade occupies entire side of the Boardwalk neighborhood.
Sugar Beach Candy Shop (candy and ice cream) takes up much of other side of Boardwalk neighborhood.
Symphony of the Seas features the Ultimate Family Suite stateroom.
New restaurants

El Loco Fresh (Complimentary)
Hooked (Specialty)

Laser tag in Studio B offered on Symphony
New shows

Hairspray Broadway musical
Flight (Royal Theater)
1977 (ice skating show)
Aquanation (AquaTheater)
HiRo (AquaTheater)

Art work all over the ship
What are the Windjammer hours?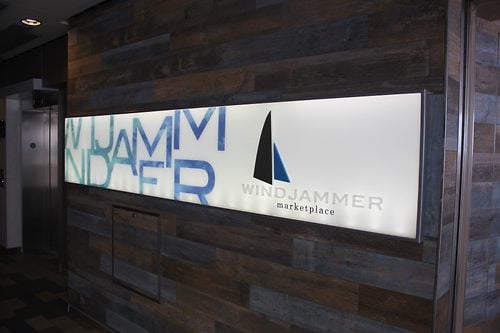 Exact times can change, but here are the Windjammer dining hours we have seen thus far.
6:30-7:00am Early bird
7:00am - 11:00am Breakfast
11:30-3:30 Lunch
5:30pm - 9:15pm Dinner
What is the new Royal Caribbean app and how does it work?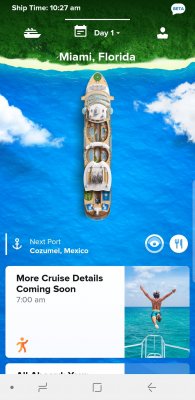 Royal Caribbean is developing a new smartphone app, which allows guests to manage multiple aspects of their cruise vacation from the app.
On Symphony of the Seas, guests can perform a variety of functions.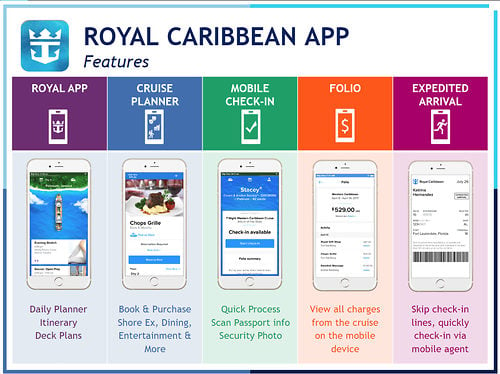 Here are the important functions the app can perform currently.  Keep in mind that the app is under active development, and new features are forthcoming.
Access Cruise Planner
View daily activities
Conduct mobile check-in
Real-time folio access
Expedited Arrival option
Make plans with guests in other staterooms by linking reservations
View main dining preferences
View reservations on personal calendars
There is no cost to use the Royal Caribbean app and you do not need a WiFi package to use the app onboard.  A chat feature between guests is coming soon.
The app is available on the iTunes App Store and Google Play Store.
Does Symphony of the Seas offer WOWbands?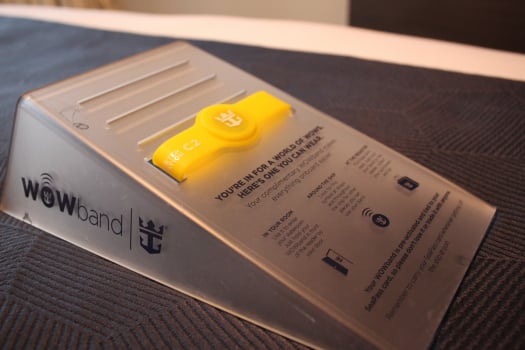 Yes, Symphony of the Seas offer RFID bracelets known as WOWbands.
WOWbands are essentially optional replacements for your SeaPass card. Imagine a bracelet you can wear that allows you to open you stateroom door, charge onboard purchases or check into shows and restaurants.
They are made of silicone and come in a variety of colors: white, yellow, black and blue.
WOWbands use Radio Frequency (RF) technology that can be read by Royal Caribbean's readers that are found at kiosks, tablets and mobile scanners that Royal Caribbean crew operate.
Your WOWband is linked to your SeaPass account and holds all of your information related to your cruise vacation such as your stateroom information, dining reservations and more. 
Guests on Symphony of the Seas can choose to purchase WOWbands for $4.99 each and can be purchased at Guest Services. They are complimentary for suite guests and will be waiting in your suite.
Can I use my Starbucks app/card on Symphony of the Seas?
You can use your Starbucks card at the Starbucks kiosk onboard for paying for drinks and earning rewards, however, you cannot redeem free rewards via the Starbucks app/card.
In addition, none of Royal Caribbean's drink packages work at Starbucks on Symphony of the Seas. Instead, those drink packages can be used for specialty coffee beverages at other locations on Symphony, including Cafe Promenade, Park Cafe, or any specialty restaurant.
Where does Symphony of the Seas dock in PortMiami?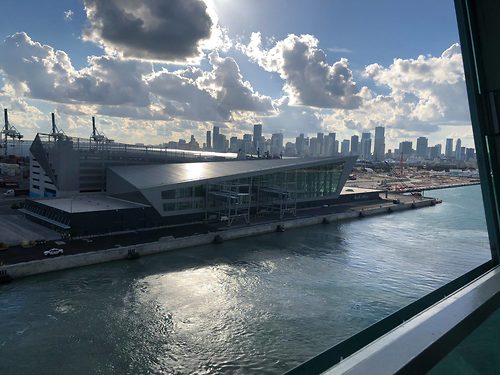 Symphony of the Seas begins and ends her sailingsa tthe brand new Terminal A at PortMiami.  This is a new state-of-the-art cruise terminal that features stunning architecture, and a new boarding experience.
The quickest way to get onboard will be using the Royal Caribbean International app to check-in. You can download the app from  iTunes App Store and Google Play Store now for free. Online check-in remains open until 48 hours prior to departure, so be to complete it before arrival at the terminal in order to skip the check-in counter at the terminal. Then, be sure to save your SetSail Pass on your mobile device or print for all guests in their party. The SetSail Pass is the key to adventure.
If you elect to park at Terminal A, go straight to the garage where agents will receive luggage and review documents. If you are taking a taxi or using a ride sharing service, agents will be waiting at the drop off area.
A reminder to all guests to keep all essential items with them, like travel documentation, SetSail Pass, required identification, the credit card to add to their onboard account, and
any medication they may need.
Did we miss your question? Post it in the comments below and we will try our best to answer it!