In:
Royal Caribbean announced today that Symphony of the Seas will not have a Godmother, rather, a Godfamily by choosing Carlos and Alexa PenaVega, along with their 17-month-old son, Ocean.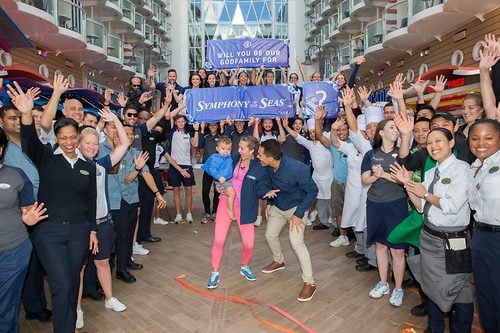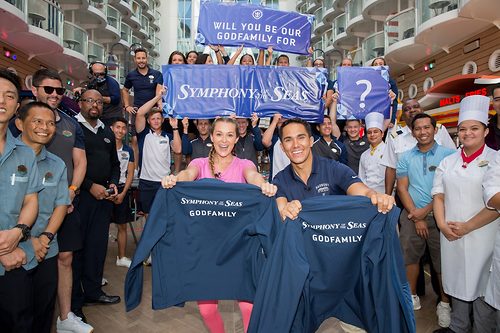 This is the first time a family will be the Godfamily of a cruise ship. The selection of a new ship's guiding spirit, customarily a godmother, is rooted in a longstanding maritime tradition. The role is often held by renowned athletes, celebrities and royalty.
Royal Caribbean says they picked this family because they have celebrated a number of family firsts on Royal Caribbean's Oasis Class ships, as well as personify the spirit of the new ship, redefining the way families stay and play.
Royal Caribbean's nearly 25-year relationship with Carlos began on his first cruise when he was just 4 years old, only to be beat by son Ocean, who sailed for the first time at 13 months.
"Carlos and Alexa have been an extension of our family for quite some time, and they truly personify our spirit of innovation and adventure in every way," said Michael Bayley, President and CEO, Royal Caribbean International. "We're very excited to welcome them and their son Ocean as the first-ever Godfamily to officially name a ship. Their passion for cruising and commitment to family make them the perfect choice to serve as the guiding spirits for Symphony of the Seas."
"Words can't describe the overwhelming emotions we're feeling," said Carlos PenaVega, alongside Alexa and Ocean. "Royal Caribbean ships have been the backdrops to so many unforgettable moments in our life, and it means so much to us to be named Godfamily of Symphony of the Seas. Royal Caribbean continues to make amazing memories with our family, and this next adventure will be our best yet."
Symphony of the Seas + @thecarlospena + @alexavega + @oceanpenavega = the first ever Godfamily. pic.twitter.com/I69sioDJl1

— Royal Caribbean (@RoyalCaribbean) May 10, 2018
The family will have the honor of formally naming Symphony when she arrives to her permanent home in Miami in November.