In:
Royal Caribbean's unlimited drink packages have become become incredibly popular with guests who love the idea of having a fixed price for unlimited cocktails, beers and sodas on the cruise, but are they right for you?
Beverage packages are based around one core idea: pay a flat daily fee, and get all the drinks you want for the price.
If you are trying to figure out if these drink packages are right for you, here are four important questions to ask yourself.
What kind of drinks do you enjoy?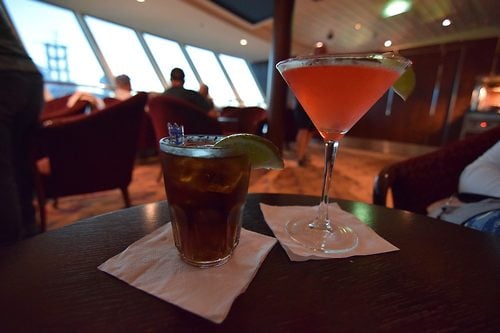 Your Royal Caribbean cruise includes certain beverages with the cruise fare, while others have an additional cost. One of the first considerations in purchasing a drink package is figuring what what sort of drinks do you like and which would you order.
Your Royal Caribbean cruise will include complimentary coffee, tea, water (flavored and plain), milk, iced tea and even juices in the morning. 
Drinks such as soda, cocktails, beers, premium coffees (i.e. lattes, espresso, etc), bottled water, sparkling water and liquors cost extra.  You can certainly order any of these individually without a package, but a drink package can help make a lot of individual orders cost effective.
What you want to figure out for yourself is if you are interested in alcoholic beverages or non-alcoholic beverages.  Can you see yourself ordering sodas, coffee, juice and alcoholic beverages often?  
The Deluxe Beverage Package includes drinks up to $12 in value ($13 on the newer ships in the fleet), so if you prefer very high end booze, a drink package may not make sense. 
Can I drink enough every day?
Perhaps the most important consideration is if can you drink enough every day of your cruise to make the package a worthwhile investment.
A Royal Caribbean drink package has the potential to save anyone money, but it depends on that person to drink enough every day of the cruise to equal the cost of the same amount of drinks purchased a la carte.
At the heart of these unlimited alcohol packages is the proposition that you will drink enough to "break even" each day to make the packages worth it.  If you knew that you would not drink enough to make the package worth it financially, then you probably would not consider the drink.
On average, most of the unlimited alcohol packages take about 5-6 drinks per day to reach the daily cost of the drink package. The non-alcohol packages have a lower break-even point, that is closer to 3-4 drinks.  Of course, the deluxe beverage package includes drinks besides alcohol, which does help with that math.
Keep in mind that you must consume enough drinks every day of your cruise to recoup the cost of the package, and the longer the cruise, the more difficult it could be to maintain that amount of drinking.
How much time will I spend on shore?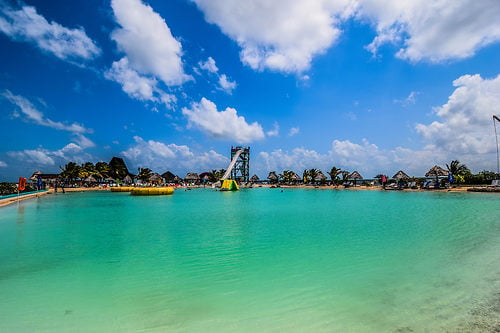 Before purchasing a drink package, consider the itinerary you will be sailing on to figure out how much time you will be on the ship.  The more time on the ship (or at one of Royal Caribbean's private destinations) means more time to enjoy the benefits of a drink package.
If you are going on a port-intensive itinerary, that will leave fewer hours per day to use the package benefits compared to an itinerary with lots of sea days.
In some ports, the price of drinks can be cheaper on shore than if you purchased the drinks on a Royal Caribbean ship (such as in many Caribbean ports of call).
How important is the convenience of having drinks pre-paid?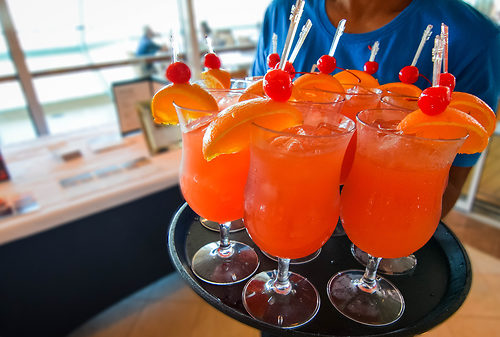 There are two "x-factors" with the drink package that make it a very compelling option for guests.  First, it allows you to pre-purchase the package prior to the cruise and break up the total cost of the cruise.  Second, having a drink package means not having to worry about running up a large bar bill or deciding if you should spend the money on another drink.  
We often hear from Royal Caribbean guests who love how the package for not having to worry about keeping track of costs, the opportunity to try new drinks without fear of wasting money and being able to split up the cost of the cruise.
The convenience factor is sometimes enough for folks to decide to get the package.  After all, you are on vacation and no memorable cruise starts with worrying about drink prices.
What is your Crown and Anchor Society status?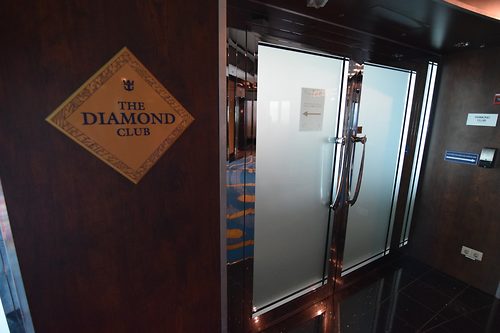 If you have cruised with Royal Caribbean a few times, your status in the cruise line's customer loyalty program may change your mind about buying a drink package.
Diamond, Diamond Plus and Pinnacle guests are able to get complimentary drinks each evening of their cruise during a set "happy hour."  This means there is an opportunity to drink for free each evening, and when combined with the ability to bring wine on your cruise, may present an alternative choice to a drink package.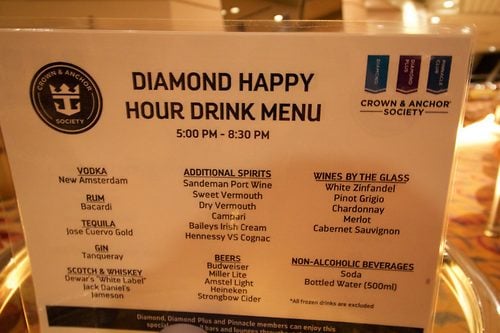 Conversely, while Diamond members do get complimentary drinks each evening, the menu of drinks available is limited.  If you do not enjoy or prefer those sort of drinks, a drink package may still make more sense.
Do you think the unlimited drink package is a good deal? Share your experiences with the packages in the comments!