Royal Caribbean Icon Class ships will be classed by DNV GL
In:
The shipyard charged to build Royal Caribbean's two Icon Class cruise ships has signed a contract for the classification of the ships with DNV GL Maritime.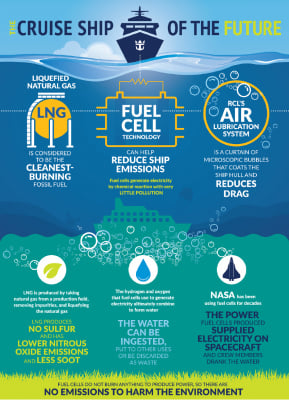 Liquefied natural gas (LNG) is envisioned as the primary fuel for the new vessels, which would dramatically reduce or even eliminate emission of nitrogen oxide (NOX), sulphur oxide (SOX) and particulates, as well as cutting carbon dioxide (CO2). The ICON Class will also introduce fuel cell technology, which in combination with hull air lubrication means that the ships could potentially be some of the most fuel efficient cruise vessels ever constructed.  The ship will also take advantage of hull air lubrication, which has been used on other ships in the fleet. 
The final concept for the first vessel is currently being discussed, and the concept design phase is expected to start this spring. The initial building phase of the first ship will begin next year, with keel laying planned for October 2019.