In:
While the word, "secret" usually refers to a bit of information that is supposed to be kept under wraps, when it comes to Royal Caribbean cruises, a secret is really just a lesser-known tidbit or trick that many others may not be aware of yet.  These "secrets" are really about improving and enhancing your cruise experience, and we love to share tips on this blog.
There are many wonderful travel agents that specialize in Royal Caribbean.  If you have read other posts on the blog, you might be aware that I use MEI-Travel for booking all of my Royal Caribbean cruises, and I can personally attest that they are fantastic!
If there is one suggestion I give to first time cruisers above all else, it is to use a travel agent to plan their Royal Caribbean cruise.  Many cruisers are unaware that the services provided by many good travel agents are 100% free of charge.  They are paid a commission from Royal Caribbean, and there is no extra cost to you for their services.
Since many first time cruisers are often surprised to hear that a travel agent is free to use, it got me thinking what other helpful bits of information might Royal Caribbean travel agents wish you knew about? My friends at MEI Travel helped come up with a list of suggestions.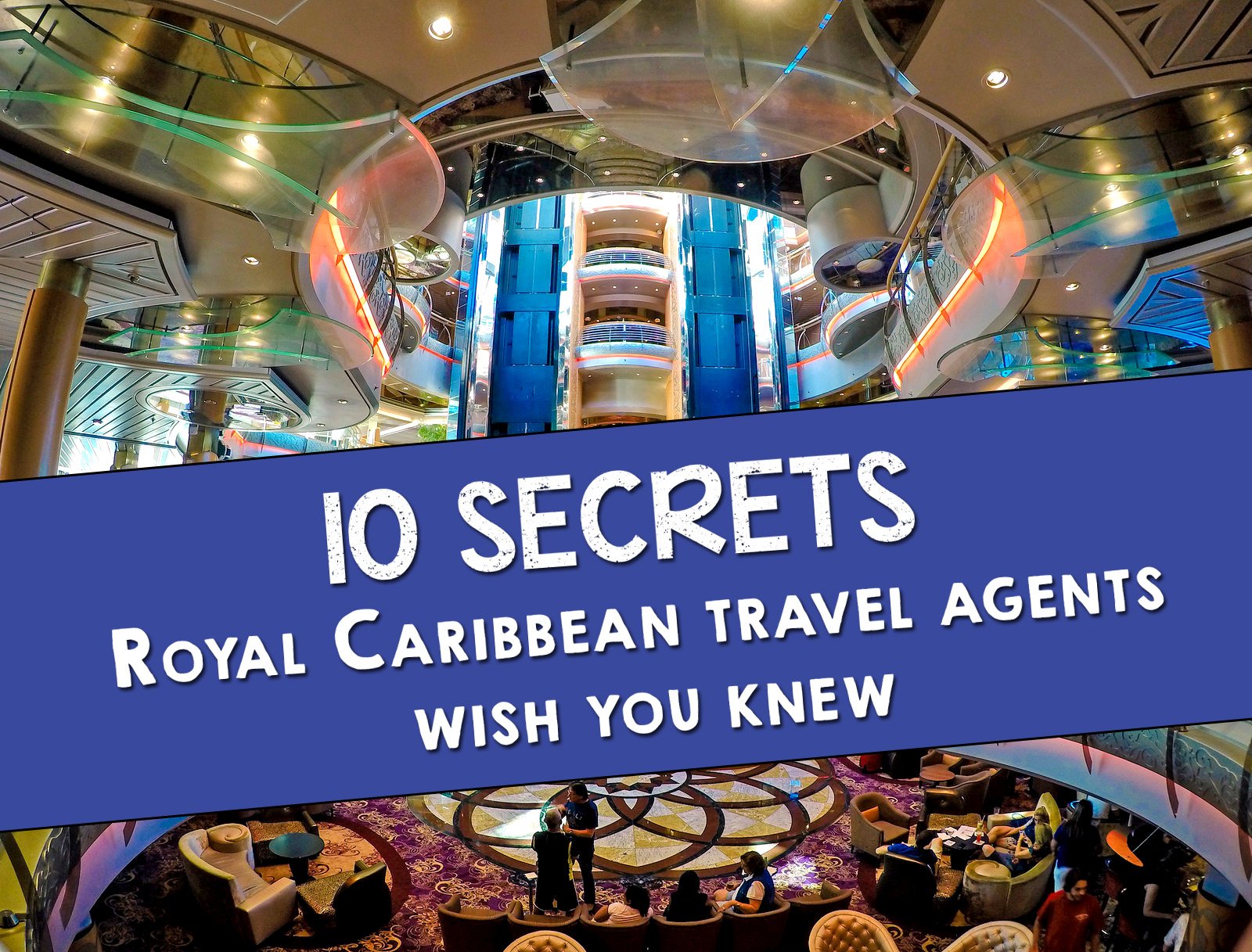 1. Many travel agents are free to use  
Many travel agencies do not charge you a fee for their services, because Royal Caribbean pays them a commission. This means there are no cancellation or change fees charged by the travel agent. 
It should be noted that some travel agencies do charge fees to their clients, although it is not the norm.  Be sure to inquire about any fees for using a travel agency prior to working with them.
2. Travel agents specialize and focus on Royal Caribbean
Did you know a good travel agent that specializes in Royal Caribbean can work with you every step of the way, not just when you book the cruise?
Prices can change many times, but a good travel agent is willing to work with you to watch for discounts when you book, and keep track of small changes that can benefit you. Perhaps they can save you some money, or offer you a means of upgrading.  
3. Travel agents will sit on hold with Royal Caribbean so you can watch Alf
Everyone still watches Alf, right?
In all seriousness, one of the best reasons to use a travel agent is they will save you time.  They will be the ones to sit on hold with Royal Caribbean and work with the cruise line to sort out any issues, questions, or discrepancies.
This means you do not have to, and that results in more time for you to do something...anything else!
4. You get one person to work with instead of someone different every time you call
Don't you hate it when you have to explain the backstory of your current issue to someone each time you call?
When you use a travel agent, you get an agent who works with you from start to finish.  This means they are aware of your needs, remember the reasons why you chose what you booked, and are locked into assisting you with your cruise plans.
5. Travel agents can help pick out shore excursions
Often we associate travel agents with just being able to help plan our cruise and onboard experience, but travel agents are a great resource on shore excursions too. 
Just like you, travel agents take cruises and have visited many of the ports you may be cruising to.  Moreover, they are not just aware of what Royal Caribbean offers, but also third party options.  They can research the options in port and assist in picking out the perfect plans.
6. Gifts of appreciation
Do you remember the Stevie Wonder song, "I just called to say I love you"? Travel agents love to show their appreciation for your business, and that often comes in the form of small gifts.
It is great to walk into your stateroom and see a thank you note, a little extra onboard credit for spending onboard, or bottle of wine.  For travel agents, they want you not to just book one cruise with them, but many more.  So they work very hard to ensure you have a great cruise, and want you to know they appreciate your business.
7. They can help you arrange groups
If you are thinking of taking a Royal Caribbean cruise with friends, family, coworkers, high school classmates, random people from the internet, or anyone else and need to get a few cabins together for a group, then you really want to use a travel agent.
Organizing a group is no simple task.  Everyone has their own needs, and by working with a travel agent, the agent can assist everyone in the group take care of stateroom choices, prices, payments and answering the usual first time cruise questions.  This means you can focus on getting everyone excited for the cruise itself!
8. A travel agent is there to fight for you if something goes wrong
Of all the benefits a travel agent provides, this might be the least known, yet most important benefit of using a travel agency.  If you encounter a problem, either before or during your cruise, a good travel agent will be the one to contact Royal Caribbean and not only rectify the issue but make things right again.
Unfortunately mistakes can occur before or during a vacation.  It does not happen very often, but occasionally an error occurs that is not your fault.  If that occurs, a travel agent is the one to sort it all out and get you back on track.  Equally important, they are great advocates for you to be reimbursed for the inconvenience, especially when the fault is with the cruise line. 
9. Travel agents are trained and educated about Royal Caribbean (all the time)
A really common excuse for not using a travel agent is, "Can't I just do it myself?".  Of course you can, but travel agents spend a lot of time learning about all aspects of a Royal Caribbean cruise.
Beyond being knowledgeable about the basics of cruising, they take tours of the ships to learn what makes each ship unique.  In addition, they are educated in what other cruise lines offer, so they can better inform you as to how Royal Caribbean stacks up against its competitors. Essentially, they never stop learning about cruising, and that results in being able to provide you an informed and complete look at all of your options.
10. They learn what you like
A good Royal Caribbean travel agent works with you cruise after cruise, and they learn about what you prefer on a cruise.  They will know your likes, dislikes and what is important to you when it comes to making vacation plans.
The benefit to you in all of this is it means a faster and simpler booking process.  Unlike when you call into a call center and have to explain everything to them, your travel agent already knows you and remembers what kind of stateroom categories you tend to book, which dining rotation your family enjoys, etc. Like so many of the other reasons to book a travel agent listed earlier in this post, the result is time saved and value added for you!
Bonus secret: You can transfer your reservation to a travel agent within 60 days of booking
Did you read all of this and realize you now want to transfer the cruise reservation you made directly with Royal Caribbean to a travel agent?  Good news, there may be time for you to do so!
Anyone can transfer a Royal Caribbean cruise reservation to a travel agent as long as you are within 60 days of the initial booking. 
By transferring the reservation to a travel agent, you are entitled to all the same service outlined in this post, and the agent can work with you to double check the price of your cruise reservation and keep track of price changes.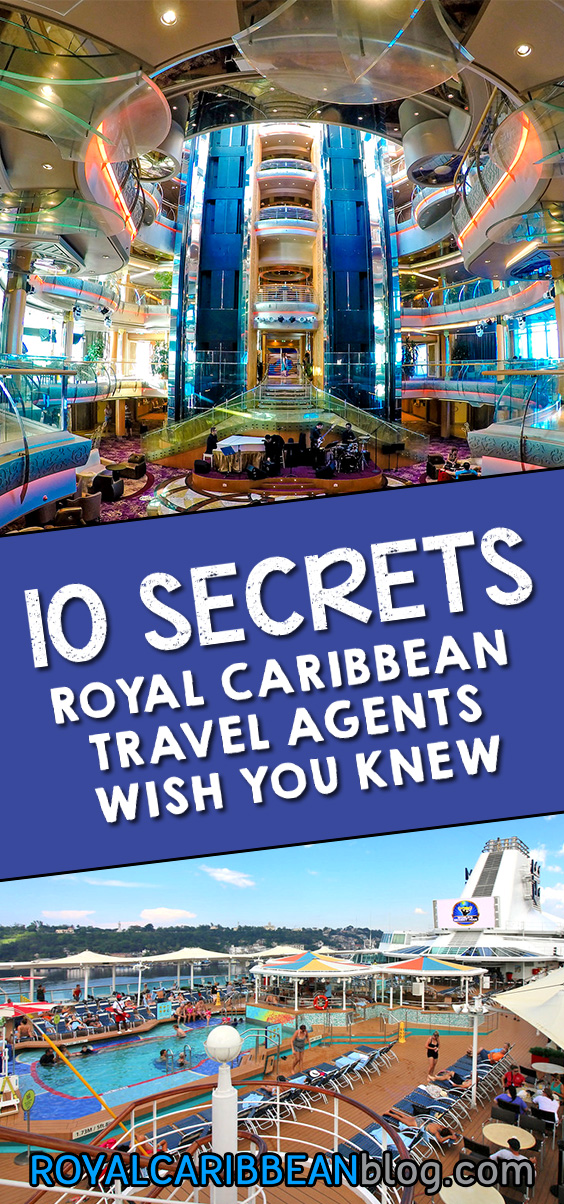 Your thoughts
Have you used a travel agent before?  Are you thinking of using a travel agent, but still have questions? Share your experiences or concerns in the comments!