Top five coolest things about Harmony of the Seas
In:
Royal Caribbean's Harmony of the Seas is quickly becoming a very popular cruise ship with new cruisers and veteran cruises alike.  There is so much to see and do onboard, and we decided to list the five things about Harmony of the Seas that we think are just so darn cool that they deserve some recognition.
5. Bionic Bar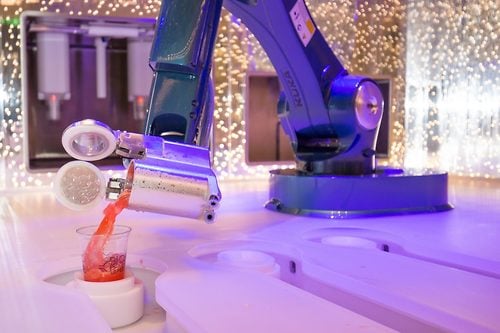 Robots are at the forefront of so many exciting ideas, and on Harmony of the Seas, guests can enjoy a cocktail made by a robot at the Bionic Bar.
Two robots serve up drinks to guests who order them from nearby tablets.  Pick the drink you like from a list of favorites, or opt to customize something you fancy.  You can even see reviews left by other guests of which drinks they liked best.
After placing the order, the robots go to work and provide real-time updates of the drink progress on a large screen, before sending the drink to you.  Just try and walk by the Bionic Bar and not stop to see the robots doing their thing.
4. Escape the Rubicon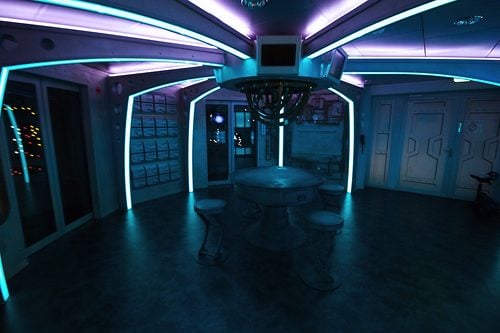 Often people associate certain activities with being on a cruise ship, but the Escape the Rubicon game breaks all those molds.
Escape the Rubicon is an immersive escape room game, where guests work together to solve a series of clues and riddles before time runs out so that they can "escape" the room they are in.
Royal Caribbean teamed up with a leader in the escape room experience to create a dedicated space on Harmony of the Seas where guests can try their best to find all the clues and figure out a way to beat the game before time runs out.
3. Splashaway Bay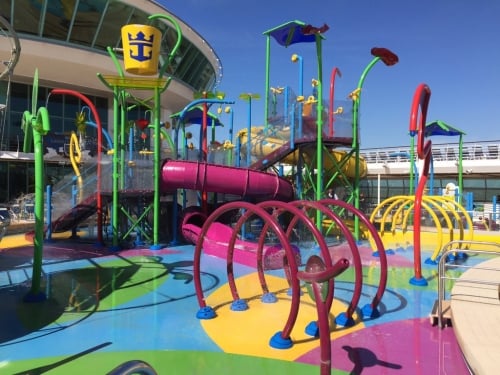 Royal Caribbean is a family cruise line, and kids will likely want to spend a lot of time at Harmony of the Seas' incredible aqua park, known as Splashaway Bay.
So what makes Splashaway Bay so cool? This fun spot is full of water slides, water cannons, waterfalls and more.  It is the kind of place kids will never want to leave. The gigantic drench bucket and a multi-platform jungle-gym mean not only will the kids get (and stay) drenched while playing there, they are going to have a great time doing it.
What makes Splashaway Bay special is the fact it is the latest and greatest water play area option in Royal Caribbean's fleet. That makes it one of the best ships if you are cruising with kids.
2. Grease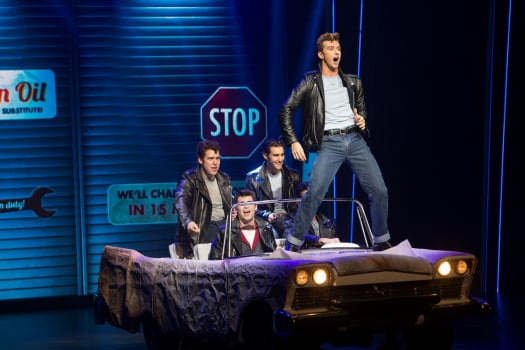 Guests sailing on Harmony of the Seas are able to see the Broadway musical, Grease, and it is available to enjoy on your cruise with no additional cost.
This stage production of Grease was specially adapted by Royal Caribbean Productions and features all of your favorite songs, such as "Summer Nights," "Greased Lightnin'," "Look at Me, I'm Sandra Dee," "Born to Hand-Jive," "Beauty School Dropout" and more.
The best news about Grease on Harmony of the Seas, is that the show is included in the cost of your cruise fare, so you can enjoy a Broadway show while onboard for absolutely no additional cost.
1. Ultimate Abyss slide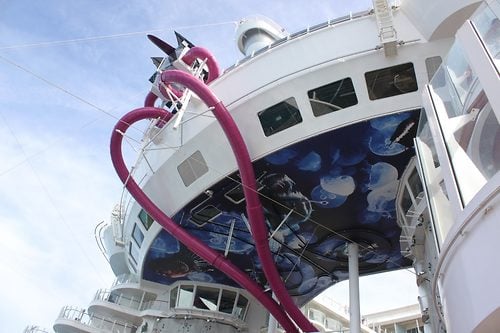 Royal Caribbean's Harmony of the Seas is the world's largest cruise ship and offers the world's tallest slide at sea in the Ultimate Abyss.
Located on the aft of the ship, the Ultimate Abyss is more than 150 feet above sea level and offers side-by-side slides that send guests down 10 decks at a rate of 9 miles per hour.
Guests board the slide by climbing stairs that lead directly into the mouth of a giant angler fish, where they get into a customized mat and then descend down the slide, traversing 216 feet of a multi-sensory tunnel. Guests can reach a speed of 9 miles per hour, and it is the kind of thrill experience unlike anything else at sea.
The Ultimate Abyss is free and available for rides mostly during the day.
There is much more!
We limited ourselves to the top 5 coolest things about Harmony of the Seas for this blog post, but there is so much more that will impress you.
Surf simulators, zip line, incredible restaurants, mini-golf, ice skating, water slides and much more. We cannot fit it all into one blog post but rest assured that a cruise on Harmony of the Seas is certain to impress.