In:
Royal Caribbean has updated its policy for allowing guests to borrow towels during the cruise.
Effective January 15, 2017, guests may check out as many towels as they like during their cruise, and return them all by the end of the voyage to avoid a $24.99 replacement fee. The change in policy was communicated via Royal Caribbean's Crown and Anchor Society Newsletter.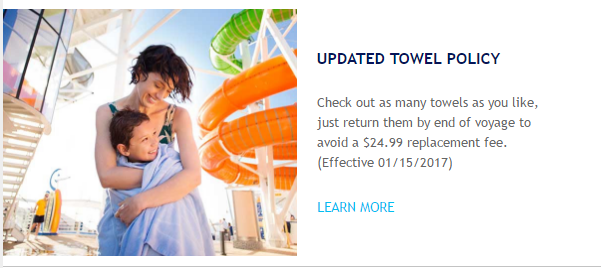 With this new change, it appears guests will not have to worry about returning towels immediately, but will be charged if all towels are not returned prior to the end of the cruise.
Royal Caribbean's towel policy has changed over the years, with there sometimes being a fee for unreturned towels on certain ships. In January 2014, Royal Caribbean announced it was eliminating the unreturned towel fee, but the fee returned to certain ships in the time since.
Thanks to Scott Stein for alerting us to this change.