In:
Most people likely envision their cruise vacation involving plenty of time to sit by the pool on their ship, sipping a cocktail and forgetting about all the trials and tribulations of being back at home.  Since so many guests have a similar day dream, this means it can tend to get crowded at the pool during your Royal Caribbean cruise.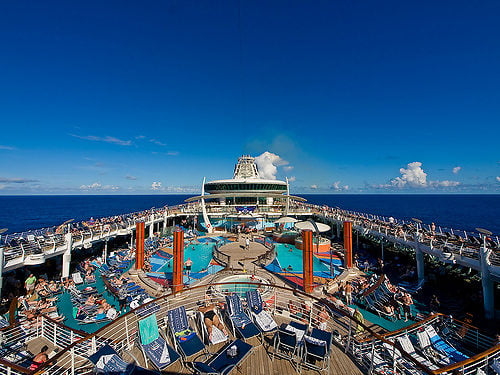 The good news is there are plenty of other times to get your time in by the pool, without having to deal with big crowds.  Here are five easy times during your cruise to enjoy splashing, swimming or just hanging out on a Royal Caribbean cruise, without lots of other people around.
Swim on embarkation day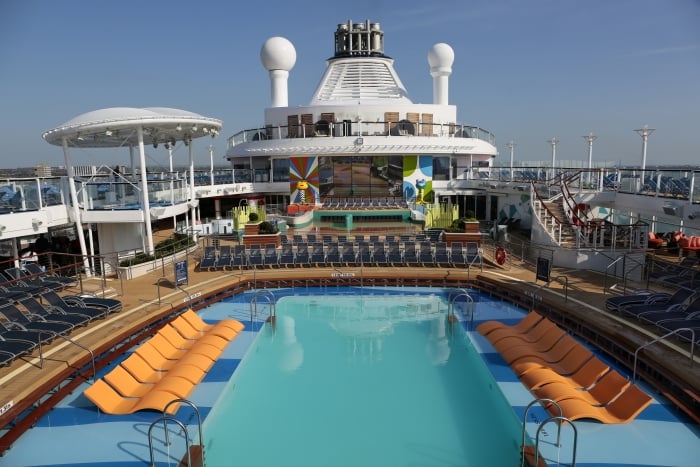 Most guests do not bring their swim suits with their carry-on luggage, and that means the first half of embarkation day results in an empty pool area.
Either wear your swim suit to the ship, or pack it in your carry-on luggage and then change in a public restroom onboard.  This is particularly good for kids who want to jump in as soon as possible.
Swim during dinner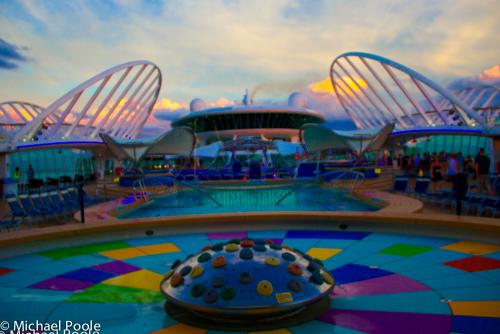 On most days, the pool will get its most crowded in the afternoon, but as the day drags on, many guests start to leave to get ready for dinner and this is a great time to hop in the deep end.
By 4pm, guests begin leaving the pool to get ready for dinner and the next few hours result in a much more open time for a quick dip. 
Keep in mind that in the Caribbean (and other areas in the tropics), the sun sets later than back at home, so there is more sunlight to enjoy.
Swim at night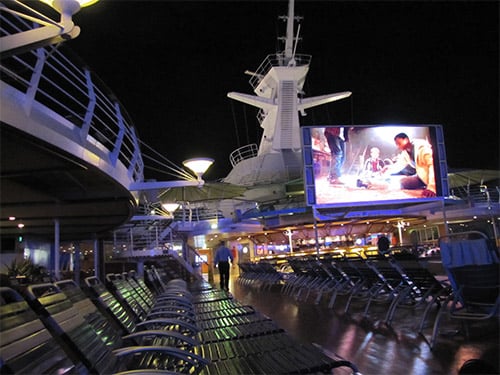 Just like the tip before, once the sun goes down, many guests skip the pool completely, but night swims are not only a great time for an uncrowded swim, but they are really a lot of fun too.
There will be at least one pool open each evening, and hot tubs too.  Plus, Royal Caribbean regularly shows movies on the pool movie screen, so you can combine a great flick with your night swim.
Swim while in ports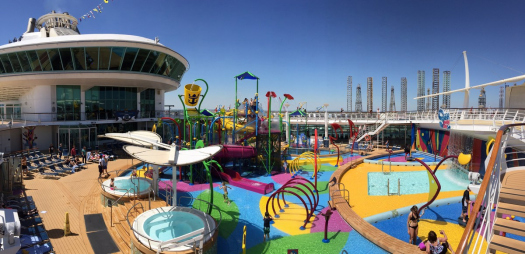 If you really want to get in some time at the pool in the day time when it is hottest, head for the pool on a day your Royal Caribbean ship is docked in a port.
On port days, most guests leave the ship for shore excursions, which leaves the pool wide open.  This is perhaps the best time for an afternoon swim (provided you do not have plans on shore).
Likewise, you could get off the ship earlier in the morning, and return back to the ship well before guests must return and likely find the pool emptier than usual as well.
Swim during shows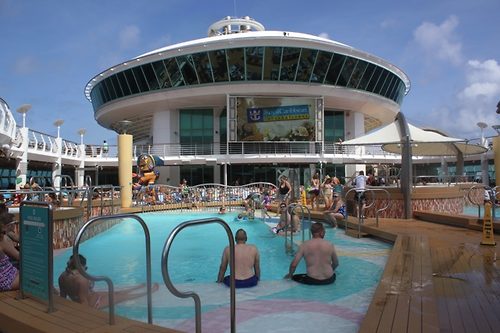 On the bigger Royal Caribbean ships, there can be headline shows during the day.  These can include Broadway shows, ice skating shows and AquaTheater shows.
Take advantage of guests opting to take in these matinees, but taking advantage of a less crowded pool.  The pool may not be empty, but you will find many guests choosing to see the show and leave their spot in the pool.
Your thoughts
When is your favorite time to go for a swim without the crowds? Is there a good time that we missed in this post? Share your suggestions in the comments!