In:
Royal Caribbean has packed Harmony of the Seas with a vast array of activities and things to do, including plenty of entertainment that is included with your cruise fare. Certainly there are lots of optional dining, gaming and indulgent add-ons that come with an additional cost, but if you want to keep your onboard spending account low(er), then we have a list of our favorite complimentary things to do onboard.
We picked the ten complimentary activities that we really enjoyed, but there is plenty more provided on Royal Caribbean's head-turning ship. Without further adieu, here is our top ten favorite free activities on Royal Caribbean's Harmony of the Seas.
1. Grease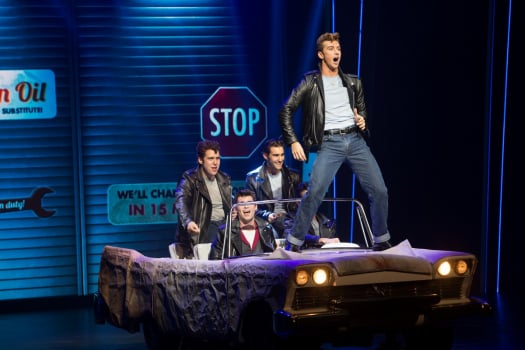 Broadway shows have a reputation of being expensive, but Royal Caribbean has included this all-time favorite Broadway show in the cost of your Harmony of the Seas cruise fare.
Grease is the full Broadway production, and features a soundtrack of crowd favorites such as "Summer Nights," "Greased Lightnin'," "Look at Me, I'm Sandra Dee," "Born to Hand-Jive," "Beauty School Dropout" and more.
2. Children's programming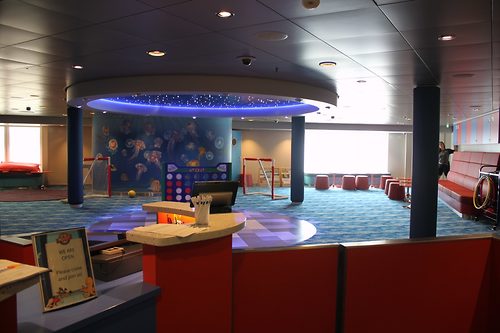 Royal Caribbean's Adventure Ocean program has won many awards over the years for providing the very best supervised kids programming at sea. On Harmony of the Seas, there is one of the largest Adventure Ocean spaces to date on any Royal Caribbean ship.
Kids are a big part of the cruise experience on Harmony of the Seas, and parents can rest assured that their children are having a fun time in a supervised environment, with plenty going on.
Kids will love the array of fun activities onboard and parents will enjoy some time apart from the kiddos!
3. FlowRider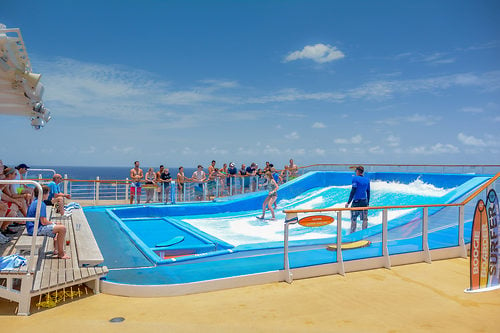 Onboard Harmony of the Seas, you will find two FlowRider surf simulators on the aft of the ship, where you can try your hand at stand-up surfing or boogie boarding.
The FlowRider has become an incredibly popular activity on Royal Caribbean ships, both to experience as a participant or as a spectator. The FlowRider is a complimentary activity, where you simply need to line up and wait your turn to ride. In addition, Royal Caribbean offers private and group lessons for a nominal fee, if you feel the need to learn quicker.
4. Zip lining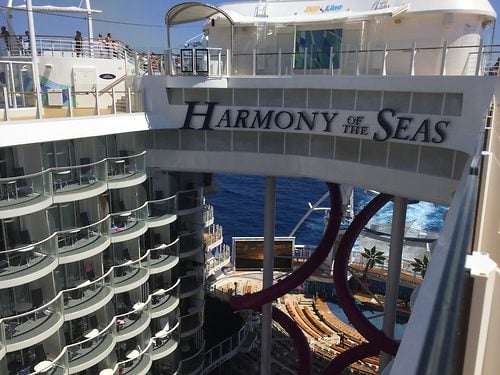 Royal Caribbean offers passengers the opportunity to zip line 9 decks above the ground, stretching 82 feet from end to end.
Passengers must be at least 52" tall to participate and weigh a maximum of 275 pound, also must at least weigh 75 pounds.
The zip line is free and guests must sign a waiver.
5. AquaTheater shows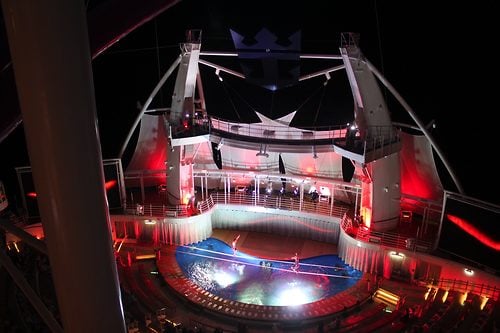 The AquaTheater on Harmony of the Seas is the distinct high diving, acrobatic performance space introduced by Royal Caribbean with the Oasis class of ships.  It features two 10-meter high platforms and the hydraulic-floored pool, the largest and deepest freshwater pool at sea, below serves as podiums for high-diving, hair-raising aerobatics that AquaTheater audiences have come to love.
There are two signature complimentary shows performed in the AquaTheater, The Fine Line and Hideaway Heist.  
The Fine Line is all about high-flying feats, mind blowing stunts and physically demanding acrobatics brought to life by the world's best extreme-sport athletes.
Hideaway Heist is an action packed aqua show that combines amazing wows and some laughs.
6. Water slides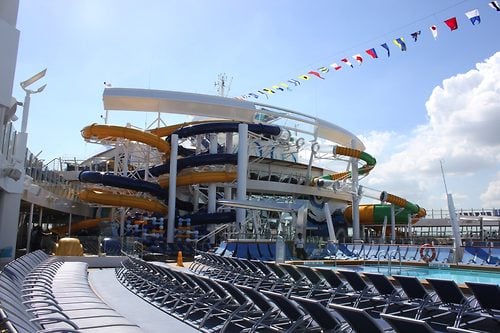 If you had to list the most exciting new features coming to Royal Caribbean's Harmony of the Seas, the new water slides have to be near the top of that list. Harmony of the Seas is the first Oasis class ship to have water slides and are included in your cruise fare.
There are three slides, two racer slides and a champagne bowl slide.
The slides descend three decks through a series of twists and turns over the ship's tree-lined Central Park neighborhood 10 decks below.
7. Ultimate Abyss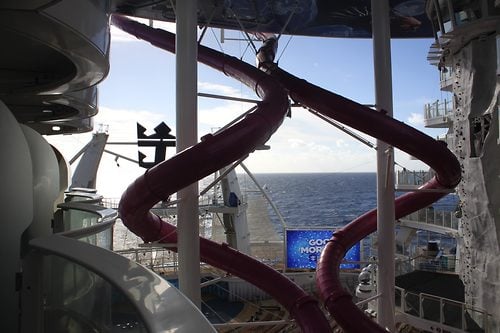 Speaking of slides, the thrill experience on Harmony of the Seas is the Ultimate Abyss, which is the tallest slide at sea.
The Ultimate Abyss is more than 150 feet above sea level and offers side-by-side slides that send guests down 10 decks at a rate of 9 miles per hour. Launching onto the ride from a glass platform, guests can take one last look at the Boardwalk 10 decks below before climbing onto a customized mat and taking the plunge into the depths of the daunting slides.
There is no cost to ride the Ultimate Abyss, which means plenty of time to scream down the slide, over and over again.
8. 1887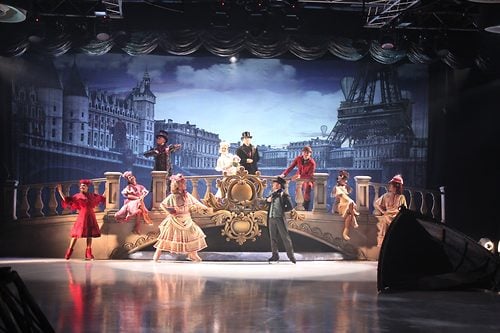 Royal Caribbean has built a reputation for producing some truly wonderful ice skating shows on its ships, and Harmony of the Seas has the best ice skating show we have seen on any Royal Caribbean ship, 1887: A Journey in Time.
1887 is a brand new show by Royal Caribbean Productions that is about love and adventure and is best described as a, "steampunk styled ice show."
There is no cost to see 1887, although we do recommend reserving a spot for the show via the complimentary reservation system in Royal Caribbean's Cruise Planner.
9. Aqua park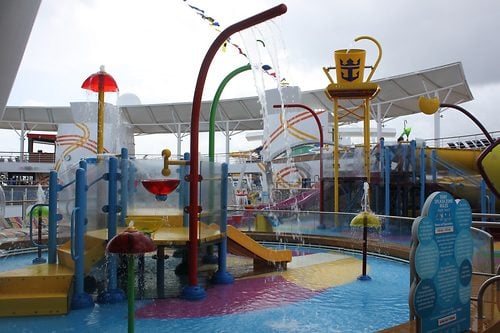 For kids, Royal Caribbean has completely reimagined its pool deck offerings that are intended for the younger crowd.  On Harmony of the Seas, there is a brand new "aquatic adventure park" known as Splashaway Bay.
Splashway Bay has plenty of splashing, with fountains, buckets, sprays and even slides for kids to enjoy to their heart's content.  Splashaway Bay was built to be a focal point of the pool area, and offer yet another improvement on what the cruise line has been known for in the past.
Like all the pool deck fun, Splashaway Bay has no cost to use, and is certain to be a very popular spot with your kids.
10. A ride on the carousel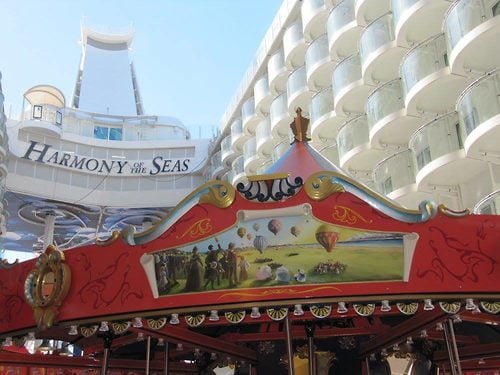 In the Boardwalk neighborhood, guests young and old can enjoy a ride on a classic carousel that is sure to bring a smile to anyone's face. The carousel on Harmony of the Seas is hand-crafted and especially designed by Carousel Works for Royal Caribbean and is one-of-a-kind.
Inspired by turn-of-the-century carousels that were found in the northeastern United States, Harmony of the Seas' carousel is a classic attraction that is as beautiful in design as it is enjoyable to ride.