99 days of Harmony: Harmony of the Seas returns from first sea trials
In:
We're counting down the days until Harmony of the Seas debuts later this year with our 99 days of Harmony blog series. Each day we will post something about Harmony of the Seas to share with all of you!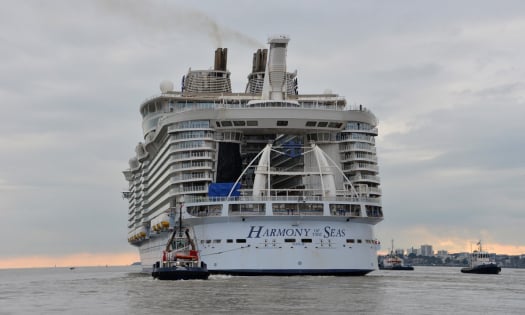 Royal Caribbean's Harmony of the Seas has returned to the shipyard in Saint-Nazaire, France after completing the first three days of sea trials.
Harmony of the Seas traveled almost 1000 nautical miles in the time span of about 60 hours.
During the trip, Harmony of the Seas had her power plant capacity tested in its basic configuration up to full power (96 MW), as well as tests for propulsion and maneuverability.  
A statement by STX France indicated the ships' performance was what they expected.
With these sea trials complete, STX will put the ship into dry dock for final cleaning of its hull before delivery. Delivery to Royal Caribbean is expected to take place on May 12.
Prior to delivery, a second set of sea trials must take place in April.