In:
The brand new Tidal Wave water slide on Royal Caribbean's Liberty of the Seas remains closed to guests, despite the ship returning to service following a dry dock nearly a month ago.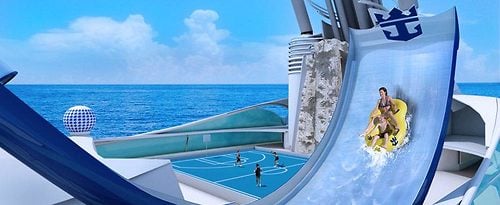 The Tidal Wave is the first Boomerang style slide at sea, but has never opened to guests in the voyages since the ship resumed sailings.
At a Captain's Corner talk event on Liberty of the Seas this week, the ship's Chief Engineer commented that their team discovered the variation of guest weight, and the position a person may take on the tube you ride on, makes a wide range of operation. In order to ensure that it is strong enough for all, there is a good chance that people will hit the top of the slide with some regularity. Not hard, but still make contact.
Royal Caribbean has had to design padding for the areas where guests may impact the slide, and that is being built currently.  
The Chief Engineer indicated they hope some pieces of this new padding waiting in Galveston, when the ship returns there on Sunday.
After all padding parts are delivered, the team will install and paint them.  The Chief Engineer estimated that he doesn't see the Tidal Wave running for a few more sailings yet.
The new hair-raising slide features a steep drop that propels riders up a near vertical wall for a moment of weightlessness and into free fall.
Special thanks to Royal Caribbean Blog reader Paul Crow for conveying the update to us.